January 7th 2007
News Update - See News for full info...
---
2006 Chronology added and updated.
Thanks to Karsten
---
PLAYiNG iN A DiSHPAN: THE OTHER SiDE OF LiVE iN TOKYO added to Bootleg Discography. More info and Review needed…
---
December 15th 2006
News Update - See News for full info...
---
December 8th 2006
News Update - See News for full info...
---
December 4th 2006
Corrections to Gig List:
16.10.89 COLUMBUS, NEWPORT MUSIC HALL, USA
13.7.86 HOUSTON, CULLEN AUDITORIUM, USA
Review of Houston also added. John gets arrested!
Thanks to Joshua Conrad & Todd Eckert
---
November 29th 2006
Stories of Johnny: A Compendium of Thoughts on the Icon of an Era book reviewed...
---
A second review of Pasadena, Convention Center, November 7th 1982 has been added to the Audio/Video Bootleg Guide.
Thanks to Adrian Ellis
---
November 25th 2006
News Update - See News for full info...
---
New Fodderstompf feature: It isn't what they mention in The Guardian…
Quotes about PiL… It's never been fashionable to admit to liking PiL but it seems some people are just more honest than others…
We will add to them, so if you find any, get in touch…
---
Scans of the new Japanese 3 CD bootleg 'Never Mind The Public Image' added to bootleg discography. Unfortunately the sleeve features Maureen Baker pictures thieved from Fodderstompf without permission…
Thanks to Glyn
---
November 23rd 2006
Bret Helm Fodderstompf interview added…
While redesigning the site I came across an incomplete email interview with Bret Helm, bass player from the 1984 live band. Its been lying in the archives since November 2002 – and doesn't look like getting finished anytime in the next four years – so I've decided to post it as it is. It's still pretty entertaining and contains some good info and stories… "Next!"
---
Added to Press Archives:
John McGeoch obituary - The Guardian, March 12th 2004
Jah Wobble's Top 10 Dub Tracks - The Independent, August 13th 2004
---
November 19th 2006
News Update - See News for full info...
---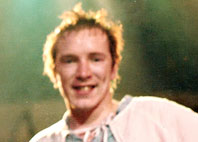 Some nice pix from PiL's show at Atlanta, Agora Ballroom, USA, December 11th 1982 added to the Gig Archive.
Thanks to Dino Everett
---
I thought my recent 'Metal Box' review was pretty thorough, but Mark Myskiw points out some things I overlooked. LOL!
Hey all!
It's been a while since I've sent a note off but I thought, after listening to the vinyl reissue of metal box that I'd pass along a couple of observations from the "too much time on his hands department"……u stated on your site review of the metal box vinyl reissue that it was identical to the original save for a shinier box and the pil sticker that seals the pkg….i'd like to offer the following for the nitpickers:
the pil logos on the vinyl are slightly diff to the orig in that the original pil logo did not have a bold continuous line around it as the reissue does; also, swan lake on the orig m.b. ended when the grooves ran out, ie when the needle lifts off is when the song ends. On the reissue it simply ends, fading out and then the needle proceeds thru the inner groove and returns. As well, I believe poptones on the orig m.b., similar to the ending of swan lake, begins as soon as the needle hits the vinyl, as opposed to silence in the lead in groove on the reissue. I'm not 100% certain of the poptones difference but if my memory serves it is programmed in that way. I remember thinking to myself it made sense how, on the vinyl of second edition, swan lake ended suddenly and poptones started just as suddenly, a result of the transfer of the 12" 45 format to the 33 rpm format and necessity of putting both songs on one side of vinyl. Anyway, that's all for now.
---
November 15th 2006
Fodderstompf redux
Same old Fodderstompf, but better (well, at least, tweaked a bit).
Of course, the more eagle-eyed amongst you will have noticed the back-end of the site being tidied-up over the past six months: Large parts of the chronology have been updated (especially the post-PiL years); the member bios have been brought up to date, and just about everything has been given some sort of tweak. There are some new features but it's more of a revamp than a renovation.
In the five years (or so) of the site, this is the first time I've genuinely been content with it. And using that logic, it means we've got five years of catching up to do…
Please report any obvious mistakes or broken links etc.
---
October 5th 2006
Jah Wobble & The English Roots Band CD reviewed...
---
October 3rd 2006
News Update - See News for full info...
---
September 5th 2006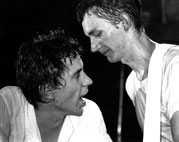 As promised, more of Maureen Baker's PiL pix added!
See Maureen Baker: PiL's Public Image 1982/83
Maureen's pictures help document a pivotal time in PiL history and Fodderstompf is delighted to bring you a selection of these superb images. Most of which are previously unpublished. You'll also find some extra bits and pieces – such as gig posters & flyers – which Maureen has kindly supplied…
Many thanks to Maureen for digging her pictures out of storage especially for the site. In all the years we've been doing Fodderstompf – and despite all the photographers we've ever had dealings with – no one has ever done anything like this before. It is greatly appreciated.
Even more of Maureen's pix coming soon!
---
Corrections to Gig List:
The previously mentioned New York, Bonds 1982 gig wasn't PiL.
Boston, October 9th 1982… The show was at The Channel, however, Maureen also found a flyer for The Bradford Hotel in Boston. Does anyone out there know anything about it?
---
Keith Levene 3:AM Magazine, May 2004 added to Press Archives.
Interviewed by Fodderstompf regular Greg Whitfield, Keith talks extensively and openly about his life; growing up; his influences; his interests; and most importantly, music, music and MUSIC! Compiled from conversations 2002-2004 © Greg Whitfield

Greg already brought us the Bass Cultural Vibrations article that we've used on the site, and this is another fine addition to his work...
Thanks to Greg
---
August 30th 2006
News Update - See News for full info... (updated)
---
PiL: Albatross & Death Disco Monitor Mixes (Bootleg 12") reviewed.
---
More of Maureen Baker's PiL pix coming very soon!
---
August 23rd 2006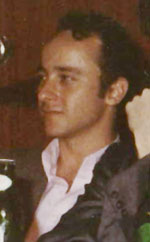 Through our recent interview with Bob Miller, we managed to get in touch with Bob Tulipan who acted as PiL's co-manager around the same time. Both Bob's have been invaluable in giving us new information, as well as helping clear up some mistakes and inaccuracies we had on the site; such as Bob Tulipan being a lawyer and owning the studios where 'Commercial Zone' was recorded! This was NOT the case, the information came from The Face magazine, we really should have known better...
Prior to PiL, Bob Tulipan had been involved with managing bands and concert production for several years. He had produced the legendary concerts with Patti Smith, Talking Heads, Richard Hell, The Jam, etc at The CBGB 2nd Avenue Theatre (a larger venue set up in wake of the club's success). Then later put together tours and co-managed the Psychedelic Furs, Mi Sex, The Only Ones, and others.
He was first approached by Keith Levene in NYC to help PiL secure US visa's in 1981; then began to work more and more with the band. He was involved in getting Martin Atkins back into the fold; and was instrumental in setting up the band's first live show in over a year at New York, Roseland Ballroom, September 28th 1982. He also secured a cut-price deal for studio time at Park South Studios. The studios were in fact owned by an attorney Tulipan knew called Bob Kalina.
PiL were notoriously hands-on, and very anti-management before this period. Bob Tulipan was pretty much the first outside management they ever had. Co-managing the band along with PiL, and sharing responsibilities. Though of course, PiL remained as hands-on as ever… Bob's involvement also saw the band make their first real attempt at regular gigging; if in an unconventional sense (see 1982 chronology for far more information).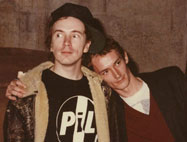 We also mentioned that Bob Tulipan's assistant Maureen Baker was a lawyer (etc). Again, this is NOT the case! As well as helping Bob with management Maureen was a photographer who PiL came to admire, and work with extensively. Pretty much becoming their official photographer at the time. Maureen's PiL pix were used all over the USA; and some also later turned up in the 1983 Japanese Tour Programme. As a sign of their mutual respect, when the band returned to playing live, they even allowed her on stage as they performed.
Follow this link to see a small selection of Maureen's work with PiL; together with some extra bits and pieces from Bob Tulipan. Maureen's pictures help document a pivotal time in PiL's history and Fodderstompf is delighted to bring you these superb images. Some of which are previously unpublished. Many thanks to Maureen (& Bob) for digging them out especially for the site.
More of Maureen's pix coming soon!
Information from this period PiL was always sketchy, but with the help of both Bob's we can now fill in quite a few blanks. We have updated the 1982 & 1983 Chronology with all the above details, plus added other additional information; including direct quotes from Bob Tulipan.
See September & October 1982 for previously unknown details on the New York, Roseland show, and the sporadic 1982 live shows… Also see May 1982 & March 1983 for further details on Bob's work with PiL (and his eventual departure). November 1982 has new info on (the almost mythical) PEP & MIC companies. We've also added various additions and corrections to the 1982 & 1983 Gig List.
Bob Tulipan added to PiL People.
Various additions and corrections added to the 1982 & 1983 Gig List.
Pic credits (top to bottom)
Bob Tulipan, PiL press conference, San Francisco, November 4 1982 © Maureen Baker
John Lydon & Keith Levene, San Francisco, November 1982 © Maureen Baker
---
August 17th 2006
News Update - See News for full info...
---
Bob Miller interview!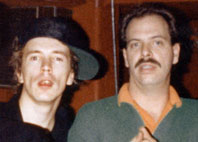 Bob Miller worked with PiL for around 2 years, circa 1982-84. Co-producing and engineering the 'This is Not a Love Song' single, and what would have been their 4th studio album (later released unfinished by Keith Levene as 'Commercial Zone'). Bob also mixed Front-of-House sound for their live gigs; including the Japanese and European Tours of 1983. He has NEVER spoken of his time with the band. Until now… "PiL Revisited, 20 Years Later…"
---
It also turn out the New York studios are actually called Park South, and not South Park as listed on the 'This is Not a Love Song' sleeve, and mistakenly repeated everywhere!
We will also have MUCH more information from this period, coming very soon… In the meantime enjoy our Bob Miller interview.
Bob Miller added to PiL People.
---
There must be something in the air… Arthur Stead biography updated!
Thanks to Marq Vas (www.marqvas.com)
---
August 8th 2006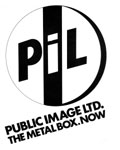 New 'Metal Box' re-issue reviewed.
We've also rounded up various other information from around the site to make a mini 'Metal Box' webpage. You'll find links to reviews and interviews, recording info etc, plus a brief guide to non-album 'Metal Box' era recordings.
"I was very shocked by the reviews of the last album. I believe none of them. They liked us for all the wrong reasons..."
John Lydon: Tomorrow Show, June 27th, 1980
---