PiL: Albatross / Death Disco Monitor Mixes
Bootleg 12" vinyl
Label Unknown
Tracks:
Death Disco (unedited monitor mix)
Albatross - Melodrama Mix (unedited monitor mix)
Running Time:
review by Scott M, August 2006
© 2006 Fodderstompf.com / F&F Publishing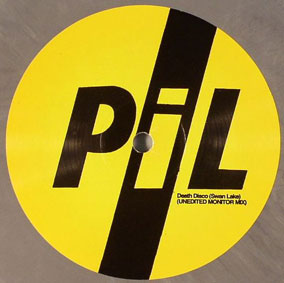 A new bootleg 12" with two of the 'Metal Box' monitor mixes (taken from John Lydon's 'Best of British £1 Notes' DVD) has just surfaced.
The single features 'Albatross: Melodrama Mix' & 'Death Disco', but not the other version of 'Albatross' (listed on the DVD as 'Alternative Take 1'). Of course, the only place to call 'Albatross' 'Alternative Take 2' by its proper name ("Melodrama Mix") is the Fodderstompf review, so we know you're paying attention out there…

The two tracks are excellent – more of that later – but unfortunately the whole thing is let down by the lack of decent packaging, and poor pressing quality. Marble swirl vinyl with day-glo record labels? It's not very PiL is it. John's old quote from The Rainbow springs to mind: "Pink vinyl singles, and rock and roll swindles…"

Apparently the single originates from the US, which is ironic since the DVD was never issued in the US. There's no sleeve, or record company mentioned, however, the run-off groove states "DJ promo" but we obviously know better than that.

The mixes have been mastered straight from the DVD. In general the sound quality is good, but not great. Coloured vinyl has always been notoriously bad. The high-end is a bit scratchy and treble-y, and the whole thing is rather flat. Having recently been listening to the remastered 'Metal Box' I had something to compare it to, and it just doesn't compare.

Until they appeared as audio extras on the 'Best of British £1 Notes' DVD last year the mixes were previously unreleased. And in case you missed it here's what I said about them in my review:

"The PiL monitor mixes of 'Albatross' and 'Death Disco' included as "audio extras" are arguably the highlight of the DVD for me. Only recently rediscovered; these are the live unedited takes from the studio. Powerful and stunning doesn't cover it. The full version of 'Death Disco' (reaching near 10 minutes) says it all to me. If you aren't affected by it; then I afraid you don't get PiL, it really is as simple as that. You'll never hear a more honest or frightened vocal.

"… the second version of 'Albatross' known as the "Melodrama Mix", although keeping a similar backing track [to the released version] also features Wobble on melodica. I'd never realised PiL had experimented with melodica, but given their interest in reggae it's probably only natural, but it was perhaps too obvious a reference and it never made the finished version. The "Melodrama Mix" is mostly "dubby" but still includes a vocal, well, it actually includes two. As well as John's prominent chorus (and I use the term very loosely), you also get Wobble messing about in the background, screaming, and shouting ("I'm a bleeding great Albatross!"). The whole track was probably just a bit of fun in the studio that was never meant to see the light of day, but it's not without its merit. The difference between this light hearted take of 'Albatross' and the emotion of 'Death Disco' are just another example of what PiL were all about."

I suppose I'm not surprised that these tracks have been bootlegged. The mixes are so good they were bound to get plundered at some point. But what potentially could be the ideal 4th disc for the new 'Metal Box' re-issue falls a bit short.
There's another quote – not one of John's – that says: a good idea tried, is better than a bad idea perfected. I'm not so sure…

Picture Credits: (Top to Bottom)

© Sleeves/labels etc are copyrighted by their respective copyright owners