Keith Levene:
3:AM Magazine, May 2004
© 2004 Greg Whitfield
LOOKING FOR SOMETHING
Greg Whitfield interviews PiL/Clash guitarist Keith Levene for 3AM.
"Another strange thing happened when I was in LA: I went to a meeting of physicists, artists and scientists out in the desert somewhere -- when I was there, one of these professors came over to me and said, "Keith, I've got some people here who really need to speak with you" and he introduced me to these Hopi Indians. These guys could really relate to some of the tunes I was making -- I had made a track with this deep drone tone weaving through the whole structure of the song, which tied in with their natural world philosophy and some of their shaman ceremonies. That was fulfilling, speaking with those Indians tribesmen and elders."
"I respected my influences enough to never imitate them. That was always important to me. It still is." (Keith Levene)
"So my advice is -- Panic! But do not be frightened. Your ears are naturally made to take in much bigger wattage. They do not need to be fused. Just check: Does all that round edged, soft focused, smooth and clean sounding music you hear on flat plastic and vinyl provide any dynamics at all to stimulate your ears, mind and body? At last... disorientate yourself."
(Steve "On the Wire" Barker: early ONU Sound sleeve notes)
It's a cold and windy day as I make my way to Levene's Missing Channel Studio in North East London. He opens the door; a slim wiry figure, dressed in black flight jacket and black jeans, his familiar shock of blonde hair immediately conjuring up memories of those early PIL record sleeves. He invites me into his flat; a very large spacious loft area, with high white walls, metal pillars, heavy wooden flooring and massive gallery windows overlooking the energy and movement of East London's urban sprawl -- I glance out over wind swept, busy streets reflecting London's flux and diversity. Hassidic Rabbi's stroll past serene Rasta's (otherworldy in their pre occupations) mingling with the newer waves of Vietnamese and Kurdish immigrants.
Half of Levene's large and spacious flat has been converted into a studio, the other half is his home. A drum kit and mixing desk dominate the centre of the studio (bear in mind, Levene played drums on the Steel Leg EP with Don Letts, as well as playing on some of the Metal Box tracks) -- an array of guitars are neatly stacked against the walls. The piles of records and books scattered about the room reflect something of Levene's taste: a lot of it is bass heavy classic Jamaican tunes from the early 60's onwards -- records by great men like Don Drummond (the audaciously talented and original hornsman who died in a sanatorium for the mentally ill in Kingston, Jamaica), the Cuban -- Jamaican sax player Tommy Mcook, Studio One legend Roland Alphonso, some Can albums (Tago Mago) and some free jazz (Billy Cobham). There are piles of books -- mainly on physics, quantum theory, the origins of underwater sea life and works on art and cinema ("Escher has always been a favourite of mine" says Levene ).
Levene formed The Flowers of Romance with Sid Vicious and The Slit's Viv Albertine, co wrote some of The Clash's first album (after stealing Joe Strummer from the 101'ers), played on the first three definitive PIL records, aswell as later going on to record some tracks with the best UK and Jamaican reggae artists: Serious, dignified and spiritual chanters such as Bim Sherman and Prince Far I. Check out Levene's sparse but intense work on Singers and Players War of Words, Creation Rebel's Threat To Creation and Dub Syndicate's Stoned Immaculate.
Whilst aspects of Levene's guitar style heard on those PIL and ONU albums does arguably have some precedents in the works of Keith Hudson (Satan Side and Hunting), Earl Chinna Smit, (Nature Dub from East of The River Nile), and Coxsonne tunes like Zoot Sims' Studio One side, African Challenge, Levene has never been over derivative in his work, and his guitar patterns are clearly very much his own. As Keith explains, "I respected my influences enough to never imitate them. That was always very important to me -- It still is. What you hear on a PIL record is no steal, you understand?"
'Reaching the Badman' and 'Devious Woman'/'Threat To Creation' with the late Bim Sherman are serious tunes -- deeply inventive, strange guitar loops and jagged ice like patterns raise these tracks to new levels of innovation far above generic form and structure. Like his playing and composition on Metal Box and Flowers of Romance these sparse sounds cannot effectively be compared to other artists or even, for the most part, adequately described. The guitar sounds and structures Levene creates just are.
Such are noises that defy categorisation.
Essentially, Levene's best work has sought a new anti structure and syntax, which has all too often been absorbed by other musicians and passed off as their own creation -- but as the mic chanter Prince Far I cantankerously emphasises in his autobiographical invocation on his Staggering Heights ONU Sound album, "First is first and second is nothing. Check it!"
His exit from PIL also saw him recording with ground-breaking industrial noise funk outfits, namely some of the ex members of The Sugar Hill Gang -- Keith Le Blanc, Doug Wimbish and Skip McDonald had made up the backbone of The Sugar Hill rhythm section, recording the pounding physical funk of 'White Lines', 'The Message' and 'Malcolm X' all released on the Tommy Boy label. These musicians were making records with a drum sound like a concrete door being blown off its hinges, the snares punching holes in the mix. Whilst in LA, Levene also worked with Flea and Hillel from Red Hot Chilli Peppers, and members of the famed early hardcore band, Fishbone, recording loose and aggressive metallic funk tunes like 'Looking for Something' and a surprisingly low key and spiritual version of the Hendrix tune 'If 6 was 9'. He also found time to contribute to a movie soundtrack.
Should the listener still feel any need or desire to categorise the Levene sound, it would arguably be better to give up.
There is a lot to talk about : A whole lot of history to discover -- Levene, like Lydon and Jah Wobble, has somewhat of a reputation of being a person that speaks his mind, tells it as it is, as he feels it. And indeed, it's true. Like Wobble and Lydon, you get the impression Levene is not someone you're going to mess around. (But beyond that, there is a certain directness, a sensitivity to his character, a lack of pretentiousness, and what seems to be an ever present sense of mischievousness and humour, close to the surface. Levene is quick witted, with dark and intelligent eyes -- his mind moves rapidly, jumping fast from subject to subject. "My mind thinks about so many things at the same time, so excuse me if I change the subject fast or answer your question with a very different point!" Levene explains, with a spirited smile.)
Over the years, the press has enjoyed pumping up the supposed drama of the enmity between the ex members of PIL -- the mistrust, bitterness, anger, paranoia and resentment that Wobble, Levene and Lydon apparently feel for each other, but throughout this interview, I sensed nothing of the sort from Levene, but rather a sense of fondness and regard for Lydon, and a definite recognition of what Jah Wobble has achieved.
1. Memories of the Pre Pistols and pre PIL years in London:
"Keith and I used to work on a lot of sounds. We used to talk about guitars all the time... You had to be quite strict. There was no sign of a twelve bar in anything you did."
(Viv Albertine describes The Flowers of Romance's attitude to guitar sound to Jon Savage)
"At the 100 Club, Bernie (Rhodes) comes up to me and says, 'You're in the 101'ers, give me your number, I've got to call you about something'...we had a squat in Orsett Terrace... a few nights later at the Golden Lion Pub, Fulham Broadway, Bernie came down with Keith Levene. The 101'ers were going, 'who's this?' I went outside to talk to Bernie , we were hanging out ... and Bernie gave me an ultimatum and said, 'Look, I'll give you twenty four hours, I've got to go on this thing, so you're in or you're out, dial me in 24 hours' ...So I thought about it all night and I thought about it all day and I rang him and I just said 'I'm in.' and that was before meeting Mick and Paul. What really sold me was Keith Levene -- in those days, people looked really boring, and Keith looked different."
(Joe Strummer on leaving the 101'ers)
"We was expecting Joe. We was sitting in the living room area, me and Mick, and then Keith Levene turns up with Joe. So we go into the rehearsal room which is a box, like five foot by five foot; it was cramped... That made a statement, well this is it, we're going from here onwards together. That was the first day of The Clash."
(Paul Simonon describes the first day of The Clash)
"I grew up in North London. Southgate and Finsbury Park, just around the corner from John Lydon. I always loved music. I remember being so into the Beatles when I was just a kid: Sergeant Peppers and The White Album. I also loved classical music -- this big mental impression and dark sound landscape. I was very close to my Mum, and she got really worried about me, because I was so fascinated by music, right from when I was just a little boy. I was intrigued by the valves heating up in the dusty amplifier; this little dansette with a bass cone. I'd watch the records spin round -- The Beatles, 'I Wanna Hold your Hand', plus I was also totally taken with classical music. Prokoffiev's 'Peter and The Wolf.' I'd just sit there, watching the vinyl and not speaking. Sitting there in the cold in North London, listening to 'Peter and The Wolf'. That was where it was fucking at as far as I was concerned --I didn't care about the rest of the shit. I was just this weird kid, but in these sounds I sensed a strange vocabulary I could understand. This sound emanating from the speakers was what it was all about. Fuck it.
We knew by the time the mid 70's arrived that we were fucked. Doomed. England was a wasteland in those days. We were destined for the scrap heap unless we could figure out an escape from the mundanity. I got a job in a factory when I was fifteen, but all I cared about was playing guitar. There was a lot of noise in the factory -- white noise and wall to wall sheet metal din. A constant hammering; an ambience of industrial noise all the time, in this bleak dark place, which was like some Victorian factory from a Charles Dickens story or something -- but to tell you the truth, I started working and getting paid when I was about eight years old -- I used to run around the tailors in Petticoat Lane in East London and ask if I could do some work for them. So I used to work for these guys, and even then I was living on my wits. If one of these tailors didn't have a job for me to do, I'd ask them to send me to someone who did have something for me to do. Later I learned to sow, and I used to do work on the suits myself: sow up a shoulder or do some lining. My father was a really good tailor, and my sister made clothes really well too. That was her talent, and later she made clothes for PIL.
As for my destiny? I wasn't going to be a nine to five stiff. Any band I was going to be in was going to be cantankerous. Failing that, you consign your life to 9 to 5 drudgery. Fuck that -- my path was clear to me, even then.
When I heard reggae 45's and 12" from people like Lee Perry and The Upsetters, it was incredible. I always used to flip them over and play the version. It was extraordinary, the feeling of being high without any Ganja. I remember getting into a fight with some kid at school because he'd stolen some reggae vinyl of mine, probably some old Bluebeat tunes! Later it was stuff like Keith Hudson that I loved, and the man Big Youth. To us he was Jah Youth! "Lightning flash and the weak heart drop!"
I remember a kid in my area impressed me because he had a guitar which he just used to play non stop, and I thought right there, right then, 'so that's it, that's what I want to get into'. I'd been a roadie, but I thought fuck roadying, this is what I really want to do. I wanted to play guitar so badly -- I wanted to play guitar all the time. So that was it for me as far as I was concerned. If you like, this is where my initiation began: When I was just fifteen, I left school. My parents didn't agree with it, but what could they do? (Much later, a lot later, my Mum respected and understood what I was doing. My sister Jill helped her to understand. Jill would say, "Mum, don't worry about Keith, he isn't playing some shallow nonsense, Keith's band is changing things." So my Mum was good about everything. When PIL folded, I remember my Mum saying to me, "Keith, be patient now. It's going to take a year or two for you to adjust to this." My dad never understood what I was doing. Even now, he still doesn't understand my life as a musician. I think he just thinks I played music for a while, but never gave him any money.)
I moved in to my mate's house and we just played and played, all the time. I knew a lot of people around London, and we were all into music. I mean really into music. Very quickly, I worked out what was like a network of squats all over London. These were places I could stay, places my friends and I could get high, places I could hang out and play music. I had about five main squats I stayed at. Those squats were a lot of fun, but some heavy stuff went on: very sordid in a way. The ones I remember well were the Shepherd's Bush and Hampstead squats.
London was a very different place then. It was still in many ways, this fucking post war environment. You had loads of destroyed environments, wasteland areas. Lots of condemned houses, perfect for squatting. Very easy to get into. Just break in and change the locks and we were all hip to that you know? It was great. Just break in the early hours of the morning, and it's yours; you could make a place to hang out; a place to leave your records and your leather jacket and your guitar. We usually could only afford the cheapest guitar, bought between a few of us, and we'd share it. These squats were dark Victorian places. Forgotten places, almost ghostly and other worldly in the English winter. It was like living in some kind of Dickensian novel or some Victorian melodrama in a way, we were so poor and living on our wits. But the mood wasn't dark -- it was electric. Cold, but like white heat.
What do you want to know about the period between 1975 to 1979? There was nothing. Just some terrible pub rock bands like Eddie and The Hot Rods, and The Stranglers or progressive rock. Then you had the Pistols at The Nashville. They just wiped the slate clean. I'd never seen anything like it. It was a cold rainy evening. I just walked into the Nashville off the London streets and from that moment on, my life was transformed: I knew this was fucking IT. Nothing could ever be quite the same again.
How could it be? You know it was like one of those moments in your life when everything just seems right, and I knew where I was standing was the right place for me to be in this world, and what I heard that night was firing; no one could touch The Pistols.
I went to that Pistols gig with Bernie Rhodes, who went on to be the Clash manager, and Bernie is just freaking out, and he says 'Keith look at their guitar player! Check it out, because that fucking guy has Sylvain Sylvain's guitar! Malcolm just bought it in from New York' and I reply, 'Look Bernie, that's a detail lost on everyone here except for you, man! '
The Pistols were great. There's no questioning that. But no, what really stood out for me over an above the band as an entity, what really stood out that evening, was this young guy John Lydon. He just really captured my attention.
I'd known people like Mick Jones and Viv Albertine for some time. Paul Simonon was a great painter, and he looked good, but he couldn't play bass at that time, but that didn't matter. He looked great; these cheekbones, and black suits from a 2nd hand thrift store or somewhere that he'd just torn up and spray painted. Mick Jones would just say to Paul, "play these notes: Here, this is how it goes, ok?" and Paul would do it. We all loved reggae b lines; those huge stepping bass lines, and mic chanters; people like Big Youth, who was so hip at the time. "Screaming Target?"Hail Jah Youth
I remember going down Portobello Road with Paul Simonon and Rat Scabies from The Damned: We all bought these 1940's style macs in different colours -- we looked like some kind of fucking gang. No one wore those clothes at that time and had shorn off hair. No one looked like that. I mean No one -- period. That was some kind of turning point for us, that day in Ladbroke Grove when we bought those old leather flight jacket macs. It felt right; it felt like we'd arrived. Our consciousness was consolidated, and we knew what was happening was special.
I taught Viv Albertine to play, and I used to play with Mick and Joe and the others, but I just wasn't going to join a band with a name like the London SS! Besides that, I wasn't into the music these guys were playing. I thought it was lame, I really did. I wasn't into people like Tony James at all. Joe Strummer looked good. He used to wear these mid 50's rockabilly styles, baggy suits and crepes, and was pure white heat energy on stage. It was me that got Joe into the Clash when I stole him from the 101'ers. I remember, I said to him "Joe, come round my squat and lets fucking play", so Joe comes round dressed in a creased 2nd hand Zoot Suit or 50's check shirt and battered motorbike boots or something (those were the styles he wore in those days) and we just set up our amps, plugged in , and ripped through tunes like "Janie Jones" or "What's my Name", yeah, those were the tunes we were working on, and he just grabs my guitar by the neck, stares me in the eyes intensely and says "Keith We really have something here, and I love the way you play it!" It was just one of those moments, burned in my consciousness -- the squat was dark and cold, the room we were playing in was just tiny, but the music was pure energy, raw power, sweat just rolling down my face.
We used to talk a lot; we used to talk about what were gonna call the band, and all of us were big reggae fans. 'Screaming Target' by Big Youth was getting played a lot in the squats were we lived and played, so we thought for a while about names like 'The Weak Heart Drops', which of course is drawn from the lyric, "Lightning flash and a weakheart drop!" but we didn't go for it in the end: it would have made a powerful name, no doubt, but there was also an inherent negativity and ambiguity to the name which we couldn't go for. Lightning flash upon Babylon is fine if you visualise Babylon as the weakheart, but we didn't want anyone to think we were the weak hearts, so we didn't go for that name.
(Years later, many years later, I meet Joe in a recording studio in LA, and you know what? I was so pleased to see him I just wanted to just hug him, and he tries to pretend he didn't know me. Fuck that. He got what he wanted before he died; he got into the rock and roll hall of fame.) I thought Mick was ok, but I didn't like his style of playing. I thought the Clash were lame too. I wanted something much slower, heavier, more intense. Like what PIL music became some years down the line when me and John Lydon put our minds and vengeful spirit together.
By that time, we'd heard the first Ramones album too, which I just loved. That Ramones album was fucking it. What Roy Orbison or Buddy Holly were to rock and roll, The Ramones were to us. They were fucking brilliant. The Ramones were just it. It didn't influence the way I played though: No, not at all.
I respected that rock and roll format for what it was, but what I wanted was a new vocabulary to work within. The blues weren't anything to do with me you know? I wanted to get away from that 12 bar bullshit. I remember with some bands I played with, I thought, "fuck, if I could just amputate one of your fingers, we'd get away from all that rock and roll 12 bar shit and get into something really important!" I mean, we didn't have any manifesto, but if we had one, that would have been it! The Ramones had been the ultimate in that 12 bar form, they had taken it to a logical extreme, but I wanted to investigate what lay beyond that. That was why dub music and version on those Jamaican dub plates fascinated me, because they had nothing to do with accepted structures and formats at that time. Nothing to do with 12 bar structures! Nothing to do with the blues or rock music. Those dubs sounded so strange, like music from another planet -- they sounded like rhythms from an African settlement on Mars! I fucking loved them, and they influenced me a lot. John was influenced by them a lot too. But we never imitated them, you get me? What you hear on a PIL record is no fucking steal. I respected my influences enough to never imitate them. That was always very important to me. Still is. Dub had nothing to do with rock n roll vocabulary, but was dealing with frequencies and sounds that had never been even invented before that time!
Anyway, my heart wasn't in The Clash sound at all -- I remember going to rehearsals and just being so depressed about their sound. They got it so wrong man, they thought I was depressed because I was having a bad amphetamine come down. So it happened like this :one day, I get to the rehearsal room which is this dark, damp room -- the band are sitting around, playing tunes from The Stooges and The MC5 and King Tubby's Hi Fi on their little cassette machine, waiting for me to arrive cos I'm late as usual. We plug in and start playing, and I remember Joe Strummer poking me in the arm and going, "Look Keith, just what is wrong with you man, are you into this or not". I'm not into it, so I just leave my guitar up against the amp, feedback howling back like mad, like white noise, and I just walk out.
I can still hear that feedback whine as I leave the studio and walk onto the street. Fuck them. And they thought it was a bad speed come down. You wanna know the truth? The truth is I hated their sound. Even though I wrote some of their first album, I can't listen to it. That's the truth. There is the printed version of what happened, and then there is the real version of what happened.
I didn't bother me when I left The Clash, not at all. I mean, how could I be in a band which played songs like 'White Riot'! Fuck off! What did we have to riot about? Then there were the fucking stupid lyrics like "No Elvis, no Beatles and the Rolling Stones." Fuck off! I didn't want anything to do with it. Then there was some bullshit like Mick Jones told me he predicted the death of Elvis. Bullshit.
So I didn't care. I knew John Lydon anyway through Sid Vicious. Sid was my mate, and he'd told me a lot about John at the different the parties and clubs we used to go to. Sid would say, "Keith, let me tell you, there's this guy called John, and you two just really have to meet" so I knew a lot about John before we'd even met. And when The Clash supported the Sex Pistols, that's when me and John Lydon made a kind of agreement. Neither of us was happy with our band situation that night, and John was looking ahead to quite different ideas from the other guys in The Pistols. So right off, me and John understood each other. There was a hatred, a cynicism, a kind of darkness, a nihilistic energy, but also a lot of mad humour. We both wanted to see the death of rock and roll, and to kick the ghost of rock in the arse once and for all; give the ghost a shove as he fell into the grave.
I'd met Sid years before that on a train. I always used to see him around North London, and I thought, "he looks like an interesting person". One day, I went up to him, and said, "What's your name, we should talk and hang out, go places." So we did. I remember I took him to one of our squats; it was in Hampstead I think, cut his hair, put this mac on him, and a pair of wrap around sunglasses. He looked fucking great! Sid was great, and Sid was not Vicious. I hate it when I read the shit that people write about punk in general and Sid in particular. For a start, I don't even really like that word -- punk is just a label. Sid was fucking great; a really funny, nice person. People were stupid because they under estimated Sid, and didn't give him enough credit for what he actually was. Sid wasn't stupid; on the contrary, he was smart. Sid was hilarious too: he was so tall, and he had a kind of Dee Dee Ramone walk and goofy manner. Some people at the time, and some people now, under estimate Sid. Big mistake. It pisses me off. People speak and write a load of nonsense about punk. I deliberately avoid reading books about that period, and I'm not interested in watching films of that period either.
So me and Sid formed The Flowers of Romance along with people like Viv Albertine (who as I said, I'd taught to play) but of course all that folded when Sid joined The Pistols. I remember when we were doing the Flowers of Romance, we used to jam a lot. Sid tried to play the drums, but I remember, he also used to ask me about playing the bass. Could Sid play bass? I don't know, but one thing I do know, was that Sid did things quickly. One night, he played the first Ramones album non stop, all night, then next morning, Sid could play the bass -- that was it, he was ready! I told you, Sid did things quickly! Sid always used to have some catchphrase he found funny. He used to go on and on, "Hey Keith, you know Belsen was a gas." So I used to say to him, "What the fuck is that?" and he'd just say, "Yeah Keith, Belsen was a gas" So I said, "Belsen was a gas huh? Well, I'll show you Belsen was a fucking gas; THIS is how it goes man." and I banged out the riff to the tune, which later The Pistols covered. PIL also played it too. We were nihilists in a way, but we were never political in any conventional sense of that word. What we truly were was nihilists, destructive nihilists, but we weren't pessimistic. Fuck no. We were interested in the ruins, the destruction, but then we were interested in what we could build out of the rubble. What light could come out of the darkness?
Lemmy and his drummer Philthy Animal Taylor were on the scene too at that time, and of course the punks understood them! Lemmy fucking scared people. He enjoyed the fact that he scared people! And he can fucking play too. Let me tell you, to play that way, the way Lemmy does on a Rickenbacker ain't easy, and he plays in a really original way too. We used to have massive speed sessions together in the squat. I remember fucking raging speed sessions in these tiny rooms, up for days and nights. What are you going to do when you are with Lemmy? Come on, you're not going to get intellectual are you? Fuck off. You're going to talk about music, talk about Rickenbackers and take speed! Lemmy is great. Sid lived at one of Lemmy's squats for a while, and Lemmy tried to teach him bass but it didn't work! Lemmy was very much on the scene, and also ended up playing with his version of The Damned called The Doomed. The name was very fucking apt. He wanted to call his first band "Bastard".
I remember when I hung out with all the Heartbreakers and The Ramones when they came over to London. It was then that I was introduced to smack. I was intrigued by their longing. It would always get to the point that Johnny Thunders and Dee Dee Ramone would be just so desperate to score. I couldn't understand it at first. What was it, why was the urge so powerful. What was this hidden mystery? Why was it so important, this longing? The Heartbreakers drummer Jerry Nolan was hilarious, just like a cartoon! I remember he was also a hairdresser, and would run around cutting peoples hair when they were all gone on smack. He looked like a cartoon figure. The first time I got smack sickness I rang up Viv Albertine and said, "Viv, I feel really sick." Sid was also intrigued and powerfully drawn to the world of smack -- he idolised Thunders and Dee Dee and in the end Sid's mind was twisted by a kind of smack psychosis which is just so sad. I think he got into drugs through his mum as well. Sid was a lovely, very funny person, and not as stupid as people are led to believe. Not at all. Sid was my mate.
On the point of smack though, there are a lot of double standards that piss me off -- why is it considered ok for Keith Richards to be have been a junkie for so long? Why is it romantic for Iggy and the Stooges to have been into smack, some kind of heroic romance for The Chilli Peppers, but for Keith Levene it's like a fucking taboo which people always associate with me? Then there is the other PIL cliché, "four different band members on four different drugs" Bullshit. Most of the people in PIL were doing all kinds of diverse drugs it's true, but we weren't all on different drugs. And anyway, in the whole scene at the time, a lot of people were doing a lot of drugs! C'mon! We were punks for God's sake, we weren't fucking choir boys! We didn't invent taking drugs; it came with the territory at that time. We were poor punks who couldn't afford more than a cheap guitar between three people.
The Slits were friends of mine too -- I knew Viv Albertine closely. We used to play a lot together. We were into something we called guitar depression, in which we transferred all our feelings and mentality through the fucking guitar. The guitar was a medium for our mental make up. This intense vibe that emerged from the amp then, was our mental catharsis, our mental noise. But it had its own purity. Out of the doom, and out of the banality that was London in the mid 70's, we had our fucking buzz, an aspiration for new forms. You know I've changed focus to bass recently, and just last week I had my first bass depression! I'm getting so into the bass now.
Tessa Pollitt, The Slits bassist, was always very quiet, reserved and shy, but I could see she was a good person, and that she had her own darkness. Her own dark side. I liked her, and she was so much a part of what The Slits were about. It was so obvious she was so sensitive and a good person. Years later there were all kind of rumours about Tessa OD'ing on a cocktail of smack and other drugs, because she'd gone AWOL, just disappeared. It's only years later, I read she'd gone off to the desert in Ethiopia or some place. I heard some Slits tunes the other day, perhaps for the first time in over twenty years, and I was quite taken aback, I thought, 'fuck! These girls did it; they had some fucking good tunes!' Tracks like 'New Town' with that good groove, and of course I like 'Instant Hit' because I know what it's about -- it's about my friends -- it's about Sid and John. Some of the things I read Viv Albertine writing now, it makes me feel affection for them, and I wish they could have made their ideas known to me then all those years ago.
But in another way, its frustrating and irritating for me when people only want to talk to me about Sid or The Clash -- I don't want to talk about Joe Strummer. As I say, Joe got what he wanted. He got into the Rock and Roll Hall of Fame.
When people want to talk to me all the time about the past though, it's like they want to live their life through a picture of how I was, or John was, or Sid was back in 1976. It's very strange, and quite unreal. A projection, living your life through an image of another person, an idea of how things were. It's like the lyric of that Pistols song,-- "Down down, down down, let me take you down to the underground! Down in the dark, and down in the crypt, down in the dark where the typewriters flick. Down, with your pen and pad, ready to kill, to make me ill. Wanna be someone, ruin someone, ruin me."
2. Memories of PIL.
"Keith was one of the most talented fucking guitar players I've ever known. He made a guitar do things that were not supposed to be possible"
(John Lydon speaks to Keith Cameron, 2004)
"When I first heard The Sex Pistols I was shocked. I didn't like what I heard, but at the same time, I was fascinated... I found Public Image to be very interesting. I like 'Metal Box' very much."
(Can's Holger Czukay speaking with Mick Sinclair, 1982)
People still talk a lot about 'Metal Box' -- at the time we were recording that album, I spent a lot of my time talking to sound engineers at all the studios we recorded in -- John Lydon didn't get it, he used to say, "why are you talking to these beardy weirdies Keith? What the fuck is it? Is it drugs? What is it?" The point is, it was nothing to do with drugs. These engineer geeks knew stuff years ahead of their time, and I used to learn so much from them. I loved talking with those guys. They really knew their stuff. The track "Bad Baby" had an intensity -- those lyrics are about me! Let me tell you about the guitar and keyboard patterns -- there is a lot of anguish, a lot of longing in those sounds. A lot of real, real longing in those sounds, specifically in the coldness of the keyboard structures. I just wanted to record everything. Sometimes John didn't know the tapes were rolling, and you can hear him saying, "Alright, stop", but of course, I'd told the engineers to just let the tapes roll. You can't believe how difficult it was to hold back on those tracks on 'Metal Box', to keep the sound sparse, to not crowd anything -- it takes a real discipline to actually subtract from the spaces rather than add all the time.
I remember doing 'Socialist' -- I'd just bought these cheap synths, so me and Wobble were really having fun fucking around with these things, whilst submerged in the mix was this huge soaring sound, rising upwards from the drum and the bass, like a whale's cry. Richard Dudanksi (ex-101'ers drummer) was so nervous he was going to lose time, so I had to keep nodding to him to let him know he was keeping the groove ok. Later on I dubbed up the cymbals, so you have that spiralling metallic sound. Dubwise! In a way, it was so excellent working with Wobble because he had no preconceptions of what music should be, preconceptions a trained musician would have -- I just used to tune the bass for him, and we'd play. Plus he'd work really fast, and I liked that -- if I didn't like something, he'd just go, 'yeah ok, how's this then?' and come up with another wicked bass line from the top of his head. It was great.
With 'Radio Four', I was just alone in the studio one night, and I was overwhelmed with the sense of space-- I just took everything out of the studio, moved the drum kit out, and played everything myself, reproducing this sense of cold spaciousness I felt around me. That was me playing the bass -- I played what I thought people would identify as a Wobble bass line, but it was my pattern.
On 'The Suit' whilst it fades out you can hear John fucking around on the piano. Could he play piano? No, of course not, he used to do it to annoy us, but the fact that he couldn't play didn't matter -- it was the same on 'Flowers of Romance' when John plays sax; I knew I could use John's sounds in an impressionistic sense to good effect, whether he could play or not. His sounds and noises became an art in their own right in a way, whether he was a musician or not. So whether John was a musician or not just wasn't the point. Not at all.
The influence of intense bass was always there -- I remember when we used to go to the Virgin head offices, there was this PR guy called Jumbo, who had done a lot of work organising the Front Line deals with artists like Jah Youth and Far I. He had this office deep in the basement somewhere, and me, John and Wobble used to wonder exactly what he did! Every time we went there, he would open his door, and this cloud of smoke would emerge from the darkness, and he used to pull us in there, with these huge fucking speakers pounding out the latest bass lines from these JA sound system dub plates and pre release tunes. There's Jumbo saying, "Keith, just listen to this fucking bass line!" Then there were tunes like I Jah Man Levi's 'Heavy Load': Now that was a serious tune. The version I've heard on the album bears no resemblance to the massive bass line and drum space on the 12" cut. I really miss my 12" dub discoplate collection -- I lost so many tunes in the earth tremors in LA a few years later.
Regarding Wobble? Wobble misunderstood me -- I have nothing against him at all. In fact, I'd like to work with him again, because when Wobble gets a bass line right, he fucking gets it right, you know what I mean? And I like the way he works. Wobble thinks I had something to do with his exit from PIL, but he's wrong. That was something between him, John Lydon and Dave Crowe. I had nothing to do with it. I remember all kinds of petty jealousies going on at our flat in Gunther Grove -- intense, weird vibes that had nothing to do with me. I remember when the shit blew up about Wobble using the 'Metal Box' backing tracks for his own album, and how angry John was, but I just thought, 'so what? Isn't that what PIL is about, to be out there, working as a collective but with individual autonomy within that umbrella structure?' I'd have been very happy for Wobble to release his versions, but as I said, under the PIL umbrella. John was really furious, but I didn't care -- I remember when we started recording 'Flowers of Romance', I was there at the studio, tuning the bass just like I knew Wobble liked me to do, when John comes in -- "Where's Wobble?" I said, and John just replies, "He's been sacked", just like that. And there's me, I know nothing about this, and I'm shocked. Nothing was discussed with me.
Once I tried to get Wobble some royalities he was owed: I was doing him a favour, and he rings me up in the middle of the night, threatening me, 'I'm going to cut your fucking head off' and all this heavy shit, and this is someone I was trying to help. I was looking over my shoulder for a few weeks after that -- Wobble has done some stupid things in the past. I was told later, 'Wobble didn't mean it, he'd been up all night taking some drug he's not used to anymore.' He'd been down the underground all nigh -- that was the time Wobble worked for London Underground. The truth is, I've never had anything against Wobble, and after PIL split up I really enjoyed our days together working at ONU Sound studios on those Dub Syndicate tunes. Adrian Sherwood used to say stuff like, "I'll make sure you and Wobble never have to work in the same room together" and I'd say, "Why?" I feel there has been so much misunderstanding between me and Wobble which I'd really like to clear up: When me and Wobble played with the Sugarhill Gang/ Tackhead sound system down at the Town and Country Club, we hugged each other afterwards, and Wobble said he was so happy we were playing together again.
That was an intense gig, let me tell you -- this huge aural assault, with Doug Wimbish playing the bass like a lead instrument; using bass lines that followed lead patterns over Keith "Sugarhill" Le Blanc's deconstructed snares. Overlaying this, Adrian Sherwood plays his cut up tape loops of monks chanting -- all this noise, with me and Wobble playing what we usually do over this exploding surface! Intense.
"PIL seem to feel most secure when they are poised over the live wire in the Underground, checking out the noise of the onrushing train....Beyond that, it's Levene's extraordinary relationship to music; an obsessive perfectionism that leads him to loathe sounds that do not extend the known boundaries of contemporary Western music... He's either trying to strangle his guitar or hack at it with a razor, or smother it in deadly flowers of romance. Levene's synthesizer work, exemplified by "Careering" oddly parallels Jah Shaka's live dub at a sound system, though neither of them's aware of the fact. Only Shaka conjures those abstract waves and shapes of texture. The molten core means that music flows through the player like blood."
(Vivien Goldman, 1980)
"The truth of it is, I didn't know how much I loathed rock and roll, how much I deeply resented it -- that was part of the motivation behind PIL -- that deep resentment, and a longing for new forms"
(Keith Levene)
3. Memories of ONU Sound.
The work I did with Adrian Sherwood and Creation Rebel was pretty intense too -- it was dark at times, there's no question about it, but we had a lot of fun as well. Adrian Sherwood wasn't at the centre of the Gunther Grove PIL scene, but he was certainly a part of it - me and John loved his production sound. I was really keen to get involved with Creation Rebel, African Head Charge, Style Scott and the others. I was so excited about it! Those early ONU Sound albums are incredible, there's no doubting it. I tried to get John Lydon involved with Creation Rebel and the other musicians too, but he didn't. I don't know why. It was almost as if John was too shy -- So we'd be there at Gunther Grove with the usual crowd, Don Letts, The Slits and the others, and frequent guests like Dr Alimantado would be there too: we'd be dancing to one of the Dr's latest dub plates, and it was around that time me and Adrian Sherwood decided we were going to lay down some tunes together with Creation Rebel. I really don't know to this day why John didn't join us.
Around that time, everyone wanted to be around John, and John was just so into roots music and dubwise. John liked Adrian too. As for me, I loved Adrian when he was broke, when he made those early ONU Sound albums from inspiration, purely for the love and joy of it. Whatever Adrian may have done in his business deals sometimes, I could see he had a good heart. I think Adrian really cared about me too: Sometimes when I was in trouble with drugs, Adrian would come in to my room at Gunther Grove and we'd talk for a long time. Adrian would say, 'Keith, don't do this to yourself '
Adrian was fundamentally a good person, and as for the music he made? Fuck, some of the later ONU stuff has lost that intensity, but the early tunes! You could name about ten of those early ONU releases which are just right up there, right up there with the best, they are so intense. As for African Head Charge, Adrian should have done so much more with them. They were so incredible. There was nothing like their first three albums: Nothing like them! I don't know, maybe Adrian loved them so much, what they were, that he wanted to keep them for himself in some way, because there's no doubting, they were extraordinary records. I remember the excitement of tunes like 'Elastic Dance' from My Life in a Hole in the Ground and Adrian saying to me, "Keith , the talking drum! The talking drum! Just listen to the fucking talking drum!"
We had a lot of fun too -- there was a lot of mad humor and some funny situations: I remember there was this rumour going round that Tappa Zukie had just been shot down dead in cold blood in Kingston Jamaica. We were discussing it, then we went down to DubVendor in Ladbroke Grove to pick up some new 12"s, when who should stride right in, but Tappa Zukie himself! Adrian looked like he'd seen a ghost. I wanted Adrian to get Tappa Zukie down to the studio to voice some tunes, but Adrian was too taken aback -- we were convinced Tappa was dead!
The truth is, I liked the way Adrian worked on the desk -- I really liked it. Maybe Adrian doesn't realise just how much I liked his sound. And his house musicians were brilliant: Style Scott (Roots Radics drummer and founder of Dub Syndicate) with that heavy, militant one drop style, and Eskimo Fox (Creation Rebel/African Head Charge drummer) with a far more complex, spacious style which lent itself perfectly to dubwise dynamics and echo. Carlton 'Bubblers' from Creation Rebel was a real professional. I don't think he even smoked herb. Bim Sherman had such a beautiful, pure tone, and was so good to work with -- he was very quiet and quite a reserved man. As for Lee Perry? You have to pay the man ultimate, massive, highest respect for what he did at The Black Ark in the late 70's. No one, I mean no one, made tunes like Scratch's Upsetters at The Black Ark, but being honest, he was really difficult to work with in his years at the ONU Sound Studios. The man was a real pain in the neck sometimes. It was like having your dad wandering around the recording studio, sternly ordering everyone around. Still, he is Lee Perry, so what can you say?
It wasn't all good in those early ONU days though -- sometimes you could cut the atmosphere with a knife the mood was just so bad. I remember some days in the studio: guys in heavy coats with their backs against the wall -- really nasty moods, bad speed come downs and some resentful feelings amongst people. Cold vibes, which are sometimes reflected in the sound of those early ONU releases. You can hear the darkness, the coldness, the heaviness, mirrored in the sounds. It has to be said, some of it was a result of bad speed come downs too. Recording with Creation Rebel down at The Manor was nothing short of surreal sometimes, pure madness. The credits on the sleeves were often wrong as well -- quite a few of the tunes I played on and worked on I wasn't credited for on the sleeve notes.
But ultimately, what a strong collection of music!
4. Post PIL, post ONU Sound, LA years and now.
After I left PIL, I stayed in USA and carried on making music: I linked up with the Captain Beefheart drummer Robert Williams, Flea and Hillel from the Red Hot Chilli Peppers and the Fishbone singer. I cut an album called Violent Opposition -- I recorded 'Looking for Something' and the Hendrix track 'If 6 was 9' with those guys. It was great -- musically bonding with Flea! I met them and I said it straight to Flea and Hillel -- "You, me, studio, tomorrow" and that was it. Flea auditioned for PIL, did you know that? Of course we wanted him, but at the end of the audition, he just said, "I'm sorry, I'm already in a band, but I just really wanted to jam with you guys."
The tune we did together, 'Looking for Something' that is a true story -- just listen to it. The lyrics reflect a real longing; true events that happened to us at that time , what we were living through and what we were thinking about -- ("Woke up in an alley I'm searching for something, I don't know what it is. Driving through the desert, I didn't find it there. I'm looking for something and I don't know what it is. I've read all the books, but they're just the same as me man, they don't know where it's at. It aint in no Bible, it ain't in no church, and it aint in no steeple. Jesus was on a search, but he didn't find it. I don't think he found it. I'm searching for something, but I don't know what it is. I've looked in the mountains; I've looked in the deserts; I looked in the garage once, I didn't even find it there. I don't know what it is.")
Another strange thing happened when I was in LA: I went to a meeting of physicists, artists and scientists out in the desert somewhere -- when I was there, one of these professors came over to me and said, "Keith, I've got some people here who really need to speak with you" and he introduced me to these Hopi Indians. These guys could really relate to some of the tunes I was making -- I had made a track with this deep drone tone weaving through the whole structure of the song, which tied in with their natural world philosophy and some of their shaman ceremonies. That was fulfilling, speaking with those Indians tribesmen and elders.
I hung out with Robert De Niro a little too, and we went out to some clubs. I remember reading that when Don Letts met Martin Scorsese he couldn't think of anything to say to him. I can relate to that! De Niro's films like 'Mean Streets' were what I was brought up with. Those early De Niro films spoke a language I really understood.
I met Jon Hasell in LA too, and that is one serious guy. I like his music a lot -- I really relate to what he has been doing with sound, and sound treatments. He is someone I'd love to work with. I'd like to work with Jonas Helborg of Bardo records as well. I really, really like his bass playing style. Mos Def is another artist I rate very, very highly. I play his music all the time.
Right now I'm working with a number of musicians in London under the Murder Global umbrella -- Murder Global is my current recording project, and I work with a number of artists within that structure --I've been making tunes with Hip Hop artists in London and other sounds too, like ragga/drum and bass/ noise artist, The Bug. I recently took part in a Sound System Clash, playing live with The Bug versus Asian Dub Foundation and Adrian ONU Sound. Besides that, I'm also in the process of working on some tunes with some dub artists here in London and USA. The results we have are good, so we are working on securing the right deal.
The point is, I don't like being put in a category or labelled: if I want to make hardcore, I will. If I want to play in a Sound System style, I will. If I want to make ambience or work on sound track, then I will. My output since the late 70's has explored diversity without ever being slavishly derivative or labelled as any specific form, and thank God for that! I've always avoided all that! Imitating is not, not ever, what it's all about. As I've said time and time again, I respect my influences far too much to ever imitate them -- categories and labels are just so limiting to an artist, so with Murder Global, I'm trying to go beyond all that.
Generally though, I think a lot of the people I meet these days are too much in their own heads -- they read too much, and don't work out their own opinions from what life itself teaches them. I believe that concepts and ideas already exist in a perfect form outside of us. It's up to us then, to access them, to realize them through our own inspiration -- to make them a reality in our own life, to give form to them."
Copyright/legally protected by publication law:
October 2004
First Published 3am Magazine, May 2004
©2004 Greg Whitfield

ABOUT THE AUTHOR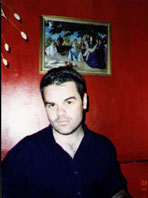 Greg Whitfield has spent most of the last twelve years living in London and the Far East, specifically Korea, where his wife is a Korean classical musician. He is currently engaged in researching and writing a book on the avant garde/sound system and bass culture, which has been emerging out of London over the last twenty-five years up until the present time. He loves Dadaism, conscious music and literature, and, of course, very loud bass.
Also see:
Bass Cultural Vibrations: Visionaries, Outlaws, Mystics and Chanters - October 2002
In-depth Post-Punk / Avant-Garde / Dub article, including many PiL references
by Greg Whitfield

Picture Credits: (Top to Bottom)
© n/a