Miscellaneous PiL People
Ed Caraballo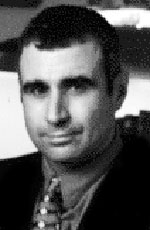 Born:
1961. New York, USA
PiL:
Video 1981
Bio:
Caraballo was brought in to the PiL circle for a few months in 1981 by Keith Levene. Already a budding TV producer, Caraballo worked with the band while they researched possible video and film projects in New York. Caraballo claims to have been made a "full member" of by Keith Levene. However, both Levene and Jeannette Lee both later denied this; claiming he was simply helping out with "technical direction".
Caraballo described his role as a "video guy" filming (still unreleased) video footage of the band around NY. He also claims to have come up with the main concept of PiL's infamous "Performance Show" at New York's Ritz, May 1981. Organising and overseeing the video element of the show.
Some of Caraballo's previously shot PiL footage was shown at The Ritz; and he was in control of the video screen on the night. However, with PiL's video and film projects coming to nothing – and after conflicts with Levene – he left not long after the Ritz riot .
Post PiL, Caraballo stayed in video and production work. He went onto win four Emmy Awards; and became a director of Sales Presence Inc; one of the biggest companies of their domain in the US.
Bizarrely, in September 2004 Caraballo was sentenced to 8 years in an Afghan prison for his part in running a private prison with US mercenary Jonathan "Jack" Idema. Caraballo was working on a documentary on Idema and was caught up in the madness. He was released in April 2006 after having his sentence reduced. He continues to work as a video journalist and documentary filmmaker, and has made a film of his Afghan experience entitled 'Embedded'.
External Links:
Perfect Sound Forever interview - In-depth account of The Ritz, 1981
edcaraballo.com - Official website
Dave Crowe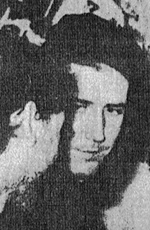 Born:
London, England
PiL:
"Company Secretary" 1978-1980
Bio:
A largely unknown member of the PiL "backroom staff". At the time, Crowe's role was never clearly defined. In fact, until he was listed on the 'Metal Box' insert in 1979 hardly anyone outside PiL knew he was involved with the 'company'.
Upon his departure Keith Levene explained his role: "John had known him for years… We made him a secretary and he ended up keeping accounts and receipts together and so on. But the PiL thing is that each person must take initiative and must have ideas and just go about them. Crowe ended up wanting to be told what his job was, and he was creating a lot of head problems, which weren't there…"
Crowe was a friend of Lydon's, who he met at Kingsway College; along with Wobble and Sid. Crowe still lives in London and remains on good terms with Lydon, but has completely left the music scene.
Scott Firth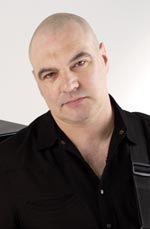 Born:
Birkenhead, England
PiL:
Bass and Keyboards, 2009-present
Bio:
Recruited for the December 2009 live shows, Firth plays bass, double bass, keyboards live on stage with PiL. He had previously played with the likes of Little Axe, Ruby, Morcheeba, as well as Steve Winwood and The Spice Girls!
Born in England but raised in Scotland, Firth started started playing lead guitar while at school, fronting The Sharps, before moving onto bass. He later became involved with session work; together with his own projects.
As well as playing in PiL he has his own fusion project U-Sonic.
External Links:
MySpace - www.myspace.com/scottfirth
Groove4Dayz.com bio

Nick Launay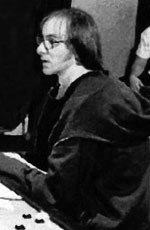 Born:
1960. London, England
PiL:
Producer & Engineer 1980
Bio:
Born in London but raised in Spain, Launay returned to the UK in 1976 just in time to witness punk. Becoming a tape operator at Virgin's Townhouse studios;, his first step into mixing and editing was M's 'Pop Music' single in March 1979.
Already a PiL admirer, Launay jumped at the chance of working with the band; originally as a tape operator on 'Home is Where the Heart is' then engineer. During the recording of the track Lydon got "pissed off" with the original engineer (he eventually locked him out the mix room) and gave Launay the job... (see Lanuay.com excerpt for full info).
Launay was later invited to engineer what was to become PiL's 'Flowers of Romance' album in Autumn 1980, and helped sculpt the now legendary PiL drum sound. Keith Levene was later to describe him as a full member of PiL at the time.
After that – and perhaps as a result of his involvement with the record – Launay quickly became one of the most sought after producers; working with a variety of top acts, and Phil Collins. In fact, Lydon later claimed they had directly copied the PiL drum sound on Collins' huge hit 'In the Air Tonight'. In another PiL connection, in 1985 Launay later produced 'Waiting For The Flood' by The Armoury Show; featuring John McGeoch.
Launay is still in the production business, and has worked with the likes of Nick Cave, Lou Reed, Arcade Fire and David Byrne. He also makes music himself; releasing an EP in 1996 under the name Fuzz Face.
In 2004 Lydon got back in touch with Launay to discuss helping him mix tracks for his planned 2nd solo album. However, although preliminary work did begin on the mixes, the idea of working together was later shelved; due to other commitments from both Lydon and Launay, plus disputes over equipment.
Fodderstompf Links:
External Links:
Launay.com - Official website
Don Letts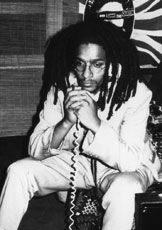 Born:
January 10th 1959. London, England
PiL:
Acquaintance
Bio:
A friend of John Lydon's – and boyfriend of Jeannette Lee – Letts was a regular on the Gunter Grove scene; circa 1978/79. Although never a real member of PiL – or ever intended to be – in the very, very early days of the band, during spring 1978, Letts reportedly jammed with the band at rehearsals, but was never intended to join. He also Djay'd the groundbreaking 1978 Rainbow Christmas gigs. And apparently acted as 'Art Director' for the 'Public Image' promo video.
Just prior to PiL, Letts accompanied John Lydon to Jamaica (when Lydon was hired by Virgin to scout for reggae talent). While there Letts filmed various footage of Lydon hanging out with reggae stars, and generally just hanging out. A short clip of Lydon in Jamaica later turned up at the end of Letts' 'Punk Rock Movie'; other small clips have surfaced elsewhere but the majority remain unseen. Letts also later filmed various footage of PiL, including parts of the Rainbow shows, but again, with the exception of very brief clips, the footage remains unreleased.

In 1986 – with Lydon finding himself with a hit single on his hands, but without a band – Letts made a surprise appearance with PiL on 'Top of the Pops' when they mimed to 'Rise'. Around the same time John repaid the compliment; making a very brief cameo appearance in the

Although being a member of various bands over the years; most notably Mick Jones' Big Audio Dynamite. Letts has concentrated on working with video and film. Making music videos and films for the likes of Black Grape, EMF, BAD, The Clash and Franz Ferdinand. He has also made several music documentaries.
In 1999 Letts directed the acclaimed Clash documentary 'Westway to the World'. Followed in 2005 with an update of his 'Punk Rock Movie' entitled 'Punk: Attitude'. He currently runs his own production company and is still heavily involved in film and video.
Letts contributed to John Lydon's autobiography in 1994. And remained on good terms with him for years, however, relations soured in 2005 when Letts tried to use Sex Pistols and PiL music in his 'Punk: Attitude' film without Lydon's permission.
External Links:
Punk 77 interview by Greg Whitfield
Ken Lockie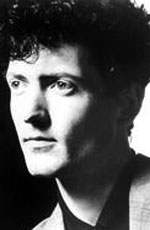 Born:
Newcastle, England
PiL:
Keyboards January-August 1982
Bio:
A friend of Keith Levene's, from his Clash days, Lockie was reportedly brought in on keyboards during the early stages of the recording of the 'Commercial Zone' album. Apparently his input was minimal at best; with some reports claiming he had no input whatsoever. Drummer Martin Atkins and bassist Pete Jones eventually persuaded PiL to get rid of him in August 1982.

It later came to light that Lockie previously had a very brief appearance with PiL during a recording session for 'Metal Box'. Again via Levene, Lockie played piano on an early version of 'Radio 4' at Advision Studios, but according to Levene: "We didn't like the studio and John didn't like Ken so that was his brief appearance as a possible PiL candidate…"
Prior to PiL, Lockie fronted his own band Cowboys International (future PiL bassist Pete Jones also toured with them in 1980) releasing the album 'The Original Sin' in October 1979. The album included a guest appearance by Keith Levene on the track 'Wish'. Lockie dissolved Cowboys International at the end of 1980 and went solo; releasing the album 'The Impossible' in 1981 (this time featuring a guest appearance by John McGeoch).
After his 1982 departure from PiL Lockie stayed in New York and together with Stuart Argabright formed Dominatrix who later released the successful 'The Dominatrix Sleeps Tonight' single in 1984. Lockie later quit music and went into the computer business.
However, 2003 saw him set up his own label Pnuma Records, and re-issue a revamped version of 'The Original Sin' on CD. He then resurrected the Cowboys International name; releasing a new studio album 'The Backwards Life of Romeo' in 2004.
External Links:
Cowboys International - Official website
Bob Miller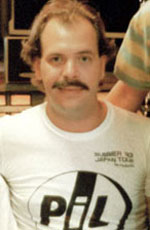 Born:
June 19th 1951. New Brunswick, New Jersey, USA
PiL:
Engineer, Co-Producer, Front-of-House sound 1982-83
Bio:
Bob Miller worked with PiL circa 1982-84 co-producing and engineering the 'This is Not a Love Song' single; and what would have been their 4th studio album (later released unfinished by Keith Levene as 'Commercial Zone').
PiL began recording the album at Park South Studios in NYC (often mistakenly called South Park Studios) with in-house engineer Chris Jorgenson, however, things didn't quite work out and assistant Bob Miller was given the job by the band. Miller was later asked to co-produce the record along with PiL. And in turn was looked upon as a full member of the company; effectively becoming "PiL Technical Production Manager". As well as producing and engineering he worked Front-of-House sound for their live gigs; and later the 1983 Japanese and European Tours. Miller had never spoken about his time with PiL until he spoke to Fodderstompf in August 2006…
He is still in the recording business and owns a company called 'BobDigital' which specialises in Music Production, Video Editing, DVD Authoring, Multimedia Creation, and Graphic Design.
Fodderstompf Links:
External Links:
www.bobdigital.com - Bob's company
Dennis Morris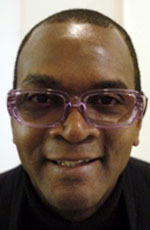 Born:
Hackney, London, England
PiL:
Photographer & Designer 1978-80
Bio:
Although never an actual member of the 'company', Morris helped design PiL's early sleeves and artwork. Most notably collaborating with John Lydon on the PiL (aspirin) logo design. He also helped design the 'Public Image' newspaper sleeve; along with the accompanying "Wild with his Chopper" style press adverts etc. Other photography credits include the 'First Issue' LP sleeve.
Morris found fame at 15 with his photographs of Bob Marley. Apparently John Lydon was a fan of the pictures and the two became friends when he was hired by Virgin to photograph the Sex Pistols in 1977. Just prior to PiL Morris, along with Don Letts and Vivian Goldman, accompanied John Lydon to Jamaica (when he was hired by Virgin to scout for reggae talent). While there Morris took various photographs of John hanging out with reggae stars, such as Big Youth; and generally just hanging out. Some of the pictures appeared in 'Sounds' as part of Goldman's feature on Lydon. The 2001 book 'Punk' features previously unseen pictures from the trip.
Although probably best known for his photography, Morris has dabbled with the music scene. Most notably the punk/dub outfit Basement 5; which also included former PiL drummer Richard Dudanski.
2000 saw John Lydon and Morris team up for a photoshoot with 'Loaded Fashion' magazine; featuring Lydon dressed Hugh Hefner style. Having already published his Pistols work (several times) Morris hopes to eventually release a book of his PiL era pictures: some of which are on display at his website.
Fodderstompf Links:
External Links:
DennisMorris.com - Official website
Steve New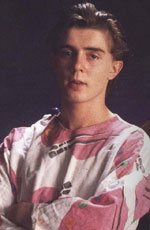 Born:
May 16th 1960. London, England
Died:
May 24th 2010
PiL:
Guitar 1980
Bio:
Never intended to be a full-time member of the band, New was brought in on Jah Wobble's departure to jam with the band; mainly due to his friendship with Keith Levene. New plays on the obscure PiL track 'Pied Piper' (credited to "Shooz"; a nickname given to him by Jeannette Lee). Apparently he jammed on other tracks, but nothing else was ever recorded.

Having infamously been in the Sex Pistols for "15 minutes" New already knew John Lydon, however, the two never quite saw eye to eye (New later being in Glen Matlock's Rich Kids probably didn't help either); and his time with PiL was never going to be anything other than temporary.

Since the 70s New has (largely) remained in and around the music business, battling a serious drug addiction along the way. After Rich Kids he toured with Iggy Pop then moved to the USA. In more recent years he has played with the likes of Kim Fowley and Glen Matlock. 2001 saw him release his first solo record (as "The New") for Alan McGee's PiL named Poptones label; preceded in 1998 by the self-titled 'Lude' EP for Creation / Rev-Ola Records.
New – as "Stella Nova" – formed the band Beastellabeast in 2006; along with Beatrice Brown. Releasing the album 'Beastiality' in 2009. Unfortunately Steve died in May 2010 four months after a special Rich Kids reunion show to help raise money for treatment for him.
External Links:
3am Magazine - Interview, December 2006
MySpace - www.myspace.com/beastellabeast
Mikki Toldi
Born:
1958. Aylesbury, UK
PiL:
2nd guitarist. Rehearsals, spring 1978
Bio:
An old friend of Keith Levene's Toldi sat in as a 2nd guitarist at the initial PiL rehearsals in London Bridge, spring 1978. However, after a few rehearsals it was decided that only one guitarist was needed, and he left amicably.
Previous to his brief PiL involvement, Toldi had played with The Bazoomis 1973-78. Then later with The Expressos who signed to WEA, and toured with the likes of The Boomtown Rats and The Jam.
2007 saw the return of The Expressos on MySpace, where Toldi has been posting new material.
External Links:
MySpace - www.myspace.com/mikkitoldi
Bob Tulipan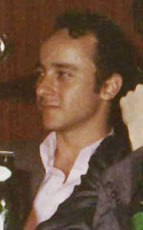 Born:
1948. New Jersey, USA
PiL:
Co-manager & Concert Production
Bio:
Prior to working with PiL Tulipan had been involved with managing bands and concert production for several years. He produced the legendary concerts with Patti Smith, Talking Heads, Richard Hell, The Jam, etc at The CBGB 2nd Avenue Theatre (a larger venue set up in wake of the club's success). Then later put together tours and co-managed the Psychedelic Furs, Mi Sex, The Only Ones, and others. He had also worked on major music films such as 'Ladies and Gentlemen the Rolling Stones' and 'Yessongs'.
Tulipan was first approached by Keith Levene in NYC to help PiL secure US visa's in 1981; then began to work more and more with the band. He was involved in getting Martin Atkins back into the fold; and was instrumental in setting up the band's first live show in over a year at New York, Roseland Ballroom, September 28th 1982. He also secured a cut-price deal for studio time at Park South Studios.
PiL were notoriously hands-on, and very anti-management before this period. Tulipan was pretty much the first outside management they ever had. Co-managing the band along with PiL, and sharing responsibilities. Though of course, PiL remained as hands-on as ever… Tulipan's involvement also saw the band make their first real attempt at regular gigging; if in an unconventional sense.
Tulipan left in early 1983 after disagreements with Keith Levene: "Keith thought I had too much power and unfortunately felt threatened, rather than understand with me it's all about teamwork, creative direction and art…"
Post PiL, Tulipan set up the Traffic Control Group together with Maureen Baker (who also worked with him in PiL; as well as photographing the band). 'TCG' are now a leading internal travel documentation/logistics company in the US and UK; with clients ranging from Jah Wobble to Pavarotti. He still works with Baker at TCG and the pair also formed Highland Ventures a film, TV and special events company; which have several major projects in production.
Additional Note:
In the 80s and 90s Tulipan and Maureen Baker were heavily involved in bringing music, dance, theatre, and art to the USA from the USSR; and vice versa. Subverting both cultures. Baker, a former college DJ, helped program Moscow's first independent radio station in 1988 and was responsible in exposing them to bands like PiL and The Clash. As a result of PiL's appearance at the Rock Summer Festival in Tallinn, Estonia 1988, Baker was introduced to the promoter Juri Makarov by John Lydon. TCG also went on to do work for Lu Edmonds and Yat-Kha.
Fodderstompf Links:
Maureen Baker: PiL's Public Image 1982/83: An selection of Maureen's PiL photography

Picture Credits: (Top to Bottom)
Ed Caraballo © unknown
Dave Crowe © Melody Maker, December 8th 1979
Scott Firth © unknown
Nick Launay © courtesy www.Launay.com
Don Letts at Gunter Grove; circa 1978 © unknown
Ken Lockie, Cowboys International; circa 1980 © unknown
Bob Miller in Japan with PiL summer 1983 © Bob Miller
Dennis Morris; circa 2005 © izumikuma
Steve New, Rich Kids; circa 1979 © unknown
Bob Tulipan; circa 1982 © Maureen Baker