John Lydon Stories of Johnny:
A Compendium of Thoughts on the Icon of an Era
Edited by Rob Johnstone
Contributors: Greil Marcus, Barb Jungr, Kris Needs, Alan Clayson, Judy Nylon, Legs McNeil, Pat Gilbert, Clinton Heylin, Nigel Williamson. Foreword by Alan McGee.
Chrome Dreams, September 2006
322 pages
£12.99
review by Scott M, November 2006
©2006 Fodderstompf.com / F&F Publishing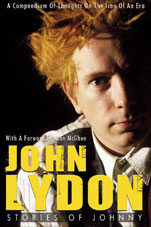 I have to say I was dreading reading and reviewing this book. Given some of the people involved I really did fear the worst (not to mention this websites' poor treatment from books in the recent past). But shock horror! I actually quite enjoyed it, well, most of it.

Rather than being a biography this is a collection of "stand-alone essays" on John Lydon from various music writers; some I'd heard of, some I hadn't, and some I wish I hadn't…

It seemed like a strange approach (with potentially academic overtones), but I suppose with official and unofficial biographies of Lydon already available it does add something new. However, the thought of a bunch of music journos writing about him didn't exactly fill me with excitement, and the fact names like Legs McNeil, Clinton Heylin and Greil Marcus were involved tempted me to think it could be nothing more than a hatchet job from start to finish. Well, it's not. It does have its nasty and absurdist moments, but all-in-all, I'd say it's a pretty balanced account of the enigma that is John Lydon.

Only Clinton Heylin and Kris Needs cover PiL in any real detail. While Heylin has decided to simply rehash his bitter 1989 PiL book 'Rise/Fall'; Needs looks back over the various interviews he has conducted face-to-face with Lydon. From the Pistols boat trip in 1977 to the 2002 Silver Jubilee; covering 'Metal Box', 'Flowers of Romance', 'Album' and Leftfield Lydon in-between; and much more. Well written, humorous and knowledgeable, Needs has by far the most entertaining chapter in the book; and Heylin the worst…

It's safe to say I'm not a fan of Heylin's PiL book, and although I was sceptical about his involvement in this book, I figured it could be his chance to right some wrongs. But no. All we get is a straight retread of 'Rise/Fall'; with virtually no new research. He still hasn't spoken to a single person in or around the band. All his misconceptions and mistakes are still here. If he hadn't used large parts of Keith Levene's 2001 PSF interviews with Jason Gross it would be exactly the same! However, it now seems PiL finished in 1984 as there's no mention of them after that point? Heylin's lazy hack-job is the closest this book gets to a hatchet job, but I suppose it's telling that what was once considered a book's worth of material amounts to no more than a single chapter here… And for someone who supposedly doesn't like John Lydon; Heylin does seem to spend an awful lot of time writing about him doesn't he?

I'm not about to dissect every chapter and author (this is a PiL site after all) but virtually all of Lydon's documented life and career is covered throughout the various chapters and authors. Each supplying their own take on who or what he is. It's also bang up to date; even covering the recent Anglo-Mania event and the Rock and Roll Hall of Shame. Also of interest for PiL fans may be a transcript of Lydon's legendary 1977 Capital Radio interview with Tommy Vance; along with a list of the records he picked.

You'll notice that (yet again) there's no mention of Fodderstompf.com in the book. The editor did contact us when the book was finished to ask permission to use some bits and pieces; and try bribe us with a free book (wow) but we said no for a variety of reasons. Some of which are very good reasons… And anyway I knew they would use our stuff with or without my permission. While there's no real unpleasantness, some of the fuzzy images do look strangely familiar. I wonder what lazy graphic designers did before the internet?

My biggest gripe about the book is (surprisingly) not the content, but the look. The page layout is amateur at best; and most images are very poor quality (all of which are black & white). Worse still, they're not particularly good images in the first place! Which for someone as iconic as John Lydon just can't be right... A large chunk of the images aren't even anything directly to do with him (Captain Sensible, Prince Charles?). The cover shot of an eighties Lydon is a strange choice too, but it is a decent pic, and I suppose the (JL.Com style) yellow/black sleeve artwork isn't too bad…

If I was being honest I actually enjoyed this book far more than I thought I would. It's refreshing to read something (largely) positive about John Lydon these days. The books non-linear format and content also provide relief for the jaded. It is something different and certainly has more value than the usual Pistols / punk cash-ins that litter the book shops.
Yes, Fodderstompf gives 'Stories of Johnny - A Compendium of Thoughts on the Icon of an Era' (terrible title though) a grudgingly good review! (only joshing); which just goes to show you shouldn't judge a book by its cover, unless you cover just another…

Picture Credits: (Top to Bottom)

© Sleeves/labels etc are copyrighted by their respective copyright owners