Bret Helm interview
First published Fodderstompf, November 2002
© 2006 Fodderstompf.com
Fodderstompf.Com: This incomplete email interview with Bret Helm – bass player from the 1984 live band – has been lying in the archives since November 2002. It doesn't look like getting finished anytime in the next four years, so we've decided to post it as it is. It's still pretty entertaining and contains some good info and stories… "Next!" Interview conducted via email for Fodderstompf November 2002, published 2006.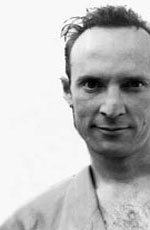 What did you do before joining PiL? Can you tell us a little about yourself…
Prior to PiL I was getting my degree in musical composition at UCSD (San Diego. CA) and was the leader of an avante garde fusion band (Miles Davis meets Weather Report) that played continuously in the area; as well as opening for major acts that came to town. Upon receiving my degree, I moved back to Los Angeles but was unable to convince my band to follow. When back in L.A. I was teaching both privately (electric bass) and at the high school level (performance bands).
How did you get involved with PiL? Were you a fan?
I never was much of a fan of PiL or the punk scene in general, for at that time, I was a musical snob and into players that could really play. My perception of punk music was that no one was really a ' player', so, frankly I couldn't be bothered.
Ironically, one of my students went to the PiL open audition and told me that I should go as they were looking for more of a funk player. I said what the heck and called up. At the time, my image was kind of Joe Jackson meets Thomas Dolby… you know, slick suits, white patent leather shoes… etc… well, my student knew this and told me to downplay that and dress differently… which I was happy to do since every day for me was Halloween anyway…
As for the music, I had no clue what to expect and wanted to seem "into them" so I asked my student to tell me about there most recent album, 'This Is What You Want, This Is what You Get' and I asked him what the funkiest song on the record was, and he said 'Solitaire'. Randy, my student, proceeded to sing me the bass line to 'Solitaire' over the phone, and I transcribed it and played it a bit before going to the audition.
Now it gets good… The audition was at The Palace in Pasadena, and when I arrived, there was Martin Atkins on stage behind his drum kit, and an Ampeg SVT amp… nothing else. Johnny, Nora and some other hangers on / crew were sitting in the middle of the theater. As I walked in, wearing Levis (I don't even own a pair of Jeans!!), tennis shoes and a T-Shirt, carrying my coffin like anvil case containing my $2,500.00 Alembic bass… Johnny started screaming, "Next… Next…", as if to say, he's seen enough of me without having to hear me!
At this point I was thinking… Who the F%&* are you and I don't give a rip... Martin on the other hand was really cool, and asked if I knew any of their stuff. Somewhat lying, I said yeah, and that we could play 'Solitaire'. Martins' eyes grew big as apparently nobody had tried to play that one due to the difficulty of it..So Martin counts it off, and we start to play, me playing what my student had sung to me over the phone..well, after about 20 seconds, Martin stops and asks what I'm doing and saying that I'm playing it completely wrong. Hilarious! My student sings me the wrong bassline over the phone, And I act all cool like I'm into PiL,and know their stuff, and proceed to stink the place up! Now John is really heckling, "Next… Next… Wanker…" and me, a bit embarrassed and totally pissed off decide to just jam it out and get into a major funk thing with Martin. I was mad and figured that I'd show these Brits a thing or two! A few minutes later, John wants to meet me and impress me with his lunacy and then give me all of PiL's records, and seems excited for us to meet and play again and says that they'll call me soon to arrange another time with the band.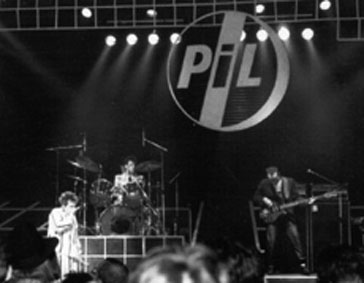 A few days go by and I get a call from one of the managers, or David Jackson the lighting guy, and he tells me that they really enjoyed my playing, but are going to go with this other guy who was more of a 'punk' and into the band... Honestly, I didn't have a problem with that and thought it was cool to have met John, get all their records, and have that wacky audition story in my life... Well, about 3 weeks later, I get a frantic call from Martin saying, "Bret, you've got to help us, can you come down here and play bass?" I said, sure, and went to the Palace either that night, or the next, only this time to find the stage complete with all band gear rehearsing for the tour.
I met the guys, played about 10 minutes, and the manager said,"OK" and then he took me back to talk to me and said, " We're going to Canada, Australia and Japan, it pays $500 per week and we leave in 10 days". Turns out, the other bass player got worse as rehearsals went on and they called me up to bail them out. So, I rehearsed the next 7 or 8 days straight, then we did an HBO/KROQ special, 'Rock of the Eighties' live from the Palace with Romeo Void, Lita Ford and The Untouchables (bizarre line-up). After that, the band hopped on a plane for Canada to start the tour..All in all, quite the natural progression… Ha!
Were the other members of 1984 live line-up previous band mates, or were they all drafted into the band?
No, we all were new. Jebin Bruni on keyboards, Mark Schulz on guitar and me on bass.
Rumour has it that Flea of the Red Hot Chili Peppers auditioned for your job, but turned it down. Did you know anything about that?
That's true… I met Flea backstage at the Palace HBO special and the first thing out of his mouth was, "Hi. I'm Flea, I could have had your job." I thought, what an idiot and would later use that as ammunition and promo for Doc Tahri. Sometimes, I would be on stage in Los angeles with Doc Tahri and I would ask if Flea was in the audience and challenge him to come on stage for a duelling bass off. Very bounty hunter style meets WWF wrestling.
I'm sure he knows nothing of this, but I even went so far as to openly challenge him to a bass off. Envisioning the two of us locked in a cage, like 'Mad Max Beyond Thunderdome' with the audience chanting, "2 bass enter… one bass leave". All in all, it was good fun at Doc Tahri live shows and added to the musical mayhem. Personally, Flea is a great player, but the stupid thing that came out of his mouth the first and only time we met was classic. Oh yeah by the way, if you read this Flea, I'm still up for the challenge… and I only need one string!

Picture Credits (top to bottom)
Bret Helm © unknown
PiL 1984 live at New York, Beacon Theatre, November 2nd 1984 © Greg Fasolino 1984
(Bret standing to right of John)