John McGeoch Press Obituaries
Also see Fodderstompf John McGeoch Biography
The Independent 11th March 2004
© 2004 Independent Digital (UK) Ltd / Pierre Perrone
John McGeoch:
Influential post-punk guitarist
By Pierre Perrone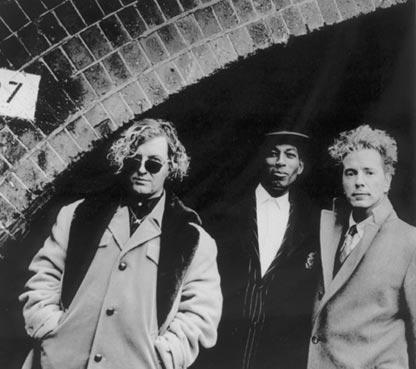 John McGeoch, guitarist and songwriter: born Greenock, Renfrewshire 28 May 1955; married (one daughter); died London 4 March 2004.
Often cited as an influence by leading guitarists such as the Edge from U2, John Frusciante of Red Hot Chili Peppers and Radiohead's Jonny Greenwood, John McGeoch played in several post-punk bands of the late Seventies and early Eighties. Originally recruited in Manchester in April 1977 by the vocalist Howard Devoto as a guitarist for his post-Buzzcocks group Magazine, McGeoch then contributed to the New Romantic project Visage, fronted by Steve Strange, which scored a massive European hit with "Fade to Grey" in 1980.
That year, he joined Siouxsie and the Banshees and he stayed with the goth pioneers for arguably their most creative and successful spell, encapsulating the singles "Happy House" and "Christine" and the albums Kaleidoscope (1980), Juju (1981) and A Kiss in the Dreamhouse (1982). He left the Banshees under a cloud in October 1982 but resurfaced four years later with PIL, the band fronted by the former Sex Pistols singer and agent provocateur John Lydon.

A distinctive player, greatly admired for his use of textures rather than his solos, but able to dream up dramatic riffs and chord changes and blistering fills, McGeoch also played on defining albums by the likes of Generation X, Midge Ure and Peter Murphy of Bauhaus. In 1996, he was described as "the new wave Jimmy Page" by Mojo magazine and figured in their "100 Greatest Guitarists of All Time".
Born in Greenock, Renfrewshire, in 1955, John McGeoch moved to the Manchester area in his teens. In April 1977, he answered a small ad placed in a record shop by Howard Devoto who had just left Buzzcocks after the Spiral Scratch EP and was looking for musicians "to play slow music again". By the autumn, the new group Magazine comprised Devoto, McGeoch, Dave Formula (keyboards), Barry Adamson (bass) and Martin Jackson (later replaced by John Doyle on drums). They made their live début at the Electric Circus in Manchester and their eerie appearance and moody sound caught the attention of Virgin Records.

In January 1978, the urgent, menacing "Shot By Both Sides" nibbled at the lower reaches of the Top Forty while Real Life, Magazine's seminal album début, made the charts as the group toured the UK for the first time. A great foil to Devoto and Formula, McGeoch shone in that setting and Magazine released a string of classic singles such as the sneering "Rhythm of Cruelty", the panoramic "A Song From Under the Floorboards" and the jaunty "Sweetheart Contract", all co-written by the guitarist. The albums Secondhand Daylight (1979) and The Correct Use of Soap (1980) were critically acclaimed and Magazine would go on to influence Simple Minds, Morrissey and Radiohead.

However, McGeoch began drifting away from the group in 1980. "I was doing a lot of sessions like Generation X and the Skids. I thought that Magazine's direction seemed less focused on guitar - wrongly as it happens - but I felt footloose and fancy free," he said later. Indeed, he was in great demand, helping Generation X - or Gen X as they had renamed themselves in a bid for power punk appeal - finish sessions for the album Kiss Me Deadly and thus providing the blueprint for Billy Idol's solo career.

McGeoch also jammed with Formula and Adamson as well as the drummer Rusty Egan and Ultravox members Midge Ure and Billy Currie to provide the soundtrack behind Steve Strange as Visage. "It was a bit of a joke but we all made a lot of money," admitted McGeoch. The Visage project paved the way for New Romantic acts such as Duran Duran and Spandau Ballet across Europe, with hits like "Fade to Grey", "Mind of a Toy" and the eponymous single and album Visage.

In 1980, the "guitarist for hire" came to the attention of Siouxsie and the Banshees, then a trio of the singer Siouxsie Sioux, the bassist Steve Severin and the drummer Budgie, with occasional help from the Cure's Robert Smith. "I was surprised to get the call," said McGeoch:
Steve Strange told me to wear black and we met up in a pub in Notting Hill. They invited me along to their rehearsal studio in Camden and. within two days, we'd routined "Happy House". They really liked that guitar line, that was the clincher. I was going through a picky phase, as opposed to strumming. "Happy House" was lighter and had more musicality in it. They invited me to join. I was sad leaving Magazine but the Banshees were so interesting and it felt like a good move. The guitarist fitted in immediately.

We began to tour a lot. There were plenty of sellouts and everybody enjoyed what we were doing. By the time we went in to record Juju, the dynamics had already been perfected on stage. We were a pretty damn heavy pop group and a successful one. We were having hits but there was still a certain hauteur, a feeling of us against the rest of the world.

Siouxsie Sioux says:
John McGeoch was my favourite guitarist of all time. He was into sound in an almost abstract way. I loved the fact that I could say, "I want this to sound like a horse falling off a cliff", and he would know exactly what I meant. He was easily, without a shadow of a doubt, the most creative guitarist the Banshees ever had.

However, there were tensions within the Banshees, who ousted their manager Nils Stevenson just before the recording of A Kiss in the Dreamhouse in 1982. McGeoch's fondness for fine wines also caused concern:
I really ruined a gig in Madrid in October and that was it basically. I was definitely out of control. I was having a hard time coping with the demands of it all. I had a bit of a burn-out, that's the easiest way to sum it up. I ended up in hospital and I didn't get a second chance. By the time I'd got myself sorted out, it was a done deal.

John McGeoch picked himself up and formed the Armoury Show, with the vocalist Richard Jobson and the bassist Russell Webb, both former members of the Skids, and the ex-Magazine drummer John Doyle. They issued the album Waiting for the Floods in 1985. "Then John Lydon scalped me," said McGeoch. "There were a lot of fireworks around PIL but we had quite a lot of success, except in fickle Britain." He played on three PIL studio albums (Happy?, 1987, 9, 1989, and That What Is Not, 1992) and toured on a regular basis with Lydon's band between 1986 and 1992.

After 10 years in Los Angeles, McGeoch moved back to London in the mid-Nineties, attempting to put together a group called Pacific, with the former Spandau Ballet drummer John Keeble, and later also working with Glenn Gregory of Heaven 17. He trained to become a qualified nurse and also recorded background music for television programmes.


The Guardian 12th March 2004
© 2004 Guardian Unlimited © Guardian Newspapers Limited
John McGeoch:
Innovative and influential guitarist of the post-punk era
By Dave Simpson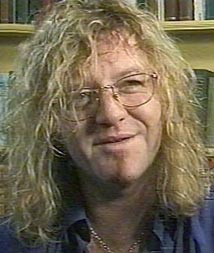 John McGeoch, one of the most innovative rock guitarists of the past 30 years, has died in his sleep aged 48. The Scotsman - once described by the Smiths' drummer Mike Joyce as "one of the true good guys" - unleashed his unmistakable, dextrous guitar sounds within some of the most revered bands of the post-punk era.
He was in Howard Devoto's massively influential Magazine; he spent an enormously productive three years in Siouxsie and the Banshees before going on to join ex-Sex Pistol John Lydon in PIL.
While McGeoch's back catalogue is matched by few British guitarists of his generation, his influence continues to reverberate. A host of young bands - from The Strokes to The Rapture - owes something to the myriad of sounds McGeoch pioneered.
Equally, he has been credited as an inspiration by U2 and most of the world's biggest rock bands. The Red Hot Chili Peppers' John Frusciante recently said that he taught himself to play "learning all John McGeoch's stuff in Magazine and Siouxsie and the Banshees".
McGeoch was born in Greenock, Strathclyde, but moved in his teens to Manchester, where he immersed himself into the fledgling punk scene. In April 1977, an advert led to a meeting with Devoto, who had just left Buzzocks and was looking to explore new forms of music beyond three-chord punk.
McGeoch proved the perfect foil. The young guitarist's memorable riff - a sound like an elastic band building to snap - fuelled the band's classic debut single, Shot By Both Sides, an outsider anthem which reached Number 41 in January 1978 and ushered in the post-punk era.
McGeoch featured on the band's first three classic albums, Real Life (1978), Secondhand Daylight (1979) and The Correct Use Of Soap (1980), developing his trade mark of getting guitars to make unusual but powerful sounds. However, he quit the band in 1980, disappointed by the lack of commercial success to match critical acclaim.
McGeoch had already guested with bands such as the Skids and Generation X, but now began moonlighting with Magazine colleagues, the bass player Barry Adamson and the keyboard player Dave Formula in clubland guru Steve Strange's synthesiser band, Visage, formed with members of Ultravox.
Although McGeoch saw the band as a joke, smash hits such as Fade To Grey signposted the era of Duran Duran and Spandau Ballet. His next projects would prove equally creatively and commercially rewarding.
After being asked to join the Banshees, McGeoch featured on, arguably, their most enduring albums, Kaleidoscope (1980), JuJu (1981) and A Kiss In The Dreamhouse (1982). The hit singles of the period - particularly 1980s Happy House and Israel - featured some of McGeoch's most spellbinding work, hypnotic circular rhythms conjured from icy guitar notes and echo. However, eventually the stresses of touring and drinking led to a nervous breakdown, and McGeoch found himself in hospital and out of the band.
An unsuccessful tie-in with Skids' Richard Jobson (1984-86) in The Armoury Show was followed by another largely glorious spell with Lydon's PIL, a band he admired greatly - largely because of Lydon's lyrics - and was reputed to have been first asked to join in 1984.
Eventually clambering onboard in 1986, he transformed PIL from a left-field, experimental outfit into a provocative, marauding rock band. McGeoch moved to Los Angeles and went on to become PIL's longest-serving member bar Lydon, staying until the band dissipated in 1992.
After his return to England, work on more dance-oriented material with Heaven 17's Glenn Gregory and a projected band, Pacific, with Spandau Ballet's John Keeble, came to nothing.
For the first time, the pioneer found himself stranded in another era. He qualified as a nurse in 1995, but had lately been writing music for television as subsequent generations of guitarists hailed him. Siouxsie Sioux once described McGeoch as "my favourite guitarist of all time". He is survived by his partner Sophie and daughter Emily.
John McGeoch, guitarist, born May 28 1955; died March 4 2004

Picture Credits: (Top to Bottom)
John Mcgeoch, Alan Dias & John Lydon, 1991 © Schoerner
John Mcgeoch: Rock Family Trees, 1998 © BBC