Jah Wobble & The English Roots Band
30 HERTZ
HZCD28
Tracks:
ONE DAY / NO NO NO / PLOUGHBOYS DREAM / VISIONS OF YOU / BLACKSMITHS SONG / ROCKY ROAD TO DUBLIN / AND THERE WAS SEA / BYKER HILL / MY LOVE'S IN GERMANY / FULL STEAM
Running Time: 56:26 mins
review by Scott M, October 2006
© 2006 Fodderstompf.com / F&F Publishing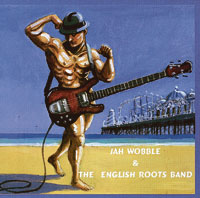 When the first 'English Roots' studio album was mentioned back in 2003 I have to say, I was concerned. Traditional English folk music given the Wobble treatment? Visions of Aran knit sweaters and morris dancers with Sally Army style acoustic guitars sprung to mind. However, that's as big a cliche as punk-rockers with untuned guitars and mohawks. I'm not saying it doesn't happen, but there is far more to the music that just that. And 'English Roots Music' proved it. It wasn't as strange a combination as I first thought. The band managed to keep the traditional song structures; while bringing new life to the music. Filling the vocal melodies with bass, guitar and dubby loops; along with more traditional instruments such as bagpipes and flutes.
Playing these songs live has probably helped fight the preconceived ideas people have of the record, once they heard it, it clicked. It certainly won over quite a few people, myself included. Over the last couple of years the songs have progressed and a document of the show made perfect sense, but rather than a live recording Wobble has pulled the band into the recording studio for an album based on the live set. 'Jah Wobble & The English Roots Band' is effectively the band playing live in the studio, and its raw stripped down sound manages to capture their power perfectly.
Don't get me wrong, this isn't a redux recording of the first album, only an overhauled 'Blacksmiths Song' & 'Byker Hill' are repeated. The majority of the tracks are made up of new material plus other traditional songs given the Roots Band treatment; such as 'Rocky Road to Dublin' & 'Ploughboys Dream'. Also included is a new extended recording of 'Visions of You' – and one of the highlights of the live set – a stunning cover of 'No, No, No' (aka 'You Don't Love Me')*. A reggae standard, now a royal Wobble standard.
Of the new material the first track 'One Day' stands out as my current favourite. The opening bars sent an erie PiL shiver down by neck before bursting alive with Clea Rose jazzy vocal. Superb stuff. With this track followed by 'No No No' the album has an incredibly strong start but still manages to keep its quality right through to the very end. The new revamped recording of 'Visions of You' sees Wob share vocal duties with Liz Carter. There's no doubt a hint of irony in his voice as he makes a point of repeating "repetition, repetition…" as the track separates into a full-on dub.
It's probably worth mentioning that the artwork by John Freeman is based on Jack Vettriano, but I can rest assure you, unlike Vettriano the material on this album is more than a straight copy of someone else's work. Mr Wobble has never needed a instruction book for anything. There's a huge difference from being inspired by something to soullessly copying it… On a lighter note, I can only presume from the cover that Wobble has been working out since the last time I saw demolish an Italian meal!
I don't own a Aran knit sweater but I do own a Sex Pistols cashmere (I'm such a show-off), and when I think about it, that's the perfect analogy for the English Roots Band…
Jah Wobble & The English Roots Band:
John Wardle - Bass
Mark Saunders - Drums
Chris Cookson - Guitar
Clea Rose - Vocals
Liz Carter - Vocals
Mick Routledge - Soundman
* Reggae Trivia Note: Made famous by Dawn Penn the track was originally recorded by male vocalist K.C. White. Not a lot of people know that, but now you do…

Picture Credits: (Top to Bottom)

© Sleeves/labels etc are copyrighted by their respective copyright owners