John McGeoch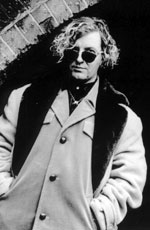 Born:
August 25th 1955. Greenock, Scotland
Died:
March 5th 2004
PiL:
Guitar 1986-92
Bio:
Reportedly "scalped" from the Armoury Show – originally only for the 1986 'Album' Tour – John McGeoch would go onto become PiL's longest serving member; bar Lydon. Staying with the band until they unofficially disbanded in 1992; and playing on three studio albums ('Happy?', '9' and 'That What is Not') along with countless live gigs.
McGeoch formed a formidable partnership with Lydon and PiL, and is widely regarded as their most important collaborator; post Keith Levene. Together with Allan Dias he became the backbone of the "new" re-invented PiL; contributing co-writing and acting as a full member. McGeoch's arrival helped change the sound and outlook of the band; with a more guitar friendly 'rockier' sound becoming the way forward.
Having moved to Manchester, via London, as an art student in his teens, McGeoch teamed up with Howard Devoto to co-found the acclaimed Magazine. He later joined Siouxsie and the Banshees; contributing some of their most interesting and original guitar work. While battling alcohol problems, and after a reported nervous breakdown, he left The Banshees in November 1982.
McGeoch also recorded session work for the likes of Generation X, Ken Lockie, Richard Jobson and Visage. Then later formed the Armoury Show in 1984 together with former members of The Skids. He landed the PiL job in spring 1986 and often joked he had been "scalped" by PiL. A huge admirer of the band, McGeoch jumped at the chance: "Well, I'd been living off Public Image guitar lines for years, so I thought it was time that I finally sealed and signed the document. Now I'm playing Public Image lines for John, as opposed to any other sort of pretender…" He also separately stated he had previously been approached to join PiL as far back as 1983.
At a PiL gig in Vienna 1986 McGeoch was hit in the face with a two-litre bottle of wine, needing 40 stitches. Unfazed he continued to play live with the band until their final shows in September 1992.
With PiL unofficially disbanding in 1992 McGeoch returned to England from LA and continued to make music; albeit somewhat low-key. 1994 saw him work with singer Glenn Gregory (Heaven 17) and guitarist Keith Lowndes (future ABC), however, the project apparently split-up before recording or even playing live.
In a scarce interview for 'Q Magazine' in 1996 McGeoch claimed he was still technically a PiL member, but intended to form his own band Pacific; along with John Keeble (Spandau Ballet) and Clive Farrington (When in Rome). Speaking on the 1998 'Rock Family Trees' TV series McGeoch confirmed he was working with the band, but – with the exception of at least one London showcase – little came of the project.
1995 saw him quit the music business to become a qualified Nurse. However, he chose not to pursue the career and returned to making music; which he continued until his premature death in 2004.
McGeoch signed to Rykomusic publishing in 2002 and had been writing music for TV, including theme tunes for Channel 5. He also contributed to the official Siouxsie and the Banshees biography by Mark Paytress; published summer 2003.
Sadly, John McGeoch – aged just 49 – passed away in his sleep on Friday, 5th March 2004 in Cornwall, England. He is survived by his partner Sophie and daughter Emily.
RIP John, you'll be sadly missed...
Fodderstompf Links:
John McGeoch Press Obituaries - The Independent, March 11th, 2004 by Pierre Perrone / The Guardian, March 12th, 2004 by Dave Simpson.
External Links:
MySpace - myspace.com/j_mcgeoch (Tribute page run by his daughter)

Picture Credits: (Top to Bottom)
John McGeoch; circa 1991 © Schoerner