Robert Poss interview
First published Fodderstompf, December 2002
© 2002 Fodderstompf.com
Fodderstompf.Com: Robert Poss successfully auditioned for the November 1983 European PiL Tour, but was eventually dropped due to time constraints. Robert has taken the time to write to Fodderstompf about his short time "in" PiL... Interview conducted via email for Fodderstompf December 2002.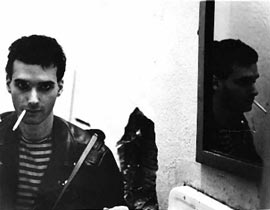 In the autumn of 1983, I lived in New York's East Village. I was playing in a band called Western Eyes, which was really an evolution of my former blues-punk band Tot Rocket. Tot Rocket, formed in 1978, had done 3 independent seven-inch records. (Some of these are still being sold in Germany today, I'm told.) We were heavily influenced by The Clash, The Jam, Graham Parker, Johnny Thunders, the Buzzcocks and the Sex Pistols, with a touch of Chicago blues thrown in --
The Western Eyes LP was a bit more experimental; we enlisted the help of electronic music composer Nicolas Collins to record and then remix our material in unconventional ways. I was a bit disillusioned with the music industry. New York was a tough city to be in a band; it was very cut-throat and competitive. This, of course, was before the world wide web, and MP3s, etc, etc and indie bands still released everything on vinyl. I was sick of my current dayjob, and decided to "escape" to graduate school (Columbia University, here in New York City) while I figured out my musical future. Another member of Tot Rocket / Western Eyes, Andrew Halbreich worked at Top Cat, a major rehearsal studio. He told me one day that PiL had booked time there, was auditioning guitarists, was not having any luck finding the right person ... and that I was the right guy for the job. That was, in a sense, true.
My style was very influenced by Keith Levene, Steve Jones, and The Edge (U2) and I had developed my own minimalist approach to guitar. I was acquainted with (original Go-Go's bassist) Margot Olavarria and Geoff Smyth, who knew Martin Atkins, so I had some vague, tenuous social connection to PiL....
Anyhow, the only PiL record I knew well was the first record, though I had never learned any of the songs on it or anything. I listened to that a number of times, and went to an audition. I was the last person they heard. This was the first rock audition I had ever been to. It was pretty nerve wracking, but I got my red Les Paul Junior Non-SG Double Cutaway, a Tube Screamer and an Ibanez analogue delay and when to Top Cat. Top Cat was a classy place, and had good equipment, and a full stage for band showcases. I briefly met the guys and plugged into the Marshall half-stack (the same type of amp I used at the time) on stage. We started with the PiL Theme, Annalisa, Low Life... ... and they liked what they heard. I remember the manager telling me to turn down the delay so they could hear my playing better. We then tried a bunch of stuff that I didn't know at all, like Death Disco, and I just improvised the best I could. John didn't participate. He sat with the others to listen/watch me. Eventually, the audition was over, and we all sat down to talk. They seemed to be very favourably impressed, and asked me if I was able to leave for a tour of Japan or Europe the next month, etc,etc I told them that I could also sing (back-ups). John immediately piped up, "We already HAVE a singer, thank you," which we all laughed at. The deal was that they really liked my playing and sound and were going to call me that night. After midnight either I called Martin or Martin called me, and John was on the line and he said, "You know we want you, right?" I was dumbfounded. This was suddenly my "big break." I couldn't really believe it.
A rehearsal was scheduled, and I realised that I had to go out and buy all of the other PiL records and learn the stuff dead fast. I also had to deal with quitting school and my band, and changing the direction of my life. I recall being up at Columbia, this was the first or second week of classes, and I had secured a student loan, and some financial help from my parents, I called them from a phone both. I said something like, "Hello, mom and dad. Remember Graduate School? Well, remember the Sex Pistols?" I explained the situation to them, how this was to be my big break. I recall my mother saying, something I'll always remember, "Robert, you can go to graduate school anytime, but Johnny Rotten only comes around once." So, I went about my business in a dreamlike state, talking to my girlfriend about how I would be leaving on a two month tour in a few weeks, telling my friends that I had, incredibly, been asked to join PiL. I went to from trying to be focused on school, to being totally distracted by this new musical opportunity, "cramming" to learn a whole bunch of PiL songs that I was unfamiliar with while still going to classes.
To make a long story short, I was given a pre-release cassette of 'Live in Tokyo', we had a second and maybe a third rehearsal, this all happened in early to mid September 1983. However, ultimately, it turned out that PiL wanted a guitarist who would precisely mimic note-for-note the 'Live In Tokyo' guitar sounds, down to the last Stratocaster through a compressor and phase shifter setting, the way a studio musician might do it. I was a skilled, creative guitarist with my own style, and/but by no means a studio guy adept at that sort of total mimicry. It would have taken me a long time and too many rehearsals to master all of the stuff apparently, and they decided it was easier and less tedious to rehire their old guitarist for the tour, which ultimately was resoundingly panned in the press -- critics said that the bass player and guitarist were studio / lounge hacks, or whatever, as I recall. I raised this fact jokingly a year or two later when I ran into Martin at a wedding.... He later had me audition for Brian Brain, so I must have done something right the first time around. Any how, I was no longer (and in fact had never truly been) "in" PiL, so I had to go around and tell everyone that I had not joined the band after all. I never was able to fully focus on school after that... though I did manage to get my degree. A strange episode in my life, to be sure; I'll never forget that brief euphoric moment of acing the audition and of being "in" PiL.
In June of 1984 the experimental Western Eyes LP came out. It got some excellent press, but it was time to move on for all of us. We broke up a short while thereafter. I put out a solo cassette in 1985, and in 1986 formed Band Of Susans with some friends.
Robert Poss
December 2002
Robert Poss: Distortion Is Truth website
Band of Susans - Wikipedia

Picture Credits (top to bottom)
Robert Poss, Band of Susans; circa 1984/85 © unknown