Richard Dudanski interview
First published Fodderstompf, May 2004
© 2004 Fodderstompf.com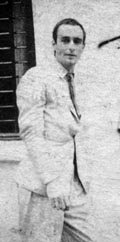 Fodderstompf.Com: One of many early drummers, Richard Dudanski (aka Richard Nother) played with PiL mid-1979. Popular belief is that Martin Atkins was drummer on 'Metal Box' – in fact, he only plays on one track – Richard played on the majority of the album; as well as appearing live with the band. This was the first PiL interview Richard had given in a very long time… Interview conducted via email for Fodderstompf April 2004.
Apparently Keith Levene got you into the PiL set up, I presume this was through the Joe Strummer/101'ers connection. Did you have to audition for the band, or did they just accept you on Keith's backing?
That's right. I had a telephone call out of the blue from Keith. I knew him vaguely from The 101'ers days in early '76: at gigs, and occasionally at the squat we had in Orsett Terrace. John I also knew, to a lesser extent, from the couple of gigs when the Pistols had supported The 101'ers at The Nashville. PiL were actually at The Townhouse Studios in Shepherds Bush when Keith called, so I literally stuck my drums in my car and went straight over. In fact they had a good kit miked up and ready to go, so after brief introductions it was straight in to some playing with Wobble. I suppose you could call it an audition, but in fact from that first session, we crawled out of the studio 12 hours later, we put down 'No Birds Do Sing' and started working on other rhythm tracks.
Until recently I thought you had played on 'Death Disco', but it was David Humphrey the drummer previous to you. Do you know exactly what tracks you played on 'Metal Box'?
Yes, the rhythm track for the single had already been recorded, apparently with David. In fact I did re-record 'Swan Lake' a couple of times, one of the versions being used for 'Top of The Pops'. In the next couple of weeks after my first joining we also recorded 'Chant', 'Memories', and 'Socialist', all recorded at The Townhouse.

Can you remember exactly when you joined the band? It would appear that David left around April '79, but there really wasn't any mention of you joining until 'Death Disco' was released in June.
The exact date no. But it was end April, beginning of May.

I would imagine the band were in a hurry to get you involved, and continue with the recording. How long did the actual recording take, was it done consecutively or in smaller blocks? Did you do all the recording at the Manor?

We only went to The Manor once - later that summer. In fact we recorded no rhythm tracks there - just put on some guitar and vocals, and did a bit of mixing. Apart from the couple of weeks mentioned in The Townhouse when I first joined, we later used a studio down in Bermondsey (can't remember the name) where we did the bass and drums for 'Another' ('Graveyard').
Why do you think PiL went through so many drummers, was it hard to fit in?
Well, in general it's true that drummers do tend to move around more than others! To start with I felt very comfortable with the band. There was a creative attitude, and musically they were up to experimenting, without any commercial pressures. I was very excited on joining, and it had a lot to do with the ethos behind the group. John's experience with McLaren in the Pistols, had no doubt influenced his desire to set up the group without any managerial interference, and besides that Virgin didn't really interfere with the artistic side of things. I had refused the Clash drum stool precisely because of the Bernie Rhodes "manager" factor, and since then had played with various commercially unsuccessful bands, including the fledgling Raincoats, The Bank of Dresden and most importantly for me with Tymon Dogg in Tymon Dogg and the Fools - we called ourselves the Fools because we knew we weren't playing the commercial Punk line that was the order of the day.
With PiL I found a group with record company backing who valued their independence above all else, and who also viewed the vast majority of bands present on the '79 punk scene in the same light as I did.
Do you think you were building up a decent partnership with Wobble and the rest of the band? Musically, how did PiL work as a band?
Yes, I loved playing with Wobble. He was/is a natural. Kept things simple, yet would come up with some great lines. Keith was definitely one of the most inventive guitarists around at the time, and very creative on the mixing desk. John was always special. Great singer and spot on lyrics. On getting to know him more, my respect for him grew. He loved music of all sorts from a Renaissance Motet to Bulgarian Polyphony. Long hours we spent in Gunter Grove delving through a great collection of discs he had. Early 70's reggae and Irish folk music were top of the list.
Also living at Gunter Grove was Dave Crowe - a mate of John who would look after the logistics side of things. He was a really good geezer to have around... so all in all I was very happy with the set up...

Was being in PiL as stressful and intense as it seemed!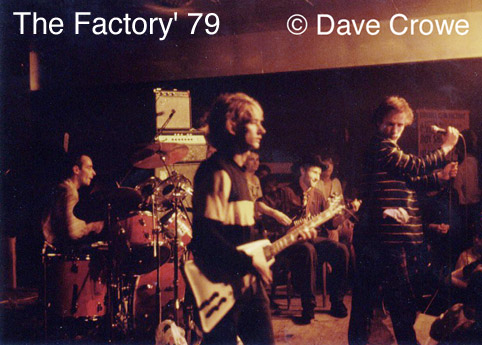 No, I wouldn't describe it that way. We took things pretty easy in fact! So easy that after a couple of months I 'd describe the feeling, for me at least, as frustrating! Here was this band brimming with possibilities and apart from a couple of weeks playing in the Townhouse and a night or two south of the river, we never played together - no rehearsals or just for the sake of playing - hard to believe but true - not one!! In June we went up to Manchester for a TV promo, and managed to sort out a last minute gig at, I think, The Factory. We of course hadn't rehearsed, so for half the tracks it was improvisation for me, but I loved the gig - had a great time.
'Top of the Pops' was also a laugh. We were supposed to mime the backing track with John doing a live vocal. They suggested we use plastic cymbals on the kit (as The Police were doing) so as not to make too much noise! Bugger that we thought, and crashed in to things as normal, but of course we couldn't hear what we were supposed to be miming to!
How did the sessions go for the recording of the album? It would seem the tracks were largely improvised in the studio, were you involved in any of the writing? Knowing the way PiL worked I presume you were given the freedom to just do as you pleased?
Yes, the tracks all came out of the initial rhythm tracks. Either Wobble or I would start a rhythm pattern, and the other would latch on to it and we'd take it to wherever it went, so at that point I suppose you could say it was improvised. Sometimes we'd be doodling around, and Keith would suggest doubling the time or whatever. Other times the tape would just be left rolling. Having decided on the track from Wobble and I, Keith would usually then put down guitar and/or synth, and then John (who would sometimes start writing lyrics in the studio as we played) would put down the vocal.
True to his word when I entered the group, John later gave me a quarter share of the writing credits, for all the songs I recorded with them.

What's the story behind you leaving? Did you jump or were you pushed?

Bit of both really. As the summer drew on and we still hadn't sorted out a rehearsal I had more than one barney with Keith. It quickly, and unfortunately, got to the point of zero communication with him. The gig we did at Leeds was crap, the feeling in the band was awful, and when Keith started getting hysterical that was it. I actually spoke to John saying that it was either Keith or me, but as I knew the obvious answer to that one, I knew it was saying adios to the whole thing.
Did you leave immediately after the Leeds gig? Why did you go the extent of writing a letter to the NME? Did you feel unfairly treated when you left the band. They weren't exactly kind to you in the music press, saying that you were too nervous and couldn't keep time live.

Yes, I left within a few days of the gig. I wrote the letter to the NME in a fit of pique really, and although I stood by what I wrote, I did feel afterwards it was an unnecessary thing to have done. But I had seen how the group had talked about their previous drummers and I didn't feel like just lying down and being slagged off by them in the same way. Of course, I knew when I wrote it that I was setting myself up for an even more vitriolic reply, so when it came, it didn't surprise me at all!
I know you are unhappy about the talk of you being asked to leave due to a drug habit, can you clear things up for us?

We'd smoke a lot, and there was Billy Whizz around a lot of the time, but to say I had a speed habit is just rubbish. I think it probably got said out of spite as an answer to my letter to the NME. I was accused of "speed paranoia" precisely by the person who had problems in that direction...
You were in the band when they appeared on 'Check it Out' in July 1979 - where the presenters tried to set John and the band up - what are your memories of that? Can you reveal any of Wobble's swear words under all the beeps!!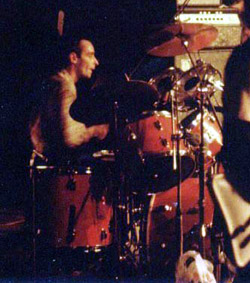 It's a long time ago and I haven't seen the video of it that I think exists. Yes, there was definitely the feeling of it being a set up. They just wanted cheap publicity at the expense of John and the band "a la Grundy". It was an ever present problem for John, trying to establish the group in its own right. But when you come from the most notorious band in rock history, I suppose you have to learn to live with the past.

Do you know of any unreleased tracks from your time in the band? Were you involved in any of the re-recording of 'First Issue'?
We certainly put down more rhythm tracks than were released on the Metal Box, but I haven't any tapes of them, and no I had nothing to do with 'First Issue'.

Did you enjoy your time in the band. Are you proud of your work with PiL?

As I've said - to start with yes it was enjoyable, but things went down hill, due to the fact that we did no playing together. By the end it was a feeling of total frustration. As for being proud of what I did in PiL? The pop bizniz is all about Myths... when you put it in perspective, it seems like a drop in the ocean. I had worked, and was to work, in loads of other bands, who just didn't have the breaks and the cash to spend hours in top studios. But yes, I do think of the happening bands around in '79, PiL were at least trying to do something different. 'Metal Box' is a special album in that respect. I suppose 'Chant' is my favourite, with volume turned up to Max of course.
What did you do after leaving PiL?

Started working with Jim the Bass, who had just finished with his band The Homosexuals. They had a crazy scene in a squatted School House in Hammersmith. We did some recording with Tenor Sax man John Glyn and an accordion player. Jim (aka Amos) was to be an on/off musical partner throughout the '80s, we ended up with a band called The Decomposers. He now goes under the name of "Harmon e. Phraisyar" and you can check out his show on 'Resonance FM radio'.
In mid 1980 I enlisted in Basement Five, but left after a long tour supporting The Blockheads, to go on a year trip to Brasil. I then joined The Raincoats for a year or so (recording the LP'Moving' with a mini tour of the States). I then started working with Tymon Dogg again, including various recording sessions which Joe Strummer produced down at Glyn Johns's studio... etc etc...
Apparently you moved to Spain, and now run a recording studio, can you tell us a little about it all?

I moved to Granada with my Spanish wife in '88- much prefer the way of life out here.
I set up a studio for a time, although that was temporary with a guy who needed somewhere to put his recording gear. I started off here with a band called "Por Si Las Moscas". Strummer came out to help mix an album we recorded. I've also played in other groups, including "Al Jaima" a Moroccan band. Right now we have a band called The Dog House with singer/guitarist Tom Lardner and my son Maki (13 years) on bass, doing a kind of garage punk with electrified acoustic guitar. We're recording this month.
Do you still have any contact with any PiL members?
No absolutely no contact. Just a few words with Wobble here in Granada at a Womad gig in the mid 90's...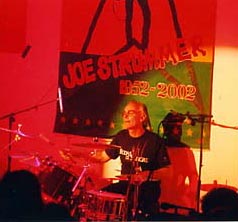 You've been involved with the Joe Strummer 'Strummerville Charity', have you more plans for any 101'ers gigs?

Yes, I organised a memorial gig to Joe in a community hall in London that we had played various times together in the 70's. It was the first 101'ers reunion since '76, with my mate Tom Lardner from Granada doing the vocals and rhythm guitar. Also on the bill were Wilko Johnson, Vic Goddard, Tymon Dogg. A great night had by all I think, in memory of someone who was very special to me. I then organised a concert here in the gypsy quarter of Granada - Sacromonte. Joe had had special links with Granada and a lot of its musicians. Got a set together with Tom, Mick Jones, Jem Finer (Pogues), Tymon Dogg, Derek Goddard, and various Granada bands. Just to say "Goodbye" to Joe, that's enough, though, as far as tribute gigs go...
What are your plans for the present and the future?

Can't wait to get in the studio to record with The Dog House, then more gigs with them. Bit of a problem with my son there, though. At 13 he's just a bit young to be on the road missing his rithmatic! I'm also writing a tale about my experiences in the 70's early 80's. It's nearly finished, so will be looking for a publisher....

Any last thoughts or comments?
Congrats on your site, and Cheers to you!

Picture Credits (top to bottom)
Richard Dudanski, NME PiL front cover 1979 © unknown
PiL live at The Factory, Manchester Russell Club, June 18th 1979 © Dave Crowe
Richard, The Factory, Manchester Russell Club, June 18th 1979 © Dave Crowe
Richard live with the 101ers, Joe Strummer memorial 2002 © unknown