Plastic Box
Disc 4
Disc 4:
SEATTLE / ANGRY / THE BODY (US 12" Mix) / SELFISH RUBBISH / DISAPPOINTED / HAPPY / WARRIOR (UK 12" Remix) / USLS 1 / DON'T ASK ME / CRIMINAL / LUCKS UP / GOD / CRUEL, ACID DROPS, LOVE HOPE & THINK TANK (Radio 1, Mark Goodier Live Session 25.2.92)
Running Time: 76:44 mins
review by Scott M, May 1999 (First published F&F 9)
© 1999 Fodderstompf.com / F&F Publishing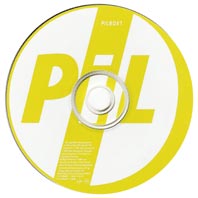 1986/1987 saw the birth of PiL II (for want of a better description), John finally had a settled line up, a mixture of friends and contemporaries featuring the likes of Magazine's John McGeoch and muti-instrumentalist Lu Edmonds. The settled "band" line up paid dividends for the fans, as (shock horror) in under 18 months PiL were back with a new album and single. The first of the new material to be released was the under-rated 'Seattle', featured here as the album/12" version (incidentally, I tried to get Virgin to use the rarer US 12" version of the track with the different intro but they opted for the normal version, pity).
Musically it wasn't a huge shift in direction but it was a change, the big guitars were replaced by more melodic sounds, and in came a greater use of synths and even some female backing vocals! Unfortunately only four songs from 'Happy?' are featured, the singles 'Seattle' and 'The Body' (featured here as the US 12" version and getting it's CD debut) along with their B-sides 'Selfish Rubbish', and 'Angry' . 'Selfish Rubbish' was a non-album track that was only ever released on CD in Japan so it's great to get it here despite being somewhat patchy, the lyrics are great, "Everything in life should be free, except the bits that belong to mee" but to be honest I find it pretty tuneless...
Again, only four songs from the band's next album, the synth based '9' , are featured next, and again, two of the tracks were singles. To save on running time they decided to drop the 12" version of 'Disappointed' and just use the album version (it's on 'GHSF' anyway). However, 'Warrior' is featured in UK 12" form, a superb version, I always wondered why they didn't use this version on the Greatest Hits, it's far superior to the abortion Dave Dorrell made of it. It's basically an extended version of the album track, but it also features some great samples from Dustin Hoffman's 'Little Big Man', along with extra synth and some superb production effects. The album version of 'Happy' is featured next, this track was released as a double A-side with 'Warrior' in the US, and therefor (like 'Warrior') there's a few great remixes of it in existence, I tried to get Virgin to use one of them, but space was tight and it was decided the album version would be used. However, they did decide to use the alternative version of 'USLS 1' taken from the B-side of 'Warrior', or at least that's what I thought, when I got the box set it turned out they'd used the normal album version (Doh!).
PiL's surprise 1990 hit 'Don't Ask Me' is next, a classic pop song with smooth production and serious content (John Lydon Eco Warrior!), superb stuff. Next is another of PiL's rarer tracks, 'Criminal' taken from the soundtrack of the 1991 movie 'Point Break'. Like 'Pied Piper' it's not one of their stronger tracks, it's ok, but they've overdone the keyboards a bit to be honest, it's just a little bit too poppy (probably because it was for a soundtrack), I like the 'funky' bass on it though! When I first mentioned 'Criminal' to Virgin they had never even heard of it! They had asked for a tape of 'Commercial Zone' (which incidentally they really liked) and just by chance I taped 'Criminal' on the B-side to let them hear it. Their initial response was "We're not putting that on" but after they realised it was a rarity and that it would be ideal for the box set they changed their minds (one of my small victories!).
Next up are two tracks from PiL's excellent 'That What is Not' album a return to a more rockier/funkier sound, and I know I keep saying it, seriously underrated. Another three tracks from the album, this time recorded from a live Mark Goodier session, conclude the box. It's a good session, and the tracks don't sound too different from the album versions, however, it's a live session and obviously JL hadn't learnt all the words yet! As he says during the 'No future' sample at the end of 'Acid Drops': "They'll be no future for me if I carry on like this"!
I have to admit that it annoys me PiL 87-92 were squeezed onto one disc, and it equally annoys me that their work is written off as "Lydon's LA period played with a bunch of session musicians". PiL II were a long term band, McGeoch and Dias were in the band for six years (that's testimonial stuff for PiL!), and they released some seriously good records in that time. Despite what the music press say, the band were popular, they played decent sized venues throughout the world, the majority of the albums and singles went Top 40, they might have been releasing records that were more rockier or poppier than their earlier material, but there is no way you could call any of it simple rock or pop.
The reviews of 'That What Is Not' particularly annoyed me "PiL sound like your average US rock band". Who? What fucking US rock band had tracks like 'Cruel' or 'Good Things' on their album, how can you call that "US rock". The truth is, in general the music press despise John, he's made a lot of enemies over the years, and it's all petty shite, for example, the music press couldn't wait till he got older, so they could slag him for being an "old fart", don't believe me eh?, the week JL turned 30 the NME's front cover was "Here's looking at 40". As John said in his recent Times interview, anything he releases gets treated with instant disproval, no matter how good it is, 'Psychos Path' proves that...

Review Continues:

Picture Credits: (Top to Bottom)

Plastic Box 4
© Sleeves/labels etc are copyrighted by their respective copyright owners