Plastic Box
packaging etc
review by Scott M, May 1999 (First published F&F 9)
© 1999 Fodderstompf.com / F&F Publishing
Additional Info…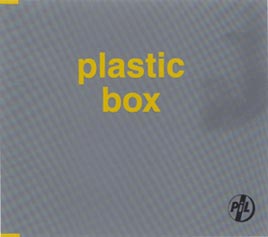 John once said that he saw the packaging on his records as an extra track, well, it's certainly the case with 'Plastic Box', I absolutely love it!** Part of the reason I like it so much is that it doesn't really look like a box set... The four discs are held in an old style double CD case, and the case along with the 36 page booklet are housed in a clear PVC slip-case. The CD case is dark grey with silver lettering and a small PiL logo on the front, and a large PiL logo on the back. Simple but effective. The 4 CD's aren't numbered, instead they all feature a different coloured PiL logo, which matches up with the track listing. The original plan was for the box to released be in metal not plastic, but due to the fact Virgin USA pulled out of releasing it (they've apparently since changed their minds!) the budget had to be changed. That was also part of the delay in releasing the box set, as you may remember it was originally going to be January...
The one thing that surprised me about the booklet was how short the Lydon interview is, John did over six hours of interviews for the box, but you can read the whole thing in about 10 minutes. I thought it was going to be a track by track break down but instead they've only picked a few tracks from each disc (Virgin say that was the way they recieved it, apparently it was the journalist who conducted the interview who edited it). Depending on your knowledge of PiL the sleevenotes probably won't tell you much you don't already know, there's the odd explanation or funny story etc, but the most impressive thing about them is that despite some bad blood, John has made a point of praising the likes of Keith Levene and Martin Atkins, you know yourself that when JL talks about the Pistols it tends to come over as "It was all me"!, well the opposite is true here... Probably the most important quote in the sleevenotes is; "And by the way, this collection represents a comma not a full stop, I fully intend to carry on with PiL, and there will be more in the future."
As well as John's sleevenotes the booklet also features various PiL sleeves along with various pieces of PiL memorabilia. I thought the plan was to use all the sleeves but instead only a selection has been used, same goes for the memorabilia, myself along with Satellite author Paul Burgess gave Virgin a tonne of stuff to pick from. They used the obvious stuff like the PiL 'Can', the '9' jigsaw and the PiL lollipop, but they decided not to use things like the imitation 'Happy? pills' and the original promo poster for 'Public Image', however, they did use a couple of run of the mill patches and postcards that I picked up for next to nothing! I asked them about it and they said that John was changing stuff all the time and they just decided to use what he wanted! One of the original ideas was to possibly include a discography, and a PiL family tree but it never got past the planning stages, which again is a pity because it would have helped fill up the booklet...
Incidentally for whatever reason John decided to remove all the credits in the sleevenotes, including his manager Eric Gardner, so to give credit where it's due; the box was compiled by Hik Sasaki, designed by Ian Kaye, and myself and Paul Burgess provided the stuff in the booklet (fame at last, eh guys!). Of course you could argue that we should have been credited, but to be quite honest I was just glad to be involved at all...

The box has been selling for around £25-30 and to be quite honest that's an absolute bargain, you're getting 64 tracks on four CD's, along with well smart packaging, I don't think anyone could argue with that price. Ok, it might not be full of nice extras like the new Can box set, or have as many unreleased tracks or outtakes as the recent Joy Division set, but that's why it's the price it is... Obviously I think the box set will attract the hardcore collectors, however, I think it's ideal for the more casual fan too (especially at that price), people who have some of the LP's but not all of them and want to fill some gaps in their collection... A lot of the bigger fans have been put off by the lack of unreleased material, but as you can see from the review it's got plenty of stuff that's not been available on CD before, and that along with the improved sound quality and the unreleased sessions etc will probably twist most people's arms...
By the way, I have to say I was surprised by some of the letters I received regarding the track listing. As far back as F&F7 I said the box would be a compilation of singles, 12" mixes, B-sides and album tracks, but I still got letters from people moaning about the final listing, I did warn you! My biggest criticism of the box is that everything was crammed onto four discs, it should have been at least five, however, I know the budget for the project wasn't exactly massive (this is PiL after all!) and all things considered I think Hik's done a great job squeezing on the amount she has...
As I say in the intro there IS unreleased stuff kicking about, but the chances of ever seeing it released have to be pretty remote, however, there are plenty of remixes etc still looking to get a CD release, the extended US mixes of 'Happy' and 'Warrior' or the re-recorded 'Renovations' versions of 'Religion' and 'The Suit' for instance. And although they decided not to use any material from PiL's two live albums Virgin also have the whole of the FM broadcast of the Ritz gig from 1989 that's featured on the 'Cruel' singles, so you never know there could be still be stuff to come...

There's an old quote of John's that goes; "I was very shocked by the reviews of the last album [Metal Box], of course I don't believe any of them", I think that's the case with 'Plastic Box' some of the reviews were unbelievably good. I mean Melody Maker gave it '5 stars out of 5', and even the NME and Q bummed it up, in fact I don't think I read a completely bad review! As I expected most of the reviews praised the earlier stuff more than the later stuff, but even then, only a couple of them really put the boot in. What's happening (that old music paper headline springs to mind "PiL in good review shocker"!) has it took the break up of the band for them to any get respect. Typical hypocritical music journalism if you ask me...
That said, I suppose it's nice to see the band getting some well deserved respect. It's a pity more of todays bands wouldn't acknowledge their influence, the only people who ever seem to say it are Massive Attack, Goldie and Primal Scream. It goes without saying that 'Metal Box' and Keith's guitar have influenced many of todays 'dance' and 'indie' bands, but I can hear PiL in a lot of other stuff too, U2's 'Bullet The Blue Sky'/'Banging the Door' rip off is well documented, and I mentioned Placebo's recent attempt in F&F7, but you only have to listen to stuff as diverse as the polished pop of Garbage or the rock funk of the Chilli Peppers to hear their influence... "Public Image - often imitated but never surpassed..."
I know John's got his hands full just now and I reckon he saw this as a low key release (despite all the press it got he only did one new interview for it , and in The Times of all places), but hopefully this compilation will renew interest in the band and persuade him to get a new line up together, lets hope so, because in John's words... "We've got a world of masturbators out there, and then there's PiL..."
Review Continues:

Picture Credits: (Top to Bottom)

Plastic Box Unused Art
© Sleeves/labels etc are copyrighted by their respective copyright owners