Plastic Box
Disc 2
Disc 2:
ANOTHER / ALBATROSS / SOCIALIST / THE SUIT / BAD BABY / RADIO 4 / PIED PIPER / FLOWERS OF ROMANCE / FOUR ENCLOSED WALLS / PHENAGEN / TRACK 8 / HYMIES HIM / UNDER THE HOUSE / BANGING THE DOOR / GO BACK / FRANCIS MASSACRE / HOME IS WHERE THE HEART IS
Running Time: 73:05 mins
review by Scott M, May 1999 (First published F&F 9)
© 1999 Fodderstompf.com / F&F Publishing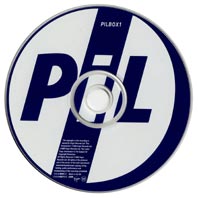 Disc 2 starts with 'Another', originally the B-side of 'Memories' and later featured on 'Metal Box' as an instrumental entitled 'Graveyard'. Despite this track being featured on the UK CD issue of 'Flowers of Romance' it's often overlooked simply because it was a B-side, it's actually one of my favourite PiL tracks. Another of my faves is next 'Albatross' I absolutely love the beginning, and lyrics are good too, it's obvious the albatross is the Pistols, and I don't think many people would argue that with the release of 'Metal Box' PiL finally exorcised the Pistols ghost (at least for the time being).
The remaining five tracks from 'Metal Box' are featured next and if you take into account all the alternative versions featured on disc 1 then the album is featured in full. I could spend all day going on about 'Metal Box', but don't worry I won't, you all probably know it anyway, it's quite simply one of the finest records ever made. 20 years ago it sounded ahead of it's time, 20 years on it still sounds remarkably contemporary...
One of PiL's rarest tracks is featured next, 'Pied Piper' a track recorded by Keith and John along with Rich Kids guitarist Steve New (listed at "Shooz" on the original credits, a nickname given to him by Jeanette Lee). The track was originally featured on the Virgin compilation album 'Machines' but has since disappeared. To be honest it's not the greatest track they ever did, it's very repetitive and manly features John screaming "Can't go on, drag along, Pied Piper lead me to the water" over the same three or four notes. This was the first track the band recorded on Wobble's departure and Steve New's appearance on the track was always a bit of a mystery to me, when I was in London last year I asked him about it and he told me the track came about because he and Keith were friends at the time and used to shoot up together, they always talked about working together and finally did one day, 'Pied Piper' was the result. However, apparently his appearance was always meant as a one off.
The whole of the 'Flowers of Romance' album is featured next. Yet another change in direction for the band, with no bass player the band decided to go for a more stripped down sound, mainly relying on JL's vocal and the dynamic PiL drum sound. Personally, while I don't doubt its influence on some of todays dance music, 'Flowers of Romance' isn't my favourite PiL record. I like half of it, I like '4 Enclosed Walls', 'Banging The Door', 'Go Back', 'Under The House' & 'Flowers...' but I can't go stuff like 'Francis Massacre' and 'Track 8'. There's not much I agree with Clinton Heylin about in his spiteful PiL book, but I agree with him that PiL should only have released 'Flowers...' as an EP and not an LP. Personally I feel some of the tracks (especially 'Francis Massacre') were only half finished and really not worth releasing, but it's all about opinions isn't it! Lastly, why does no one ever mention the 'No Future' rip off at the end of 'Hymie's Him' (listen carefully).
The disc concludes with the classic 'Home is Where the Heart is' the B-side of 'Flowers of Romance' and a track originally dating back to the 'Metal Box' sessions, and even played live on some of the US tour. This version was re-recorded by Keith and John after Wobble left, with Keith re-recording the bass using a loop, however, it's done in such a way that you'd never know it wasn't Wobble...
Review Continues:

Picture Credits: (Top to Bottom)

Plastic Box 2
© Sleeves/labels etc are copyrighted by their respective copyright owners