Plastic Box
Disc
Disc 1:
PUBLIC IMAGE / THE COWBOY SONG / THEME / RELIGION I / RELIGION II / ANNALISA / LOW LIFE / ATTACK / POPTONES, CAREERING & CHANT (Radio 1, John Peel Session 17.12.79) / DEATH DISCO (12" Remix) / HALF MIX - MEGAMIX / NO BIRDS DO SING / MEMORIES
Running Time: 74:58 mins
review by Scott M, May 1999 (First published F&F 9)
© 1999 Fodderstompf.com / F&F Publishing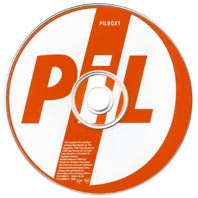 The set kicks off with PiL's stunning debut single, a bite back at the Pistols and a warning things were going to be different. The track is a classic, both lyrically and musically, Wobble's bass is superb, as with all his stuff he kept it simple and did his damage with the sound, Keith Levene's metallic guitar rings out, and Jim Walker's drums provide a danceable backbeat - absolutely superb stuff! Myth has it this could almost be a Pistols song, lyrically maybe, but not musically, the Pistols could never have sounded like this, I can't really see a song built round Sid's bass can you. Next is 'The Cowboy' song released here for the first time on CD , it's more a piss-take than a song, some clippedey clops, some bass, some scratching noises and some shouting about Richard Branson! Good to finally get it on CD though, and with the sound improvement it's actually a lot easier to hear what they're screaming!

Six tracks from 'First Issue' (everything minus 'Fodderstomph') are included next, however, like all the tracks in the box set, you can tell they've been remastered. I've got the album on CD and it sounds nothing like this. Right from the opening burst of 'Theme' you can tell things have been tidied up, everything's so much clearer, Keith's guitar virtually soars around the speakers, especially on 'Annalisa' and 'Low Life' (which incidentally John says in the sleevenotes is about Sid, I always thought it was Malcom, it certainly make more sense to be Malcom, listen to the lyrics).

The previously officially unreleased Peel sessions follow, I had the tracks on bootleg, but it's great to get then on CD with far improved sound quality. All three tracks are fairly different to the 'Metal Box' versions, obviously the style is similar, but they're a lot different in the mix. And they've done something well weird to 'Poptones', at the end the vocals begin to fade out and then suddenly they come back in, it's a weird effect, and it used to always make me jump - bastards! 'Careering' is a bit faster, and the synth is all over the place, a more free-form version than 'Metal Box' but still a good version. 'Chant' (PiL's punk song!) is far more noisey than normal and Keith's guitar is going crazy.

Next up is the extended 12" of 'Death Disco', again released here for the first time on CD (I honestly couldn't tell it had been mastered from vinyl). This track was another huge change in direction for the band, gone was the sonic rock of the first album, and in came a more structured sound built around Wobble's bass. The track itself, written by John to his dying mother, features another classic repetitive Wobble bass line , Keith doing his best to imitate 'Swan Lake' on the guitar and John pouring his heart out on top. Another seriously ground breaking track, and a surprise hit! This 12" version is a very different mix to the 7" and indeed the album version, it's nearly six minutes long for a start, and similar to the Peel sessions it's far more free-form.

'Half Mix - Mega Mix' , the re-recorded version of 'Fodderstomph' taken from the B-side of the 'Death Disco' 12" is featured next. This is the only track from the re-recorded Warner Brothers 'First Issue' sessions ever to be released, I love this version, I like the album version too, but it's more a piss-take isn't it. This instrumental is a more polished version, reggae bass with dancey drums and weird synths - prototype 'House' if you ask me. Incidentally both versions of 'Fodderstomph' almost made the box set, I had to explain to Virgin that they were the same track, the fact they thought 'Mega Mix' was 'Death Disco' also added to the confusion, it took a bit explaining but we got it sorted! Next up is 'No Birds Do Sing', originally the 7" B-side of 'Death Disco' and later an album track on 'Metal Box'.

The disc concludes with 'Memories', it was supposed to be the 12" version but there's been a mistake somewhere along the line as it's actually the normal album version, which is a real pity as the 12" mix is superb, don't get the wrong the album version is great too, I'm just disappointed it's not the 12"...
Review Continues:

Picture Credits: (Top to Bottom)

Plastic Box 1
© Sleeves/labels etc are copyrighted by their respective copyright owners