Another Rotten Day
First published in F&F 5, March 1998
© 2000 Fodderstompf.com / F&F Publishing
F&F: Well, I finally managed to get hold of some of the 'Rotten Day' shows. As you'll see it was worth the wait. From what I can tell the show ran Monday-Friday from September 95 to February 97. A daily 'diary' of rock n roll events, given the Rotten treatment... "Johnny's version of history... It never sounded so good!"
Whether or not there will be more I don't know, but if there is, lets hope one the UK stations run it. Anyway, here's some edited highlights, enjoy...
Transcribed by Scott M
It's... Johnny with yet another ROTTEN DAY!
Your informative alternative to suicide...
It's moany Monday, October 2 with Mr Rotten, lets go back to 1982 on this day, starting with The Clash - 'Rock The Catbox', this starts to climb up the charts, whoa is music everywhere, this leads on to their first gold album in the US, 'Combat Rock', did we realise at the time this was the best any of this lot could ever do? Bad as it was! Well here we go, in '86 we got Big Audio Dynamite, you know that thrilling outfit, c'mon everybody beatbox (laughs), I think it sold, but y'know, since when has good taste and record sales ever been hand in hand. What have we got now, we've got Joe Strummer out of work. Havana 3am which featured, Simonon, the bass player, that fell apart 'cos the singer went and died, no doubt due to good taste. I suppose the best thing left for them is reformation! 1991 Red Hot Chili Peppers LP 'Blood, Sugar, Sex, Magic' apparently recorded in a haunted house, I suppose that helped, maybe it was the ghosts and howling in the background that appealed to me, 'cos I liked it. That's all I can really say, except that this band has had more guitar players than I've had managers, and believe me that is impressive.


October 9th, Monday. Oh, I should be celebrating but somehow I feel cheated, 'tis the day the Sex Pistols were signed to EMI for some 40,000, the kind of deal usually reserved for long time established acts, a bit of history in the making, a lot of cash you would think, but this was soon followed by horrendous court cases, taking something like twelve years, and after accountants, lawyers and the likes were paid off, I think it amounted to about 2.50 a head, per band member, just about enough for a pint of beer and a bag of chips. Hail, Rob'n'Roll!


Here we go it's October 30th, and a completely rotten Monday to you all, 1970 and it's a completely rotten day for Jim Morrison, remember him of The Doors?, not dead yet but ominously looming up towards it, we'll deal with his recent indecency, exposing his willie dangler to a large crowd, reports have it that there wasn't much to see, (sings) the breeze between my knees! (laughs).


Birthdays... OJ Simpson you are 49 and should not be...


May 6th 1991 and REM release 'Shiny Happy People', this song is sad, so are you for buying it, and more shame on them, all round pathetic, how can you tolerate that pap and tell me that these people care.


Tuesday November 28th, 1973 The New York Dolls appear on a stagnant old BBC2 tv show called the 'Old Grey Whistle Test', they came on in full drag tore up the studio and performed, extremely badly, two songs 'Jet Boy' and the brilliant 'Looking for a Kiss', this lot with their hideous hooker image managed to outrage the British audiences and impressed me no end, to my mind this band was evil burlesque in high heels, with a vengeance!


October 12th, Thursday, a gloriously depressing day for some, heh 1978 it's the arrest of Sid Vicious, poor old Sid gets collared in his Chelsea Hotel apartment in New York, for the fatal stabbing of his girlfriend Neency Spungeeen, BITCH!, this was one of the worst creatures to walk gods earth. I don't know if Sid did kill Nancy, it would be nice and romantic to think he did, but the reality... I think is a little different it was all pathetic and awful. It takes me of course to the movie, ahh the 'Sid and Nancy' film, which a lot of people refer to as being factual, which it indeed was not, if you knew anything about the demise of Sid and Nancy they died several, several months, if like anything up to a year beforehand, because of the heroin, and the drug taking, just the sordid squalor of it all, and the movie of course glamorised all that with that stupid riding off to heaven at the end stuff, I thought sadly sickeningly depressing, 'cos if you really want to deal with drug addicts in this world, treat them as they should be treated, with the utmost disrespect, you do not need to go this way, and I passed this information onto a lot of the Seattle scene, there is nothing glorious in squalor, it's an affectation which none of you chaps wear well, and results in your deaths, and I don't mean to lecture but I have a very low tolerance of idiocy, unless you want a hole in the ground that's not the way to go, there I've pontificated...


December the 8th 1977, Bob Marley releases 'Jammin' which crawled up the British charts, now this record at the time completely confused the paranoid British because they swore he was singing we're GERMAN!! Ya das good reggae!


Birthdays... The ever so quickly balding David Letter-man you are 49, ya bastard, why won't you let me own your show, BASTARD!


1977 and a prominent member of Alice Cooper's band died of a rat bite, no this wasn't one of the regular members, this was Alice Cooper's pet Boa Constrictor, see the rat bit the snake when it was about to become the snakes lunch, I guess you could call that self defence really, some crap snake though eh? (laughs), Cooper is holding auditions for a replacement, but to get the part right you had to know your scales!, oooh (laughs). Same day in 1981 The Specials release their new single called 'Ghost Town', now Lynal golding told NME at the time the song was inspired by a trip him and Neville took to Jamica, because they thought Kingston was a real ghost town, and they also compared that with towns like Coventry, BUrmingham, in fact the whole of England if you come to think about it, excellent song, bet you never thought you'd hear me say I like something, (laughs) and I'm not even lying!


Wednesday, April the 10th 1962, and tragedy strikes The Beatles as they begin their career. Original bassist, Stuart Sutcliffe dies in a hamburger, sorry in Hamburg. Well, that's one down and four to go!


May the 17th Friday, little short story for you, on this day in 1980 for no good reason known to mankind, some complete wally had the no sense to ask Public Image Ltd onto 'American Bandstand', absurd one would think, however this odd ensemble of completely wasted out of their brains drunkards turned up at the studio, the band absolutely failed to perform accurately, it did their careers no good, but Dick Clarke some eight years later actually had Public Image in the top eight of best performances of all time!


June the 11th Tuesday, a year ago today Paul Wellar releases 'Stanley Road', I suppose he got tired of re-inventing that 1965ish Jam version of the Who, instead he's set his sights a little more modern like the 1968ish version of Steve Winwood and Traffic, Stanley Road hmmn, well I wish he would go out and play in the middle of Stanley Road, and I mean that in the nicest possible way! June 11th 1982 and 'ET' is released on the world by Steven Speilberg, well I saw the monster but I never did get to see his extra-testical...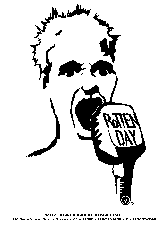 July the 12th Friday, the week is almost over, waaay back in 1976, thats twenty years ago today, The Ramones debut single came out, it was called 'Blitzkrieg Bop', now this single would influence hundreds of disaffected musicians who started up their own little bands to challenge the status quo, which was a good thing really, 'cos everything Status Quo had done since 'Pictures of Match Stick Men' was crrrap. Lets rush quickly back to 1982 when the Circle Jerks album 'Wild in the Streets' was released, ooooh, now this group actually got back together last year, the audacity of it, don't you just hate comebacks! 1983, 13 years ago, Wham's debut LP called 'Fantastic' entered the charts at number 1, well of course instead of Fantastic it really should have been called 'You Spastic' and just be done with it, but that's just 'cos I'm jealous of George's hair and who wouldn't be?


Friday, February the 23rd, and in 1985 The Smiths 'Meat is Murder' LP is released. Meat is Murder? Well, unless you've had one of Linda McCartney's veggie meals that is. However, both products will make you quack like a duck!


1978, on this day Public Image Limited release their first single, 'Public Image', not many people know this but our original name was 'The Carnivorous Buttocksflies' a name that the record company didn't too much appreciate at the time, but I guess that will be destined for a revival soon, there's enough cheesy imitaters out there to grab it, with my condolences of course.


July the 17th Wednesday, and it's World War Three I'm afraid because unbelievably the Sex Pistols are going to perform live in Belfast Northern Ireland, if ever there was a marriage made in hell this must be it, delicious huh?, and the whole thing will no doubt go off with a fizzle and a pop, how the catholics will love 'God Save The Queen', and the Protestants will hate 'Religion', you know what, catholic Protestant I've managed to offend all of them, (laughs).


Birthdays... Julie Andrews, oh anyone remember 'Victoria Victoria?', it was a crappy old movie, but at least we got to see Mary Poppins poppers!, however you are 61...


It's Monday September the 18th, and in 1970 this is the day Jimi Hendrix dies, inhaling his own vomit!, another self indulgent Seattle rock n roll death.


It's October the 23rd 1965 and guess what folks? Pope John Paul the 6th issued a decree absolving the Jews of collective guilt for the crucifixion of Jesus Christ, how big of you baby, excuse me your pious-ness I'm no historian but didn't the Romans actually do it?, and where are they from anyway? Rome?, now where are you when you're issuing this decree, Rome?, eh duh, forgive me I see a connection but of course if you accuse the Romans of anything you'd be out of a job wouldn't you?


...this years Tony Bennet, why don't we describe every has-been as this years Tony Bennit and be done with it... 1991 and this years Tony Bennet (laughs) is Malcom Mclaren and he's got a new job as a tv spokesman for 'Cadburys Twirl' chocolate bars in England, oh how the mighty have fallen (laughs), still 'Cadburys Twirl' goes really well with a 'Mountain Dew!' (laughs).

Picture Credits: (Top to Bottom)
Roten Day promos © unknown