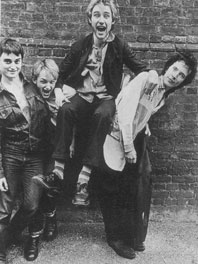 On leaving the Sex Pistols in 1978 John Lydon's next step would be Public Image Limited (PiL), and it was a step. PiL were nothing like the Sex Pistols musically or morally. This was something completely different. He recruited Keith Levene on guitar and his old mate Jah Wobble on bass. Inspired by the 'We know how NOT to do it" ethic, PiL would become a company as well as a band. They would manage themselves, they would produce their own records, and they would take no shit from no one; not least the fans who wanted Johnny Rotten back in the Sex Pistols. The public image would be limited.

PiL would fuse and confuse a variety of different musical styles; there were no rules. The change of direction would annoy many Sex Pistols fans, but equally open up a variety of kids to more eclectic tastes.
Public Image Ltd are probably one of the most underrated and misunderstood bands of all time. Their work is only now finally beginning to be appreciated; and in turn abused...

Public Image continued in one form or another through three decades, releasing numerous albums on the way. Always chameleons the line-up would constantly change; as would the style and content of the music. Just about every musical scope and genre was covered. Rock, Folk, Dance, you name it, it was all there. There were no labels or limitations, this was anything you wanted it to be. PiL would also dip in and out of "pop structure", scoring some unlikely hits along the way. There was no point hiding in the wings and being an obscure novelty act, every so often you have to slap the music industry round the face. Something PiL became very good at...

An instant classic PiL's stunning debut single 'Public Image' released in October 1978 would shape the new approach. Lyrically, it was a bite back at the Pistols and a warning things were going to be different ("I'm not the same as when I began, I will not be treated as property"). Musically, it was a pivotal point for punk, this wasn't three chord trash by any standard… Wobble kept the bass simple but dominated the sound. Keith Levene's metallic (not metal) guitar rang out, and Jim Walker's drums provided a danceable backbeat. Misconception has it this could almost be a Pistols song. The Sex Pistols could never have sounded like this, can you really imagine a song built round Sid's bass?
"Who listened to the bass in rock music before Public Image?" - John Lydon

Their debut album 'First Issue' followed in December 1978. The band had only been together less than six months at this point, but such was their enthusiasm that they got the album out double quick, warts and all. From the beginning it was clear that PiL would deal with more than just conventional music, much of their sound would be drawn from raw emotion. From the desperation of the opening track 'Theme' ("I wish I could die, I will survive") to the disco good fun of the last track 'Fodderstompf'. It was a powerful mix of antagonism, frustration, anger, but not forgetting humour! Proper content…
They also began to play live and set the trend that every gig would be an event. It's safe to say that early PiL shows were sporadic, but always eventful. There were some very confused people around…

Recorded with an ever changing set of drummers 'Metal Box' the band's second album released in 1979 was another massive step. Gone was the sonic rock of the first album, and in came a more layered and textured sound. A mixture of freeform and structure, though maybe we're still not sure which is which… It wasn't only the music that was groundbreaking, 'Metal Box' was three 45rpm LP's packaged in a metal canister, but this was an age long before record companies played the format game. This was not a novelty, PiL knew exactly what they were doing. They were all huge record fans, and they understood packaging, image, and high sound quality were a vital ingredient to what they wanted achieve…
'Metal Box' is often compared to a mixture of Krautrock and Dub Reggae, and while it's true PiL were fans of these genres, it's a VERY LAZY comparison. I can't think of a single record from those genres that sounded like 'Metal Box', can you? Or have you just been led to believe that? There may have been elements of that sound in the mix (public image were never scared of their influences), but 'Metal Box' covered far more.
Passion and emotion were again huge parts of the record, not least 'Death Disco', a song written by John to his dying mother. It's hard not to be affected by his vocal. The emotion burns through the song; confusion, fear, pain. Heavy stuff, even scary in places, but also a damn fine dance record! A classic full on Wobble bass line with Keith doing his best to bastardise 'Swan Lake' on the guitar. It's hardly "Can meets King Tubby" is it…?

Jah Wobble would leave before the next album 'Flowers of Romance' was released in 1981. With no bass player the band went for a more stripped down sound, mainly relying on Lydon's vocal and what would come to be known as – and later ripped off as – the dynamic PiL drum sound. Along with the use of discordant organic sounds woven into the mix. Primitive samples. Dance music would never be the same again…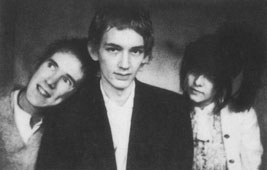 Due to constant police intrusion, not to mention just plain logistics, PiL regrouped to New York and reinvented themselves again. A new album 'Commercial Zone' was planned. Perhaps using a more orthodox sound than 'Flowers of Romance', but no less inspiring. Internal bickering would see the album never properly finished, although Keith Levene did later issue a version on his departure in 1983.
John Lydon, together with drummer Martin Atkins, and a new band of mostly session players – a situation Lydon found himself virtually forced into due to the departure of various members – would later release their own versions of many of the tracks from 'Commercial Zone' as 'This is What You Want, This is What You Get...'. In the meantime, and typically against the run of play, PiL scored one of their biggest ever hits with 'This is Not a Love Song', the last record to feature Levene. A massive slab of disco/pop/funk with tellingly ironic lyrics, ("I'm crossing over to the other side, big business is very wise…").

The release of 'This is What You Want…' in 1984 was a huge turning point for PiL. With the final departure of Keith Levene John decided that working within a (very) loose – and highly adaptable – rock/pop format was to be the way forward. The difference between 'Flowers of Romance' and this album is unbelievable. Although that's not to say it didn't contain some challenging material such as 'The Pardon'. An erie track maybe more in keeping with the likes of 'Flowers of Romance' than is ever credited. The change of direction saw PiL alienate many fans and critics, however, the myth that 'Commercial Zone' was the last true PiL album is simply not true. Ok, 'This is What You Want...' was a more commercial move, a move seemingly against their original philosophy, but PiL were always chameleons they changed as it suited them. This was just another change in direction. In true PiL fashion, going against the grain, giving the people what they didn't want, just when they thought they knew what they wanted…

Produced by Bill Laswell the generic 'Album' of 1986 was – you guessed it – yet another change in direction, out went the disco/funk and in came guitars complemented with more natural sounds. The album would see PiL/Lydon use a variety of Laswell cohorts, including the likes of Steve Via, Ryuichi Sakamoto and even Ginger Baker! Of course the purists were outraged, PiL were accused of making heavy metal. The album may have been more rock(ier) than anything they had done before, but it certainly wasn't heavy metal. Ferocious guitars in places I'll give you that, but Violin, Conch Shells, Didjeridu? Heavy metal are you sure? 'Album' fused the new approach perfectly with all the trade mark PiL sounds and qualities. The big drums, John's unique vocals, the Eastern melodies, and most importantly the content. Not many other "pop" stars were singing about the constant threat of the end of the world, were they?
The aggressive energy of 'Album' brought PiL a new section of audience, including some punk-rock fans who had been scared off by the first few albums. PiL were finally making music they could relate to. PiL/Lydon even found themselves with a huge hit single in 'Rise'. PiL's profile was as high as it ever had been. It was the start of a new whole era for the band…
This period of 1986/1987 saw the birth of PiL II (for want of a better description), Lydon finally had a settled line-up, a mixture of friends and contemporaries featuring the likes of Magazine's John McGeoch (RIP) and muti-instrumentalist Lu Edmonds. The settled "band" line-up paid dividends for the fans, as (shock horror) in under 18 months they were back with a new album titled 'Happy?' Musically it wasn't a huge shift in direction but it was still an onward move. The big guitars were replaced by smoother melodic sounds and in came a greater use of synth/keyboards. Atmospheric tracks like 'Save Me' and 'Fat Chance Hotel' were the perfect example that elements of the old PiL remained; both styles pulling each other apart to form a new PiL sound.
Although in their earlier career PiL had self admittedly "ran away" from touring this line-up toured relentlessly, building a whole new following. Fans who knew nothing about the Sex Pistols or 'Metal Box' (that is, until they checked out the back catalogue and opened up a whole new world for themselves). Of course, some purists preferred the old to the new and vice versa. Yes, it's called variety. Enjoy the choice, that's the whole point…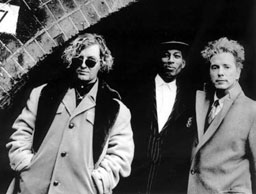 PiL's 9th album for Virgin Records suitably titled '9' was released in 1989. It would continue the smoother melodic approach, but mix it with the fledgling electronic and dance production of the time. "Dance!" This was nothing new to PiL, they had been making "dance" records since 1978. You were always meant to dance to PiL, it wasn't music for brooding. Yes, it dealt with real subjects and emotions, but above all you were supposed to enjoy it!
A year later the record company decided to release a greatest hits album. Although reluctant at first PiL eventually took control of the project and seized the opportunity to create a decent package. 'Greatest Hits So far' was released as a 14 track double album that featured a variety of 12" remixes and a new song 'Don't Ask Me', written especially for the album. A surprise hit (such a surprise Virgin initially hadn't pressed enough copies) 'Don't Ask Me' was classic PiL "pop", gloriously catchy, mixing strong production with serious content ("What you gonna do when the river runs dry, should have saved those bottles, should have saved those cans").
Their last studio album (until 2012) 'That What Is Not' released in 1992 was a return to a more rockier/funkier sound. Popular music was swamped with grunge at the time. Rock was (largely) horrible. PiL returned with their own take on things. Pounding guitars and drums, mixed with melody, and atmospheric synths. Throw in some horns for good measure and you've got a 'rock' record that stood out on its own – and perhaps, not for the first time – PiL suffered for it. It's not easy being two steps ahead of the game…
The work of this line-up is criminally underrated. John McGeoch and Allan Dias are vital elements of PiL as a whole. They were in the band for six years (that's testimonial stuff) releasing some seriously good records along the way. When you look how long it's taken for early PiL to be appreciated, perhaps it will take the same length of time for this line up to get the recognition it deserves. Despite what the music press would have you believe the band were popular, they played countless tours throughout the world. The majority of the albums and singles went Top 40. They might have been releasing records that were possibly more rockier or poppier than the earlier PiL material, but there is no way you could call any of it simple rock or pop. It's not giving the records, or the people, the respect they deserve…
It was never decided to disband PiL, and technically they never did. However, by the release of 'That What Is Not' John had began to think of working on a solo project all on his own; a record which would eventually be released as 'Psycho's Path' in 1997. Although PiL are still on hold as Lydon continues to work on solo material – together with numerous other projects outside of music – I have no doubt at some point a new PiL will appear, ready to turn things on their head. They are sorely needed... (see update below)
For whatever reason it would appear that the press are now trying to write off PiL as simply John Lydon's solo band. John Lydon would be FIRST person to shoot this down. There's no doubt he was the main focus but Public Image wasn't just about John Lydon. Every single member brought something to the band – admittedly, some more than others – but they were always a band. PiL was a democracy with many eclectic tastes and points of view. Just check the credits on the songs, is there even one solely credited to just John Lydon? John always believed in giving credit where it was due.
It's always been largely unfashionable to admit to liking PiL but it goes without saying that they have affected many 'dance', 'indie' and even 'pop' outfits over the last 25+ years. Some are more open about it than others. Though I'm certainly not in rapture about someone massively attacking my LCD soundsystem, that would just make me want to stick my head in the radio…
Public Image - often imitated but never surpassed...
This is only a (relatively) brief biography, it's a long story, there are so many PiL records, people, and events to cover. But that's the whole point of this website in the first place. Virtually everything and everybody is covered throughout Fodderstompf. Use this bio as a guide and do some digging of your own. Form your own tastes and opinions. It's all there, you've no excuses…
Now you're understanding, don't be vegetating…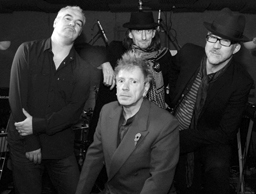 Update: December 2009 saw the return of Public Image Limited for 7 monumental live dates in the UK. Their first shows in 17 years. PiL founder John Lydon was joined by former members Lu Edmonds (Guitar & Misc) and Bruce Smith (Drums), plus 2009 recruit Scott Firth (Bass).
The band continued into 2010 with North American and European tours. They now continue into 2011 and have discussed recording again.
The post-2009 shows have been widely acclaimed by both fans and critics and hailed as the "best live PiL ever" by many fans (myself included). Go see for yourself. See Gigs for the latest live dates...