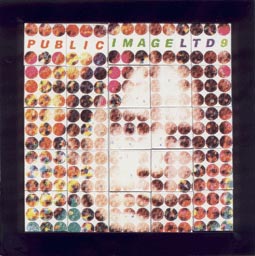 I got this "jigsaw" type puzzle at a record fair a few years ago, and it must be pretty rare because I've never seen another anywhere else.
It's a 15x15cm replica of the '9' album sleeve that consists of twenty five separate magnetic squares, each with nine PiL logos, that are housed in a sturdy black plastic frame.
Obviously, the object of the game is to mix the pieces up and then put them back together, sounds easy enough doesn't it? Well, it's fucking not! All the pieces look so similar that it's a total nightmare! I only ever tried to do it once and even then I ended up cheating! I got out the '9' album and copied it (one green logo here , two red there, etc etc!).
The puzzles were only made up to send to journos etc, so I wouldn't imagine that many were made. I got mine for 10, and that also included the '9' album and a Virgin press release, so that was a bit of a bargain because I'd reckon it would be worth at least between £10-20 on its own. It's a great novelty item that's well worth looking for, but a real pain in the arse to do!