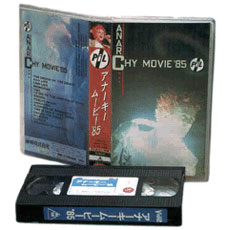 This official video recorded live at the Tokyo, Nagoya City Hall 12.1.85 was only ever released in Japan by TOEI video (TE-M343). I'd had a bootleg copy for years and always wondered if it really was taken from an official and not just a TV special. Well, I finally managed to find an image of the original sleeve - I have the proof!
The video sleeve is a cardboard box, (although I've since saw normal plastic sleeves) similar to the type you get in the States, with the front cover featuring a photo of John engulfed in a halo, along with some lettering etc. The back cover features a photo of him sitting backstage, along with track listings etc. Of course because it's a Japanese video it's in NTSC format and will have to be transferred, but if you could find an original copy it would be well worth getting, and worth at least £20.
This gig features the underrated 1984 'This is What You Want...' Lydon, Atkins, Bruni, Helm and Shultz line up that we didn't get to see in the UK. We got the horrible cabaret line up which is featured on the official 1983 video. I always thought it was ironic that after all the talking PiL did about videos etc that 'Live 83' was the first thing that surfaced. Pity they didn't hold off a year and release this one. It's a very good gig, and a great set, similar to 1983 except for some newer material plus 'Bodies'. If you never heard the 1984 line up it was a far more 'rocky' group, well about as rocky as PiL ever got, I once saw it described as 'metal funk', and that's about as convenient a label as I can think of.
The video also features an interview with Lydon on a high speed Bullet Train where he's being extremely obnoxious with the hapless "Have you ever seen a UFO" interviewer. You can tell he just can't be bothered... Q: What do you think of other British musicians? A: "I hate the lot, they can all fuck off."
As I said this video is well worth looking out for...
Also see Video/DVD Discography for more info...