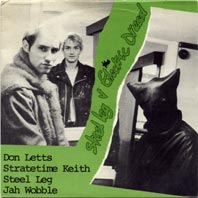 I'd heard rumours for years that this infamous 1979 EP with Wobble, Levene & Don Letts had been released on 7" as well as 12" but until as recently as 1998 I'd never saw it!
It's exactly the same as the 12", same sleeve, same tracks. Though due to time constraints the last track, 'Unlikely Pub', is edited down from 4:30 to just 3:00 mins. The catalogue number is also slightly different.
I paid £15 for it, which is a lot of money for an obscure single with loose PiL connections, but I wouldn't have thought many 12" versions were pressed, let alone many 7" copies, so this a definite PiL rarity.
I actually quite like the single anyway, especially 'Haile Unlikely' with Letts on vocals. Most of it is very PiL like, not surprising when you have the guitarist & bass player on it! If you're a fan of the classic PiL line up then I'd certainly recommend getting it. I don't ever see it getting a CD release, so if you want it, best try find an old vinyl copy. You can usually pick up the 12" copies for around £5-10, obviously the 7" will be dearer...
Incidentally when I mentioned the 7" to Wobble he actually told me who the mysterious 'Steel Leg' was! It turns out it wasn't John Lydon or even Leo Williams (as I had previously thought), it was Wobble's mate Vince Bracken. I always thought it was Wobble taking the piss on vocals on the first track, but it turns out it was Vince. Now we know...