Jah Wobble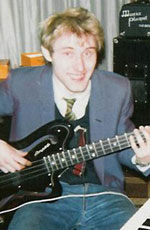 Born:
August 11th, 1958. Stepney, London, England
PiL:
Founder Member: (THE) Bass 1978-1980
Bio:
(aka John Wardle). One of the (almost mythical) "Gang of John's" Wobble first met John Lydon in 1974 at Kingsway College; along with Sid Vicious. Sid's drunken slur of "John Wardle" infamously gave him his "Jah Wobble" nickname. However, it is worth noting – despite popular myth – that Sid did not lend him his first bass. Prompted through his long-term interest in reggae, Wobble started to play by his own accord prior to joining PiL. And found himself with a natural affinity to the instrument.
Knowing Wobble's interest in bass Lydon invited him to become a founder member of what would become Public Image Ltd in spring 1978. Wobble's distinctive low-end style – fused with disco and funk –  soon became one of the major elements of PiL's sound. As Lydon once famously commented: "No one listened to bass in rock music before PiL…"
Disillusioned by the 'scene' in and around the band; along with their reluctance to play live (or even to play at all!), Wobble decided to leave mid 1980 – according to him with the mutual consent of John Lydon – amid claims he had used PiL backing tracks without permission on his solo album 'Betrayal'. However, over the previous year he had become increasingly frustrated; with things culminating during the 1980 US tour.
Post PiL, Wobble became a respected solo artist and "band leader" with a genuine passion for Eastern and Global music; long before it was fashionable. Over the years Wob has worked with many different artists and genres; way too many to mention here (see discography for full info). After a battle with alcohol he left the music business to work for London Transport in 1987, but was soon back on board (pardon the pun) with a revitalised line-up of his Invaders of the Heart band.
The 90s finally saw him achieve public notoriety – including chart success and a Mercury Music Prize nomination – for his 'Rising Above Bedlam' album. However, after a couple of reasonably commercially successful albums Wob decided to return to a more eclectic sound; far away from record company constraints. In 1997 he founded his own 30 Hertz Records releasing a string of critically acclaimed records ever since.
He regularly contributes guest and session work and over the years has played with the likes of Holger Czukay and Jaki Liebezeit (Can), Bill Laswell, Primal Scream, Massive Attack and Bjork; amongst many others…

Having quit alcohol back in 1986 Wobble is now a reformed character. Gone are the so-called wild "thug" days (which were more of a punk myth anyway). He's now a dedicated family man with a documented interest in spirituality; and has a degree in Humanities. Of course, he's never lost his sense of humour or his ability to poke fun at himself. He's still something of a maverick and a regular at "the Spurs".

In 1999/2000 Wobble teamed up with former PiL colleague Martin Atkins to form the short lived 'supergroup' The Damage Manual; along with Chris Connelly and Killing Joke's Geordie Walker. The band released a self-titled album preceded by an EP. The line-up also toured the UK in summer 2000. However, tensions simmered over Atkins proposed US Tour schedule – and his mixing of the album – and the line-up acrimoniously split…
Despite releasing numerous albums on his own 30 Hertz Records 2005 saw Wobble release 'Mu' on the legendary Trojan Records. Followed by 'Heart and Soul' in 2007. He has since returned to releasing material through 30 Hertz. 'Chinese Dub' his 2008 collaboration with the Chinese Dub Orchestra saw him win wide critical acclaim; most notably Songlines Magazine "Best Cross-Cultural Collaboration" Award.
Wobble is probably recording or playing live – either under his own name or with The Invaders of the Heart, Deep Space, or the English Roots Band etc – Wobble is always recording or playing live; and probably always will…
John Lydon approached Wobble to rejoin PiL for the December 2009 return. Initial talks between Lydon and Wobble had apparently went well, however, disagreements from Wobble over the set list, band members and appearance money resulted in the offer from Lydon being withdrawn.
September 2010 saw the publication of Wobble's autobiography 'Memoirs of a Geezer'.
Fodderstompf Links:
External Links:
30 Hertz Records - Official website
The List - Jah Wobble email Discussion Group

Picture Credits: (Top to Bottom)
Wob at The Manor, 1979 © David Humphrey