Jim Walker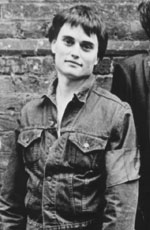 Born:
Vancouver, Canada
PiL:
Founder Member: Drums 1978-early 1979
Bio:
(aka "Donut"). PiL's first drummer, and regarded by many as their finest. Hired via the music press, according to Lydon "after about five seconds… He was the only person I liked from the auditions. He sounds like Can's drummer. All double beats…"
Pre PiL, Walker had drummed for one of Canada's very first punk bands The Furies, from Vancouver. Prompted by his interest in the punk scene he moved to London in October 1977. Even auditioning for The Damned in November 1977 (Jon Moss, future Culture Club, got the job instead).

Walker played on the 'Public Image' single and 'First Issue' album; as well as the chaotic live shows of December 1978. Before leaving he would jam on tracks that would evolve into 'Metal Box' material, but he never recorded with the band after 'First Issue'.
He left PiL in January 1979, much to Wobble's disappointment; who saw them as an extremely formidable rhythm section that never got to realise its full potential. However, Wobble later commented that it all perhaps came a bit too quick for Walker. Walker himself denies these claims and cites that he had simply become increasingly jaded and disillusioned with life in and around PiL.
A founder member and director of PiL, when Walker quit he refused to give up his quarter ownership of the company and collected a share of the profits until they were able to vote him off the board several years later. On his departure John Lydon commented that Walker had left "in a flurry of solicitors letters." He obviously wasn't kidding.
Post PiL, Walker resurfaced in The Pack with Kirk Brandon (1979-80), then The Straps (1980-81). He also worked with Jah Wobble again in The Human Condition (1981-82). Using his PiL money, Walker put himself through university where he got a degree in film making. The 80s saw him leave the music business to work on film projects.
He briefly returned to the music scene at the beginning of the 90s, when he played with Glen Matlock's The Mavericks; along with Keith Levene. The story goes that apparently Walker went for a "packet of fags" and never came back!
Walker still lives in London and has been writing movies and plays. He occasionally directs videos and TV commercials for a living; but doesn't like to go into detail about his work. And claims he doesn't like Fodderstompf reporting on his current activities…
Fodderstompf Links:

Picture Credits: (Top to Bottom)
Jim Walker 1978 © Dennis Morris