Keith Levene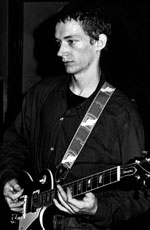 Born:
July 18th 1957. London, England
PiL:
Founder Member: Guitars, Synthesiser, Miscellaneous 1978-83
Bio:
(Julian Keith Levene) A music-obsessed kid, Levene's first experience of the music business came when he worked as a roadie for prog-rockers Yes in 1974; while he was still supposed to be at school. In April 1976 – before the "punk explosion" exploded – he was introduced to Mick Jones by Bernie Rhodes and (unfortunately) became a founder member of The Clash. However, conflicts with Mick Jones – and general disillusionment with the bands approach – led to his early departure in September that year.
After leaving The Clash Levene went through two rehearsal-only bands during autumn and winter of 1976/77. First came The Quickspurts – with Barry Jones and Steve Dior (The Idols, London Cowboys) – then the almost mythical Flowers of Romance. December 1977 also saw him playing with Rat Scabies in the short lived Drunk 'n' Disorderly. Exactly when Levene joined Flowers of Romance is unclear. However, he later claimed to be a founder member along with Sid Vicious and Viv Albertine. Around this time he also encouraged The Slits to form and helped them learn guitar.
Levene met John Lydon when The Clash supported the Sex Pistols at the Black Swan in Sheffield, July 1976. They found each other like-minds, both feeling alienated from their own bands. After chatting Levene suggested that "if" the Pistols ever split they should get a band together. Two years, and a hundred headlines later, Lydon hadn't forgot the offer and drafted Levene into co-found what would become Public Image Ltd in spring 1978.

Widely regarded by many, somewhat unfairly, to be the sole brain behind PiL's sound. Levene would be an extremely important partner in the PiL 'company', helping to pave out musical and ethical direction for the band; along with John Lydon and Wobble. Over the next five years Lydon and Levene would release some of the greatest records ever made. Levene's unique 'metallic' guitar sound is still imitated to this day – without due credit – most notably by The Edge from U2; not to mention countless indie bands.
Levene eventually left PiL in summer 1983 – just prior to the Japanese tour – amid much animosity. While it might be unfair to blame the split solely on Levene's over documented drug problem, it certainly didn't help. However, tensions between Levene and Lydon had simmered for at least the previous six months and the two found themselves drifting apart professionally; as well as socially. Despite some later effort by Levene, apparently they have never spoken since. The 1983 single 'This is Not a Love Song' would be Levene's last work with the band.
On his departure Levene issued (using the PiL name) what had been recorded of the 'Commercial Zone' album; much to Lydon's annoyance. Although largely unfinished, the album is certainly more than a "bootleg of demos" as it is sometimes described. However, it is still highly debatable if it is the "last true PiL record", as is also claimed...

In 1984 Levene moved to the West Coast of America, largely giving up music to work with graphic design and computer programming. He soon returned to music and finally got to "dabble" with soundtracks; contributing to the score of 'Hollywood Vice Squad' a 1986 film by Penelope Spheeris. Although he does not appear on the soundtrack album various tracks from the film later appeared on his '2011 Back to Black ' EP. Throughout the 80s (and early 90s) Levene worked on small projects with On-U-Sound Records, including collaborating with Jah Wobble on the track 'Beef' for Gary Clail's 'End of the Century Party' album.
Levene released his first post PiL solo work in 1987, the instrumental and mostly electronically based: '2011 Back to Black' EP. Followed in 1989 by the 'Violent Opposition' album. A collection of his post PiL work including guest appearances by the likes of Flea, Hillel Slovak and Jack Irons (Red Hot Chili Peppers), Bob Forrest (Thelonious Monster) and Norwood Fisher (Fishbone).
After that – with the exception of a couple of low-key guest appearances – he remained relatively underground. After returning to London in the early 90s he briefly worked with Glen Matlock in The Role Models (aka The Mavericks) (who also briefly featured original PiL drummer Jim Walker). After that Levene disappeared, almost completely, until 2000, when he resurfaced in London with his MissingChannel project and website.
2002 saw the release of Levene's first solo material in almost a decade, a self financed five track EP, with his new multimedia project MurderGlobal (later re-released by Martin Atkins Invisible Records in 2004). After helping out the London based Plakka – who at one point he had planned to record and produce – Levene found new inspiration and began to play bass as his main instrument.
In the last few years Levene has been offered various production and session work with other artists; the majority of which he has turned down in favour of concentrating on his own work. Although a proposed studio project with Martin Atkins entitled 'Titanium Box' was shelved; a full length MurderGlobal album is still in the can. It is unknown if Levene will ever release the album; or simply decide to move onto new material. He has stated in past interviews that he would rather work on film and video projects; and has been making short films; again which remain unreleased.
2005 saw him work with Mark Stewart and The Mafia (The Pop Group); however the material did not appear on the 2008 Stewart album 'Edit'. In 2006 he recorded with Ted Parsons (Teledubgnosis) on an album for Parson's side-project N.I.C; which was released in 2007 via Malicious Damage Records. In 2008 it was announced Levene had been playing with Peter Ashby and Barry Lamb as "Ashby Lamb Levene". June 2009 saw the relaunch of the MurderGlobal website which stated Levene is continuing work on new solo projects.
Levene was not considred for the 2009 PiL return. He has since performed with a punk-rock tribute act covering PiL tracks.
Fodderstompf Links:
External Links:
Keith Levene: MurderGlobal - Official website (relaunched 2009)
www.murderglobal.net - MurderGlobal Blog
Keith Levene Bootleg Channel - YouTube channel featuring "Unseen and live Keith Levene"

Picture Credits: (Top to Bottom)
Keith Levene; circa 1982 © Maureen Baker