Jeannette Lee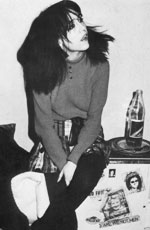 Born:
London, England
PiL:
Public Relations / Admin, & Video 1978-1982
Bio:
An acquaintance of John Lydon's, who he met while she worked with Don Letts at ACME Attractions in Kings Road – then later girlfriend of Keith Levene – Lee was recruited, among much mystery, as a "non musical member" to help with the likes of press, promotion and general business admin (though probably not in the conventional sense most bands had). Lee began working with the band in 1978 but it was not until the release of 'Metal Box' – where she was listed as a PiL member – that she came to public attention.
At the time the PiL ethos was against management and agents, but even they realised someone was needed to help with that side of the of the company. Lee's role was never clearly defined and both herself – and PiL – took great joy from the fact (she still does to this day!).
Lee had previously helped Don Letts with his 'Punk Rock Movie', and due to PiL's developing interest in film and video her experience was another key factor in her role. Although Lee did film various 8mm footage of the band, both in London and New York, virtually nothing – except footage projected at the infamous 1981 Ritz show – would really ever surface, and probably never will...
With PiL's arrival in New York, Lee's role would lessen, and after splitting up with Levene, she eventually returned to London in 1982. Prior to leaving she had traveled to Rome with John Lydon to gather experience on the filming of 'Order of Death.' Apparently she never made an active decision to leave the company, however, things eventually just petered out; and she never returned. Levene later stated PiL wrote 'Where Are You?' about her.
Post PiL, she married Gareth Sager of The Pop Group, and left the music business to become a full-time mother. However, in 1986 she joined Rough Trade Records / Management and is now a co-director, along with Geoff Travis; and has worked with artists such as Pulp, Jesus and The Mary Chain, The Strokes and Babyshambles.
Despite the nature of her jobs, she has always been publicity shy, and rarely talks about her time in PiL; preferring to concentrate on the present. Most notably, she contributed to John Lydon's autobiography in 1994.
External Links:
South West Sound 2007 - Music Industry Speech; along with Don Letts (PDF)
Rough Trade - Official website

Picture Credits: (Top to Bottom)
Jeannette Lee; circa 1979 © unknown