Bill Laswell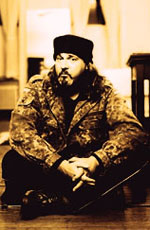 Born:
February 12th 1950. Salem, Illinois, USA
PiL:
Bass & Producer 1986
Bio:
Previous to producing 'Album' Laswell worked with John Lydon on the 'World Destruction' single (released December 1984). They also worked on the track 'The Animal Speaks' by The Golden Palominos; featuring Lydon on lead vocals (released December 1985). Keith Levene later stated that he had approached Laswell to join PiL back in 1982 but had declined.

Despite co-writing some of the material intended for 'Album' the 1984-85 live PiL line-up were dropped prior to recording, due to Laswell's insistence on using his own musicians. Coupled with PiL's concerns about the live band's studio inexperience; and the impact this could have on the recording budget.
Laswell co-wrote three songs for the record ('FFF' and the two singles 'Rise' and 'Home') as well as producing. He plays bass on all tracks except 'Ease'. There was talk of putting together a touring band for the album including Laswell, however, the idea was muted and Lydon returned to London to form what would become the "new" PiL.
Laswell and Lydon were set to work again on the album '9'. However – despite PiL flying to New York in summer 1988 – Laswell decided he didn't like the musicians and wanted to bring in his own people. After three days of conflicts PiL returned to England; leaving the band seriously out of pocket. Lydon and Laswell have reportedly never spoken again.
Born in Salem, but raised in Detroit, Laswell started as a guitarist but switched to bass. He is now a highly accomplished bassist and producer and is considered something of a virtuoso by his peers. Laswell moved to New York in 1978 and founded his own band Material (1979-94), he then got heavily involved in Rap and Hip-Hop in the early 80s. Since then he has worked with an incredible amount of bands and musicians; crossing virtually every genre. His breakthrough as a producer was Herbie Hancock's 'Rockit' hit single in 1983. Later he later produced the likes of Mick Jagger, Iggy Pop and The Ramones.

In the 80s he partly owned Celluloid Records, then in 1990 he founded his own eclectic label Axiom Records releasing an ever-increasing selection of albums; both by himself and other artists. He is now associated with Innerhythmic Records.
Laswell found a like-mind in Jah Wobble and the pair have become regular collaborators over the years. Releasing a string of records together, as well as playing live. Most notably the 2001 live collaboration Solaris; along with Jaki Leibezeit, Graham Haynes and Harold Budd.
Fodderstompf Links:
Wobble Discography (includes Laswell/Wobble, Solaris etc)
External Links:
Innerhythmic Records - Official website

Picture Credits: (Top to Bottom)
Bill Laswell © unknown