Lu Edmonds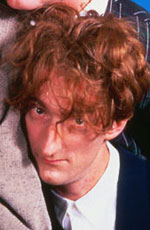 Born:
September 24th 1957. Welwyn, England
PiL:
Guitars & Keyboards, Miscellaneous 1986-88, 2009-present
Bio:
(aka Robert Edmonds and Lu Patrel). Originally drafted in for the 1986 'Album' Tour, Edmonds would stay with PiL for nearly three years; becoming one of the most popular members of the "new" line-up.
He plays on and co-writes all tracks on 'Happy?'. And although serious ear problems forced him to leave the band just prior to recording of the '9" album John Lydon ensured he received a co-credit. Edmonds still remains on good terms with Lydon; who has often been quoted as saying that Lu would be one of the (very) few former-PiL members he'd ever work with again.
Edmonds played a significant part in persuading PiL to appear at the 1988 Tallinn 'Rock Summer Festival' in Estonia (USSR), perhaps PiL's crowning glory of the 80s. Ironically, this was to be his last show with the band.
Prior to PiL, Edmonds cut his musical teeth with The Damned; and later went on to play with the likes of Shriekback, The Mekons,Three Mustapha Three, and Spizz; amongst many others. Having spent much of his youth abroad he acquired diverse musical tastes and is heavily involved with ethnic and world music. Even building instruments himself (some of which can be heard on the 'Happy?' album).
Despite being forced to quit PiL in September 1988 due to his tinnitus Lu has since returned to the music scene playing more acoustic (or quieter) music with the likes of Shriekback and Billy Bragg. He is also involved with Yat-Kha; an eclectic Siberian band whom he first met via PiL's now legendary Estonian show.
Edmonds is a member of a variety of different eclectic and acoustic bands including Raz3, The Blokes and Blue Blokes 3; who released the album 'Stubble' in 2008.
Lu was one of the former members – along with Bruce Smith – who rejoined PiL for the 2009-10 live shows.
Fodderstompf Links:
External Links:
MySpace - Blue Blokes 3 / Raz3

Picture Credits: (Top to Bottom)
Lu Edmonds; circa 1987 © Tom Sheehan