Allan Dias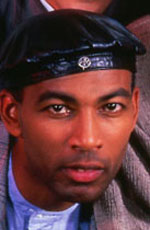 Born:
Stratford, Connecticut, USA
PiL:
Bass player 1986-92
Bio:
A largely unknown gigging musician Dias was originally recruited in spring 1986 for the 'Album' Tour. However, he was soon asked to stay – along with the rest of the touring band – and would end up as one of PiL's longest serving members; playing on three studio albums ('Happy?', '9' and 'That What is Not') plus countless live gigs from 1986-1992.
Having taken up a suggestion from a friend to play bass, the self-taught Dias soon progressed to jamming with East Coast jazz collective Eastern Sound Space Orchestra. He also gigged around New York with various club and house bands, backing the likes of Jean Knight and Tyrone Washington (Parliament).
After becoming frustrated with the restrictions in playing for such outfits he travelled around Europe and Africa, before deciding to settle in London in the early 80s. Despite missing 'punk' – and coming from a completely different musical background – Dias found empathy with many of the players and would jam with the likes of Jimmy Pursey, Steve New and Bruce Smith. He formed Viva Lula with David Lloyd (originally titled Uropa Lula), releasing four singles on Arista Records. Then toured with Brian Ferry before landing the PiL job; via his connections with Bruce Smith.
Outside of PiL, Dias has also worked with Dawson Miller of Sun-Ra, Pharoah Sanders, James Blood Ulmer. 1992 saw him credited with guitar on Adamski's 'Naughty' album.
Dias, along with John McGeoch, would form the backbone of the "new" PiL, contributing writing and acting as a full member. Unexpectedly (to everyone outside the band) he left PiL near the end of the 'That What is Not' tour in summer 1992. Unfortunately Dias had found himself slipping into drink and drug addiction, and felt he could no longer continue. Although Dias regrets his departure, he frankly admits that leaving when he did was quite literally a "life or death" decision. He would be replaced for the remaining live dates by John McGeoch's old cohort Russell Webb.
Dias completely quit music and returned to Connecticut in the early 90s. Having successfully rehabilitated himself, in 2004 he told Fodderstompf he'd made a tentative return to making music and was jamming with a variety of local musicians. In 2008 he surfaced in New York organising club nights and DJaying.
Fodderstompf Links:
External Links:

Picture Credits: (Top to Bottom)
Allan Dias; circa 1987 © Tom Sheehan