New York, Ritz, USA,
May 15th, 1981
John Lydon
Keith Levene
Jeannette Lee
Ed Caraballo: Video
Sam Ulano: Drums

Set List:
Flowers of Romance (recorded version) / Instrumental / Four Enclosed Walls / There's a Hole in My Heart / Go Back / Introductions... / Go Back / Happiness...

Notes:
The infamous Ritz "Riot". At short notice PiL are brought in to replace Bow Wow Wow – and thanks to no rehearsal, and the fact the Ritz is equipped with a large video screen – the show is planned, not be a rock n roll gig, but to be a "video performance".
PiL play behind a large screen, on which pre-taped video footage is projected. However, the audience doesn't get the concept (or joke...) and smashes the venue apart after 25 minutes! As chaos rages throughout, Levene threatens the crowd, "If you destroy that screen, we will destroy you". Nice one Keith...
Also see Perfect Sound Forever for a detailed behind-the-scenes account from "video guy" Ed Caraballo.
Audio bootleg recorded / Vinyl EP also available
Gig Review
review by Michael Millett, May 2011
© 2011 Fodderstompf.com / Michael Millett
OK Here you are almost 30 years later. I think I read that Tim Sommers piece you have up in the New York Rocker a couple of months after the show. What I wrote was written before I re-read his on your site. BTW Tim Sommers went on to sign Hootie and Blowfish to Atlantic records.

Glad you asked about the Ritz Riot. Alot of people got tickets around 4pm, then stood in line in the rain for 5 or 6 hours so they could then run inside to be close to the stage to see Johnny Rotten up close. Now these people got in at 10ish, the band might have come on at 1 or 2 am. This being NYC clubs are open till 4am. That means alot of punks waited a total 9 hours to see their hero up close and then realized he was going to stand behind a video screen. I figure this was a big reason there was a riot.
An hour before they went on they showed a video with awful sound of a woman in a trash bag/can interviewing Keith I think and then footage with them on Tom Snyder's show. This just pissed everybody off. The bar was serving glass bottles of Molsons Golden Canada's worst beer at $5.00.
Finally PiL came out and the only member they set up you could see was this old guy 60 years+ who I later read they met in a music store that day to play drums. Now there was images of them on the screen they were playing behind and that was fine by me. After the first song people booed and started yelling to raise the screen. So johnny started making fun of them and egging them on. "oh I can't see them.". "I'm not getting my monies worth". ect ect. People got madder as the the show went on and bottles of Molson went flying at and over the screen. Not to mention at the senior citizen drummers head. It was obvious something worse was going to take place. Some of my friends left but I decided to stay. There were a couple of more tunes. I think it was a total of 15 minutes of music. Bottles were flying and the $10,000.00 Ritz video screen was within grabbing distance of the audience who had camped out 9 hours to experience this. The band could tell the screen was being pulled on so they started saying "You destroy that screen, we'll destroy you" and other threats. Not likely.
Keith Levene came out from behind the screen to maybe say something and it got suddenly quiet. He was tackled (later found out by a bouncer) as a torrent of bottles hit the screen where he'd been standing a moment before.
A white cloth covering on the floor got pulled into the audience. All the band gear was on this covering and was knocked over as the roadies ran to keep it from going into the audience and getting stolen. The screen went along with it into the crowd. The club security almost saved it. But it was ripped down and stretched about 20 feet in a tug of war between the bouncers and the kids. I will say here the fabric was surprisingly strong yet light! :)
At this point the bouncers started hitting people with truncheons. I saw a guy on the floor and he was bleeding from a head wound. I helped him walk to the stage right door and banged on it. They opened the door and security took him in. They asked me if he was hit by a bottle or a bouncer's truncheon. Seems they all had rubber covered plastic or metal clubs about 6 - 8 inches long. I said I didn't know. It was a head wound with a lot of blood so they thought it was probably a bouncer! They said to me he'd be OK!
Right behind this guy 3 feet away I was surprised to see the whole band.... Johnny, Keith and Jeanette Lee. They all looked very white no color. Maybe they always looked like that I don't know. I did look Johnny right in the eye and my first thought was this guy is scared to death. Then the door slammed shut so, I went to sit upstairs a bit. They were playing disco music to get people to leave. On my way out there was a line of people trying to get refunds. The bouncers chased them away. I read later a Johnny Rotten clone got beaten up outside.
After this the Ritz only served beer in plastic cups.
Michael Millett
Broken Rekids

PS the attached jpg is a tag that was on a road case near the stage door. There was no flyer or ticket stubs and I wanted something as a souvenir for the night. It is dated for the day before. I don't know why maybe the gear was ordered or delivered that day?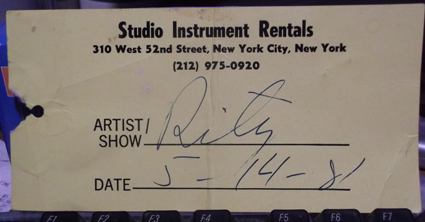 Press Review
Sounds, 30th May 1981
by Tim Somner
pix Marcia Resnick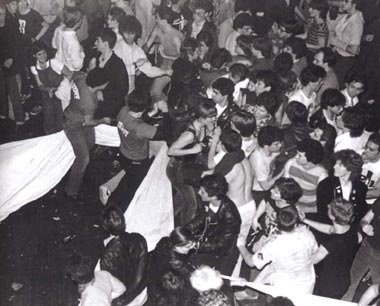 Any way you look at it, rock is theatre, because it doesn't usually make that crossover into real life, real threats, and influencing and directing real actions.
We have grown accustomed to seeing great bands on a stage, within a frame, within a setting; and they can be great within this frame and setting; they can be threatening and energetic and violent and even terrifying within that setting, but that ends where the frame ends, where the box of their stage ends.
On Friday May 15th, Public Image Ltd. performed at The Ritz nightclub in New York City and obliterated those boundaries between theater and real life, between the mock violence and the implied threat of the Dead Kennedys or the Sex Pistols and the real desire of an audience to destroy a band and everything they stood for, and the encouragement of the band for them to do so.
It's the first time I've ever seen a performance leave the stage/frame and the control of the performer (and the controlled reactions of the audience) and enter the gut; by doing what they were doing, in front of who they were doing it in front of, PIL knowingly created a performance/theatre that reached into that spot right below the chest and just above the stomach, that spot where you feel fear and terror before you feel it anywhere else.
It is also the first time that PIL has actually done what they've always said they were going to do, actually lived up to and acted on everything they claim to stand for and have stated that they wanted to achieve. In this sense, May 15's show (about the tenth time PIL have performed in public and the first in a mostly non-musical format) was really the first true Public Image Ltd. performance. It just so happened that PIL chose to debut in the wrong place at the wrong time.
The events leading up to the May 15 show were swift, and above all, surprising. On Wednesday, May 13, Bow Wow Wow suddenly pulled out of a long-hyped and anticipated weekend two-night stand at The Ritz; according to some sources, McLaren and Bow Wow Wow never had any intention of coming over to the States to tour in the first place, and the whole thing was just another big publicity stunt - but that's unconfirmed to say the least.
In any event, this left The Ritz in a lot of hot water. On such short notice, they would have a great deal of trouble finding an act that could top or equal Bow Wow Wow, and moreover, in any case they would have barely a day to promote the gig, and it would be too late to get any ads in the papers or stick any posters up.
That anything came together at all was the mastermind of Michael Alago, a slight, pretty and effeminate man who books The Ritz. In the hectic offices of the cavernous, gaudy art-deco ballroom-turned-rock-club, Alago explained the chain of events that led to PIL's appearance, this conversation taking place a few hours before the doors opened for the show.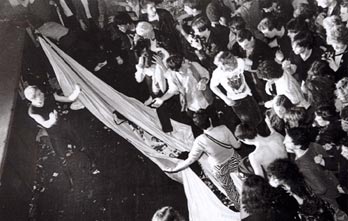 "I found out through the grapevine that Keith (Levene) was in town," Alago states over a cup of fruit salad which he seems only too happy to offer to me, "and I said 'you have to bail me out'. Within forty minutes he was down here, and the band arrived the next day." (Thursday) By way of explanation of what was going to go on later that night, Alago simply said: "Yes, a lot of people are going to be surprised, but it's art, and it's sound and vision."
By 'band' Alago means Keith, thin and wiry, hair newly cropped to a short and spiky crewcut and restored to its original brown colour (in fact he looks almost exactly as he did when he formed The Clash five years ago), John Lydon (complete with flaming red hair), and Jeanette Lee, who does anything and everything and is definitely to be taken seriously as the third member of the band/corporation. They would also be helped out by a 60 year old white and overweight jazz drummer named Sammy whom they had found playing in a New York City park the day of the show, and Eddy Caraballo, an American friend of the band who would coordinate the video part of the performance from The Ritz's high-tech state-of-the-art video booth.
Obviously this line up wasn't going to get on stage and run through 'Careering' or 'Low life' or 'Death Disco', etc. For one, in effect there would only be two people on stage - John and Keith - who knew the songs or were conceivably prepared to play them. And what were they to do - would John sing while Keith played drums, or would John play drums and sing while Keith played guitar and synths, or would Keith play bass and John play drums...? So obviously there was no intention or even the means for PIL to get on stage and 'play a gig'.
"I hope no one's been misled - no one said it was a gig", states Jeanette Lee, curled up and cross-legged on the floor of The Ritz's video booth. It's about 8pm, two hours away from the door opening and about five away from the show itself. Lee is, in a word, adorable; small, big brown eyes, a wonderful yellow party dress, she could quite literally pass for 8 or 9. She's also a joy to talk to and wants to be as helpful and as informative as possible.
Lee continues: "It wasn't supposed to be advertised as playing - there are instruments up there, and we will be up there, but there will be no playing. If you had told us a week ago that we would be here doing this, we wouldn't have believed you. We weren't even positive that we were actually going to go through with this until 9 o'clock this morning, and we still don't know what we're going to do when we get up there. Everything is actually going to be done live, there's no preparation. The band will be live, the video will be live, it's all spontaneous. It happened so quickly, and I'm too interested in what we can do in a day - that's the exciting part. The whole thing about this corporation is spontaneity, and that wasn't the story on the last tour. We did that really because we wanted to come to America."
She makes a broad gesture that includes the video booth and all of its equipment, the hall and the stage, which is obscured entirely by a gigantic video screen, behind which Lydon is pounding out the 'Flowers of Romance' drum riff, accompanied by Keith's synthesizer blurbs and belches. "This was a perfect opportunity to use a visual thing with video and noise added. I hope no one's been misled."
But what if they are?
"People should know what to expect, or what not to expect, out of this corporation. They should know that we're not going to get up there and play songs. We've said that in so many interviews and it bores me to death to say it again. This is so much more interesting than going to a gig and hearing what you've already got on record. This has so much more to offer." John's line of reply to the same queries is far less explanatory and far more blunt. "Haven't you sussed it out yet?" he says, speaking from a near pitch-dark corner of the ballroom. "Why don't you just hang out and wait for it all to happen, baby?"
Okay, a little about what PIL intend to do, and what they intend to do it on: John, Keith, Jeanette and Sammy are going to be up on stage, but they plan to spend the show completely behind a twenty-foot by twenty-foot video screen, which covers the entire stage except for half-a-foot at the bottom and about five feet at the sides. Behind that screen the set up almost looks normal - sparse, modern, but almost normal. There's a drum kit, a synthesizer bank, a few guitars and basses, two video cameras and a record player.
A massive array of light of lights and spots situated behind PIL will throw their silhouettes onto the screen - the closer PIL are to the screen, the more defined the silhouette. The video cameras will project whatever it is PIL is going to be doing back there onto the huge screen and over the silhouettes. And finally, pre-recorded videos of PIL will be shown on the screen and over the shadows, presumably mixed in with a live relay of what PIL will be doing behind that screen, which still remains a complete mystery. They could play records, play white noise, make shadow puppets, tell jokes, even, for all we know, play a set - but the key thing seems to be that from no vantage point out front will anyone be able to see any of PIL in the flesh.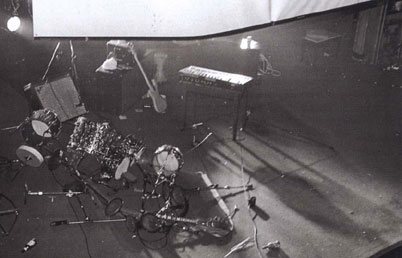 Near the front of a large line outside of The Ritz a blond-haired teen punk, complete with dog collar and Sex Pistols t-shirt, tells me that PIL is his fave band, he's excited about seeing them in a smaller place, he saw them last time and he thought they were great, and no, he wasn't going to come back on Saturday night, but he did have tickets to see The Jam later in the month [1]. He and about 500 others have been waiting in a line outside of The Ritz that started forming at about 12 o'clock in the afternoon. By about seven it's begun to pour and it'll continue to rain very hard all night.
When the doors open at about ten in the evening, these people - and about 1500 others - will have paid twelve dollars and waited in abominable weather for hours and hours to see and hear Public Image Ltd., the band. Nearly all of the expect a show pretty much along the lines of what PIL gave them last time at NYC's Palladium; that amounts to a more or less straightforward traditional rock show, perhaps a bit more spontaneous and unpredictable (this is PIL) and a bit more intimate (this being The Ritz, an unseated ballroom). No one has given them any reason to believe that neither will they be seeing PIL in the flesh nor hearing familiar PIL material. Do you sense a conflict of interests?
The doors open at ten without real incident. Strangely, it takes a while before the place really fills up. The people who've been waiting outside all day are excited and very wet - the spiked hair becomes more spiked, the thrift shop clothing (or the expensive duds made to look like thrift shop clothing) has become a few shades darker and has occasionally fallen to pieces. But the mood amongst those who've waited for this and now crowd to the front of the stage is very high. In fact, the whole place seems to be electrified by PIL and the suddenness of it all. The entire staff of The Ritz is totally wired and galvanized, it's as if each and everyone of them was going on stage that night. So much seems to be at stake, so much could happen, this thing has been pulled together so quickly and so tightly, it's very nearly as if The Ritz and all of its staff have become part of the corporation.
A Ritz employee: "Definitely, it's a performance for us too. Everything could be blown, everything could go perfectly. John summed up our role better than anyone: 'If anything gets busted up, if everything gets broken, we can just catch the first plane out tomorrow'."
The waiting starts, the ballroom fills up, the liggers mill around and the crowd on the floor and at the front gets packed tighter and tighter. An opening act, a Suicide-like two piece, come and go with relatively little incident and abuse. More waiting, more crowding. An announcement that "Public Image will appear at one". At 1am, with the ballroom lights still up, the stage and screen still dark and UB40 blaring over the PA, the well-known and immediately recognizable bass riff of 'Public image' (the song) comes booming out from behind the screen. There's no vocal, but the drums kick in pretty cohesive, and a complete drum-and-bass version of the tune is run through about three times in the next ten minutes. There's a lot of confusion - is this performance or not? Finally, about 1:20, the lights seemingly go down in earnest. Immediately, before anything has even happened, things had become scary - you knew that a threat was there, and whether it was going to be acted on or not was the question.
Oddly the first part of the program was a video of Shox Lumania, a NY based theatrical rock/costume troupe somewhat along the lines of Shock, and nearly as miserable. This was followed by a silly but almost informative sketch-on video of Keith, bound and gagged, being interviewed by a woman in a trashy dress sitting in a garbage can. This went on a bit too long, about 10 or 15 minutes, and the technical and artistic quality (though not necessarily the intent) of the video was terrible and much of it was inaudible, but some interesting things were said: basically Keith and his bizarre interviewer kept on reiterating that this wasn't going to be a concert, you weren't to expect the normal, and don't be surprised when you weren't going to get it. But it was hard to hear and no one really seemed to be paying all that much attention.
After a short but ominous silence PIL were introduced by the same woman in the same garbage can, only this time in person and holding the top of the garbage can as a shield against the onslaught of bottles. "I told you they were weird!" she shrugged and squawked. "Ladies and gentlemen, here they are - Public Image Limited!"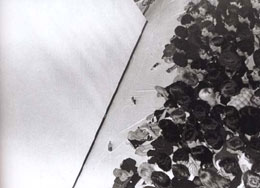 What followed was pretty much as those who had been warned expected. Four distinct and pretty identifiable shadows against the screen, videos over it, audience confusion and derision. Keith then walked over to the side of the stage (this part I could actually see from my vantage point), flipped a lit cigarette into the audience and put a copy of PIL's 'Flowers of romance' onto the turntable, which PIL then lip-synched their way through. The audience seemed to quite like this, actually.
When that was done, things stopped being even vaguely musical and became a sort of a pantomime absurdity, accompanied by the live video, which took on the character of embarrassing but amusing home movies. They danced, they mugged, they laughed, they chatted, they made various noises, but they remained firmly unmusical and definitely out of the sight ranges of most of the crowd. The audience was getting a bit restless, an occasional beer bottle would sail through the air and hit the screen, but at this point it was still more or less amusing. Entertainment.
At about 1:40, much to our surprise, PIL gave us an actual song of about two-thirds of 'Four enclosed walls' from the new album, Keith having temporarily relieved Sammy on drums, and John singing. But that over with, the experimental stuff continued, and some of it was pretty good though they never quite got the audio/sound part of it together. Visually it became quite curious, and often well-done and alluring.
It was at about 1:40 (25 minutes into the performance) that the bottles and the catcalls started in earnest, the first sign of real and dangerous hostility, the first realization by the audience that PIL had no intention of raising the screen and playing a normal set. Keith and John responded by hanging together over a mike and taunting the audience with "Oh, booo, booo, hiss, booo, they're cheating us, oh, booo, hiss, we're being cheated!" This of course was akin to teasing a soon-to-be rabid dog. Things became a bit more frightening and John monotoned into the mike "It's so nice to be here in your wonderful city."
For whatever motive, Keith then sat down at the drums again and he and John ran through a fairly straightforward verse of 'Banging the door' [2], followed by John's "Did you like that? Is that what you want?" and the resumption of the chaos. This is when things really began to fall to pieces. The show degenerated into Keith and John teasing and baiting the audience from behind the safety of the screen, and the audience responding in kind.
"Aren't you getting your money's worth?" John taunted. "Isn't this what rock'n'roll is all about, maaan?" At this point there was no turning back. A fuse had been lit, and it was only a matter of time before it blew, and John and Keith's behaviour certainly wasn't helping things. There was now a steady stream of bottles flailing against the screen, many missing and zonking people in the front, the rest just bouncing off the screen and smashing in the faces of the people in the first rows. Keith was also starting to get genuinely angry, though John's grin and sarcasm held into the end.
"If you destroy that screen, you're going to be destroyed", Keith grimly deadpanned without a trace of humour. "We have the power to destroy you - all of you!"
"You're not throwing enough bottles!" John shouted over Keith's shoulder. "Throw more bottles!" At 1:50 a chair was heaved from the balcony, hitting the screen dead center and smashing down on the stage. This was the signal for the true riot to begin. Suddenly Keith darted out from behind the screen, a truly possessed and angry look on his face. Who knows why he decided to appear - he looked set to kill. He made it about ten feet out from the wings, when a bottle swiped him on the forehead and a bouncer grabbed Levene and tossed him back behind the screen, quite literally saving his life.
The audience - now a mob - surged towards the stage, lunging for the screen and the white tarp that all the equipment and lights sat on. In one swift and terrifying motion all of PIL's lights and equipment went sliding into the audience, bouncers risking their lives to save what they could, the battered screen flew up, apparently a move directed from the video booth, and everyone and everything went quite insanely and horrifyingly berserk...
All the while Lydon's taunting continues, he sings "New York, New York, a helluva town...", and when he sees the video screen going up, his floor sliding out from under him and he realizes he's seconds away from certain injury, he quickly barks "This is the end of the show" into the mike and dashes off up the stairs and into the dressing room, where Jeanette and Keith have already fled.
From then it's a blurred two-minute flurry of fighting, bouncers attacking and being attacked, the mob grabbing for anything and everything they could, and that pervasive feeling of danger and threat becoming real. For about two-and-a-half minutes when things really went wild, you weren't sure if you were going to get out alive, if PIL had gotten out alive, if 30 or 40 people were going to die... it's the sort of feeling you get when you think the elevator is going to fall, when you realize that you're likely to get the shit beaten out of you with nowhere to run. This was terror, pure terror, brought and nurtured knowingly by PIL, and even when the smoke cleared and it looked like everything was going to be alright and there hadn't been too many serious injuries, that didn't really make it any better, it could've just as easily gone the other way.
Up in the dressing room, John and Keith snorted coke and chatted with the injured who had been brought up there. They had performed, they had gotten a reaction, whether this was the reaction that was desired or expected is known only to them.
The show the next night was cancelled. PIL had wanted to do it, but The Ritz just couldn't take the risk.
At the risk of sounding scholarly, there are certain things about the show that really should be recapped and restated:
1. There truly were some moments when the combination of sound, video, shadow and chance was very effective.
2. Beyond a certain point the riot became a certainty, and PIL did nothing to forestall or divert this, and indeed they went out of their way to encourage it.
3. After a certain point, if John, Keith or Jeanette had shown their faces in front of the screen, they - without exaggeration - would've been seriously injured, perhaps killed. This was scary, particularly the image of frail little Jeanette being ripped to pieces by the angry mob.
4. The fact that no one was killed or seriously injured, or the fact that the riot didn't really blow, was pure luck. It just as easily could've gone the other way.
5. There was no excuse for PIL or The Ritz to have not gone out of their way to warn the audience that this was not going to be a gig but a video and noise presentation. That this was not done was a major show of gross negligence on The Ritz's part and gross arrogance on PIL's part.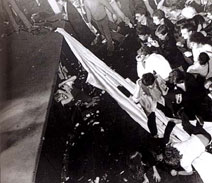 Rock had stopped being theatre, had become a real threat on our lives and the performers' lives. And not unintentionally, this was part of the performance. It's like the finale of Nathanael West's 'The Day of the Locust', when Hollywood goes berserk and all the anger pent up from living and watching a fantasy explodes into real anger and violence. The act becomes real. In a way, it achieved what the Sex Pistols always said they wanted to achieve - the destruction of rock'n'roll, the rape of rock'n'roll.
I'll never be able to see another show without being aware of it being fantasy and theatre - the reality and genuine threat of the PIL show spoiled that game for me.
Near the front of the mob, just as things started getting out of control, some kid said quite seriously: "I wish I hadda gun. I'd just blow him (Lydon) away, Bang Bang, and I'd be famous just like those other guys. Bang Bang!" This time no one had a gun.

Picture Credits: (Top to Bottom)
The Ritz Riot 1981 © Marcia Resnick