Manchester, Russell Club, UK
(aka The Factory)
June 18th, 1979
John Lydon
Keith Levene: Guitar
Jah Wobble: Bass
Richard Dudanski: Drums

Set List:
Chant / Swan Lake (aka Death Disco) / Memories / Public Image / Annalisa / No Birds Do Sing / Albatross

Notes:
Low-key gig at the pre-Hacienda 'Factory' arranged at the very last minute after PiL were in Manchester to perform on Granada TV (see 1979 Chronology). Tony Wilson – who set-up the TV appearance – recalls Lydon turning to him mid-afternoon and saying: "We want to do a gig tonight". News is sent by word of mouth and by 10pm the band are on stage. Various members of Magazine and Buzzcocks are said to be in attendance. Support comes from A Certain Ratio.
This is Richard Dudanski's first appearance with PiL, and effectively a spur of the moment live rehearsal. John Lydon warns the crowd: "I don't know what you expect but this is just a rehearsal…" Despite a few shaky moments the band are in good form with each other and joke along with the audience about the situation, "We admit our mistakes, we know we have many…" PiL premiere four new tracks; 'Death Disco', 'Memories', 'No Birds Do Sing' & 'Albatross'.
Audio bootleg recorded
We Need a Review!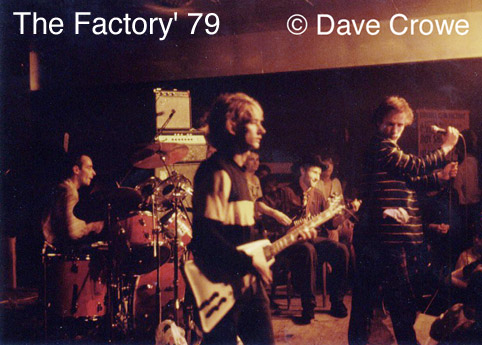 We don't have any FAN reviews from the show. But we'd LOVE some. If you were there and can help - please get in touch!
(We also need more info on the Granada Reports appearance…)
In the meantime, we have the following press review in our Press Archives:

Picture Credits: (Top to Bottom)
PiL live at The Factory, Manchester Russell Club, June 18th 1979 © Dave Crowe