Manchester, Kings Hall, Belle Vue, UK
February 23rd, 1979
Creation for Liberation Benefit Gig
John Lydon
Keith Levene: Guitar
Jah Wobble: Bass
Eddie Edwards: Drums

Set List:
Theme / Annalisa / Low Life / Religion / Attack / Belsen Was A Gas / Public Image / Annalisa

Notes:
Eddie Edwards of The Vibrators was brought in as a 'one off' drummer for the gig. At the time PiL were using rehearsal rooms ran by Vibrators bassist Pat Collier.
This Manchester gig is billed as "Creation for Liberation", in aid of the 'Race Today Friendly Society'. Also on the bill are The Pop Group, Merger, Linton Kwesi Johnson & John Cooper Clarke. As the set begins Lydon tells the crowd, "No gimmicks, no theatre, just us. Take it or leave it". This was the final live PiL performance of 'Belsen Was A Gas'.
Audio bootleg recorded
Gig Review
review by Paul Hanley, November 2011
© 2011 Fodderstompf.com / Paul Hanley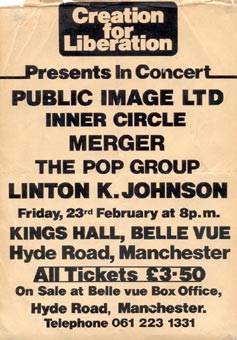 Re: your request for a review for this gig – here's mine! I was also at the Factory gig of June of that year, which was vastly superior in every way.

The palpable excitement I felt at the prospect of seeing Mr Lydon live on stage was tempered somewhat by the knowledge that to get to King's Hall involved a walk through Gorton and Belle Vue, the Burke and Hare of East Manchester districts. I had turned 15 the week before the gig and the area along Hyde Rd was as rough a place as I would ever wish to encounter on foot. The fear was not enough to put us off, of course, and we arrived safe enough, but the tangible mood of foreboding and disquiet continued once inside the venue. The cider-fuelled belligerence of the Mohican-and-tartan brigade was a constant presence at gigs of the time, as were the hails of gob that greeted anyone who took to the stage, no matter how tenuous their links to 'Punk Rock' might be.

As abhorrent as I found the practice of expectorating over people who'd come to entertain you, I could feel some sympathy in the case of The Pop Group, the first band we saw. Their brand of feeble agit-pop certainly left me cold. 'This can't be The Pop Group' I remember shouting to no-one in particular – 'they're supposed to be good!' they were as smart-arse oh-so-ironic as their name would suggest, and if there's anything more annoying than watery funk played by skinny white guys I've yet to experience it.

The two poets on the bill did their best with a sound system vastly unsuitable for spoken word - Linton Kwesi Johnson's immensely powerful 'Sonny's Lettah' had recently been seen on 'So It Goes' and his basso profundo intonation went someway to addressing the PA's inadequacies. Local hero John Cooper Clark is always guaranteed a good reception around these parts. At that time though he had an annoying habit of whipping through his hits at breakneck speed - his delivery of 'Chicken Town' in particular resembling nothing more than an amphetamine-heavy farmers auctioneer who needed a pee. His set seemed to last about 5 minutes.

Finally it was time for PIL. It was immediately obvious that the gig was vastly more important for the audience than it was for the band. In these days of Arena spectaculars and across the board professionalism it's easy to forget just how half arsed some gigs were back in the day, and if there was a pinnacle of half-arsedness, this was it. Public Image Ltd shuffled on - 'Just us, no theatrics, take it or leave it' as John put it, as if the audience had spotted them while walking past instead of buying their tickets weeks in advance. With an obviously under rehearsed drummer, they ran through the highlights of their first album. With songs of such quality even the general air of nonchalance couldn't dampen the thrill of seeing Messrs Lydon, Levene and Wardle in the flesh, though Jah Wobble was harder to spot as standing and playing at the same time was beyond him at this point. 'Theme' and 'Religion' were as bellicose and unsettling live as they were on vinyl, and with the quality of Virgin's pressings in those days it was nice to hear them with no jumps. The drummer coped better with the faster tracks 'Annalisa' and 'Low life' though all he had by way of guidance was the occasional curt nod or shake of the head from the ever-cheery Keith Levene. He must have been a wreck by the end of it.
'First Issue' was never the longest of long players and with Religion 1 and Fodderstompf missing the set was in danger of coming in below 30 minutes, but for the addition of 'Belsen Was a Gas'. For a 15 year old punk rock fan two emotions fought for dominance at this point – sheer delight at being able to say you 'd seen Johnny Rotten perform a Sex Pistols song live, and severe disappointment that they'd chosen the worst song (by a country mile) in their cannon . 'This is irony' John announced before the launched into it, presumably that the lyric ( supposedly written by Sid) ended with the line 'Kill yourself'. I'm only guessing, mind, John was in no mood to elucidate. 'Public Image' the song turned the gig briefly into everything I had hoped it would be – the crowd was energised; Lydon's vocal's finally took flight;, Levene's million-guitars-at-once showed the Edge what to do for the next 30 years and Wobble's thrumming bottom end was enough to get everyone except him to their feet.
And that was it. They did return for an encore - very showbiz, except for the fact that it was 'Annalisa' again, and then they were gone. We ambled away, free to wander the savage lands of Belle Vue once more. On the plus side, it was earlier than we'd thought it would be.

Paul Hanley

Picture Credits: (Top to Bottom)
© Creation For Liberation, Manchester, Kings Hall 23.2.79 Flyer