Hollywood, Palladium, USA
June 10th, 1983
1983 European Tour
John Lydon
Martin Atkins: Drums
Louis Bernardi: Bass
Joseph Guida: Guitar
Arthur Stead: Keyboards

Set List:
Public Image / Low Life / Annalisa / Albatross / This is Not A Love Song / Solitaire / Religion / Four Enclosed Walls / Flowers Of Romance / Banging The Door / Death Disco / Anarchy In The UK / Bad Life / Chant

Notes:
Warm-up for the Japanese tour and the premiere of the new PiL line-up. The first gig without Keith Levene and a major turning point for PiL. The gig poster states "singing some Rotten Songs…" they encore with 'Anarchy in the UK'… 'Albatross' and 'Solitaire' are also given live debuts.
Video footage from the show was later featured in the official 'Live 83' video.
Audio bootleg recorded
Gig Review
review by Billy Boy, 2010
© 2010 Fodderstompf.com / Billy Boy
I was at that gig... Still have the gig poster. It was fantastic. People were going nuts... especially when they played 'Anarchy in the UK'. People were climbing on the stacks of speakers at the front of the stage (about 12-15ft. high) and jumping off into the crowd.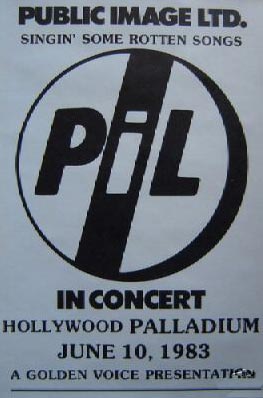 Picture Credits: (Top to Bottom)
© LA, Hollywood Palladium June 10th 1983 Gig Poster