Glasgow, Apollo, Scotland
November 16th 1983
1983 European Tour
John Lydon
Martin Atkins: Drums
Louis Bernardi: Bass
Joseph Guida: Guitar
Arthur Stead: Keyboards

Set List:
public image / low life / annalisa / religion / memories / solitaire / chant / anarchy in the uk / this is not a love song / flowers of romance / attack

Notes:
PiL's first ever Scottish gig.
Audio bootleg recorded
Gig Review
review by Kev McInally, July 2000 (First published F&F13)
© 2000 Fodderstompf.com / Kev McInally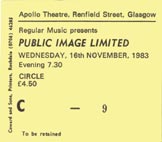 Explosions and Underpants!
It's October 1983 and 'This is Not a Love Song' is in the Top Ten. Mr Lydon is on Breakfast TV promoting his latest venture as a movie star, and the first ever British tour by PiL. Can't wait! A couple of nights before the Glasgow gig they're on 'groovy yooof' programme (!) 'The Tube' so we get a look (!!), and listen at the new line up, including an interesting version of 'Anarchy in the UK'. After watching the show I was looking forward to the Glasgow gig even more, especially with the possibility of them doing 'Anarchy' at the gig...
For anyone who was never at the Glasgow Apollo it was all seated, and had these really helpful bouncers who would show you to your seats and make sure you had a good time at the gig! You may have seen that bit in the Clash film 'Rude Boy', filmed inside and outside the Apollo – that'll show you how helpful the bouncers really were!! This was the third time I'd been there, and the last time before they closed it down. Both times I'd been there, seats got uprooted (well, people get excited don't they!), and the security were more than a little excitable!
Going into the gig that night was really special, there was a real buzz about the place. This was the first time Johnny had played Scotland, apart from an obscure Pistols Dundee '76 gig, where I don't think they were really appreciated! I remember two things upon entering, there were PiL merchandise flyers all over the place, and loads of badges that read 'First Priority', who were the support band that night. The badges were free, and there were thousands of the bloody things all over the floor, and everywhere else you seemed to look. The band themselves were absolute shite, looking and sounding (if my memory serves me right) like a bad Duran Duran, loads of drunk punks danced away regardless!
At long last PiL came on, there was no intro tape or anything, they just trundled on. All I remember was a voice saying, "Hello boys and girls, are you in the mood for a little sing-along with Johnny Rotten?", and we were off! Straight into 'Public Image'. Well, without wanting to state the obvious, the place went MENTAL. I remember he seemed taller than I imagined, and that he came out wearing most of the bloody stuff that was advertised on the PiL merchandise flyers that were lying around the foyer (shirt, trousers... underpants probably!).
One of my most vivid memories is that when they did 'Religion', they started it with an amazing intro that isn't on the 'Live in Tokyo' LP, and then John walked out with a halo, his face had been turned green by the stage lights. I can still see it now whenever I listen to the bootleg tape, it was a really good effect. Wow! Special effects at a PiL gig – Eat your heart out Iron Maiden, Ha!
The next memory I have is of John turning to the audience with a big grin on his face, he gave a nod, and then bang! They crashed into 'Anarchy in the UK'. The place erupted. It looked like the balconies were going to snap off the way they were swinging about. There was one above where we were situated, and stuff was being thrown over all night from the bastard! Next thing I remember is someone had let off a fire extinguisher, and chairs were being ripped up and thrown about! 'Anarchy' sounded much better than on 'The Tube', instead of the cheesy keyboards there were two guitars. With the keyboard player abandoning it, to move onto second guitar (very observant for a 15 year old, with all the mayhem going around him eh? I kid you not, it was crazy!).
They finished the song and said they weren't coming back on until there was enough shouting to justify an encore. Don't know about shouting, but there was certainly enough other things going on! Eventually they came back on, and started into 'Love Song', and then finished off with 'Attack', but not before ending the gig with an explosion (wow!).
They only played for 45 minutes which wasn't fucking long enough, but quality, not quantity I suppose. When the lights came back on the place was trashed, there were broken chairs and all sort of stuff lying around – the bouncers didn't look too pleased and were showing folk the way out, quickly!
The gig was a long time ago now, but when I listen to the bootleg tape it really brings it all back; chairs, fire extinguishers, badges, underpants! And to round it all off, quite appropriately an explosion!!

PS: Some people get all sentimental when talking about the Glasgow Apollo, but not me, the Barrowlands is a far better venue.
Kev McInally

Picture Credits: (Top to Bottom)
Gig ticket
PiL live at the Apollo 1983 © unknown
Press ad