edinburgh, playhouse, scotland,
may 11th, 1986
1986 Album UK Tour
John Lydon
John McGeoch: Guitar
Lu Edmonds: Keyboards & Guitars
Allan Dias: Bass
Bruce Smith: Drums

Set List:
Kashmir / FFF / Annalisa / Fishing / Poptones / Pretty Vacant / Banging the Door / Flowers of Romance / Bags / Tie me to the Length of That / Round / Home / Public Image / Rise / Low Life / World Destruction / Ease

Notes:

Audio & video bootleg recorded
Gig Review
review by Steven Black, March 2003
© Fodderstompf.com / Steven Black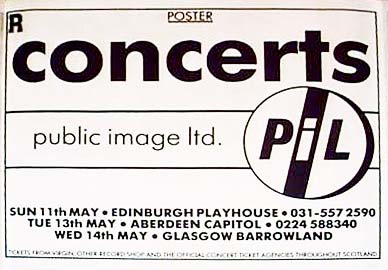 This was the first of two PiL gigs I was lucky enough to attend. It was a Sunday, me and a few mates hired a Mini Bus. There was about twelve of us, all keen to see Johnny Rotten. Me I was wanting to see John also, but Public Image Limited... well I was a touch to young when the Pistols were doing the rounds, so PiL were my main musical influence.
The venue was the Edinburgh Playhouse, not the best of venues, but for this 17 year old, well it was akin to the Royal Albert Hall on this particular evening...
It has been a few years but luckily enough to preserve the memory I obtained a bootleg video of the concert back in the late 80s'. The show was great, I never realised that live music was so good, the guitars, the drums, the bass and of course a certain Mr Lydon. His stage presence is unbelievable, I remember when the band were first on stage the crowd was boisterous, it was fun, but then John lurked out from the shadows and it was bedlam, a mad scramble to the front, people climbing over the seating, bodies leaping about. A few of my friends attempted this, but alas the bouncers soon put them in their place, a few blows and down they went... Will I try... should I try... oh to hell with it... with caution I had to get to the front... oh lucky me... the bouncers had other distractions... so that was it prime position... let the show begin.....
The show was excellent, as I thought it would be. Hell even a Pistols song to keep all the oldies happy... hahahaa... I bought a "Poster" from the show and lost it through the years... I missed out on the show a year later, that really pissed me off, but got to the Barrowlands gig 92, still hunting for some sort of Bootleg for that. That evening was fantastic, a Thursday night if I remember right. I used to have that tour t-shirt, you know the green PiL sign with the tour dates on the back... AWESOME IN THE BARRAS
Steven Black

Picture Credits: (Top to Bottom)
PiL Scotland 1986 Tour Poster