London, Brixton Academy, UK
May 27th, 1986
1986 Album UK Tour
John Lydon
John McGeoch: Guitar
Lu Edmonds: Keyboards & Guitars
Allan Dias: Bass
Bruce Smith: Drums
Set List:
Kashmir / FFF / Low Life / Fishing / Poptones / Pretty Vacant / Banging the Door / Flowers of Romance / Bags / Round / Home / Public Image / Rise / Annalisa

Notes:
"Still gobbing. This is the last time I'm ever going to play London again, you do not deserve me. You are filth, you are a product of the Daily Mirror and you deserve what you get. Die bastards!" So, John Lydon addresses members of the audience at this volatile PiL gig. Lydon's 1986 home-coming almost ends up in a riot, due to certain "punx" who were out to wind him up, and just cause trouble. It's certainly an eventful gig, and more reminiscent of Sex Pistols USA 1978, than eighties PiL. It's absolute chaos, at one point John even offers to fight one of the offenders on stage. "You deserve nuclear war, you really do!"
Audio bootleg recorded
Gig Review
review by Mark Rice, May 2009
© 2009 Fodderstompf.com / Mark Rice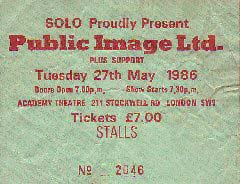 Of all the PiL gigs I can't believe no-one has done a review of this one. I WAS THERE!!! IT WAS GREAT!!!

Of course you've heard the bootleg, judging by the quotes you've published. John had the hump from the middle of 'FFF' when a few bad eggs started spitting at him, but that's just the tip of the iceberg. After all his comments playing 'Pretty Vacant' probably didn't do a lot to calm the situation. At one point a guy managed to climb on top of the PA speakers to the left of the stage and proceed to drop his trousers. Two security men tried to reach him but in the end plumped for pushing him off. The crowd dispersed beneath him and he crashed to the ground.
After the band walked off several people grabbed the mic and guitar leads and pulled them to the back of the hall. John came back on to placate them and get going again, but during 'Annalisa' a girl jumped on-stage and started hitting John with the foam from the fold-back speakers at the front of the stage, so he pushed her with his mic. She fell to the ground and was carried off. John then "snotted" over the front of the audience.

The person I went to the gig with complained on the way home that the gig only lasted just over an hour. What an hour, is all I can say!

Mark Rice

Picture Credits: (Top to Bottom)
PiL: London, Brixton Academy 27.5.86 Gig Ticket