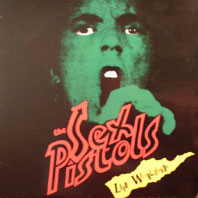 Tracks/Source:
Anarchy in the UK.
Recorded live from Channel 4, The Tube 28.10.83
Also features outtakes of Lydon from Juke Box Jury 31.5.79.
Label & Catalogue Number:
KONEXION / CHAOS. KOMA 788017
Origin:
UK release, made in Belgium
Release Date:
1985
Re-issued on CD (KOMA 78807, ?/88)
Sound Quality:
Very Good. A little tinny, taken straight from TV.
Notes:
"Semi-official" Sex Pistols cash-in compilation LP.
The cabaret PiL version of 'Anarchy in the UK.
Also in 1985, Virgin Records blocked the release of a live PiL album by the same Belgian label KONNEXION entitled 'PiL Absolutely Live'. The double album reportedly featured tracks from London and LA (most likely the Rainbow '78 & Pasadena '82). Virgin claimed the label had no rights to the material and insisted through the courts that all copies be destroyed, they later denied their action was connected to the sleevenotes. It would seem highly unlikely any copies survived, but if any did they would be extremely rare and worth a small fortune. However, the PiL bootleg LP 'This is Not a PiL Album' does feature a similar tracklisting...
The unofficial 2009 Sex Pistols Bootleg Box Set 'Pretty Blank' includes a CD version of the album.
Packaging:
Black with green screen print of Johnny Rotten; circa 1977, along with red & yellow title lettering etc.
Personnel:
Vox - John Lydon
Drums - Martin Atkins
Bass - Louis Bernardi
Guitar - Joseph Guida
Keyboards - Arthur Stead
Reviews:
This was one of PiL's lowest points, the 1983 cabaret band playing a Sex Pistol 'classic' on national TV. Unfortunately it's documented forever on this release...
Quotes:
"I called them the 'Holiday Inn band', because it was like a Holiday Inn band! We were just supposed to do Japan, then it spiraled out of control a bit, and the next thing you know we're on 'The Tube' on Channel 4 doing a version of 'Anarchy in the UK' on the piano like Chas and Dave! It was terrible."
- Martin Atkins, Fodderstompf 2001