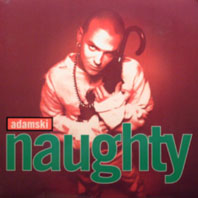 Track:
Back To Front
Label & Catalogue Number:
MCA. 10361
Origin:
UK
Release Date:
5.92
Notes:
Taken from the album 'Naughty'. The publishing rights on the track 'Back to Front' are credited as "written by PiL & Adamski". However, PiL's only real involvement with the track appears to be giving them permission to use the same bass-line as 'Public Image'.
Apparently the original (and officially unreleased) version of the track sampled the original 'Public Image' bassline However, on this version it has been re-recorded.
The track 'Never Goin' Down' also features Allan Dias on guitar, so it would seem Dias laid down the bass-line for 'Back to Front' around the same time.
'Back to Front' was later released as a single.
Reviews:
[excerpt] "Adamski is a nicely unobtrusive shade of peeling pastel pink, with a few vivid splashes of purple. That's if you can ignore lame tracks, such as those co-written with Soho and PiL (saccharine smooch and irritating nonsensical rhyme respectively)."
- Melody Maker, May 1992