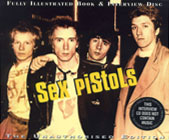 Track/Source:
1994 John Lydon interview by an American journalist from the release of 'Rotten: No Irish...'
Label & Catalogue Number:
SOUND & MEDIA / VIRGIN PUBLISHING. SAM7033
Origin:
UK
Release Date:
7.97
Running Time:
24:58 mins
Sound Quality:
Very Good. Suffers from hiss, but reasonably clear
Notes:
Sex Pistols (CD sized) book with bonus John Lydon interview CD.
120 page book, by Andrea Thorn, features various PiL / Lydon photographs & info.
Packaging:
Card slip-case with colour Sex Pistols photograph; circa 1976. Disc is housed in the CD sized book, and also features a colour photograph of Rotten; taken from the front cover photo.
Reviews:
F&F 3 - August 1997