John Lydon:
VH1, The Grammies, 24th February, 1999
VH1
review by Scott M, August 1999 (First published F&F 9)
©1999 Fodderstompf.com / F&F Publishing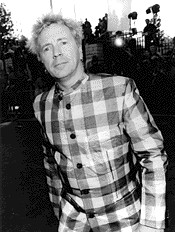 John at the Grammies. I never thought I'd see the day! Don't worry he was there as a co-presenter for VH1, and it's not as bad as it sounds, honest! To give VH1 some credit where it's due, they've put John there basically to wind up and insult the various celebs, and one thing John is good at is winding people up. We never got it in the UK, though a brief clip of JL did turn up on the BBC coverage, VH1 (USA) transmitted the whole ceremony, and every so often they would cut to John were he would take the piss out of some hapless celeb. Some of them like Bonnie "old pro" Rait took it with a laugh, but people like "truck loads of make up" Areosmith were less than pleased! And as for Celine Dion you can honestly see her thinking 'who is this guy'!
Apparently they couldn't show a lot of the juicier bits, but without a doubt the highlight has to be when he gives Brian Setzer of the Stray Cats a 1999 calendar to remind him what year it is! If this is anything to by, Rotten TV (which you see brief clips of) should be great. Considering a lot of it was done live and off the collar, John does very well...
John appears in two segments 'The Pre-show' and the 'Red Carpet Post Show', but all in all he's maybe in it for about 30 mins, the show starts with a brief retro on "The Patron Saint of Punk, Johnny Rotten", where we see various old interviews along with some Pistols and PIL clips, probably the closest they'll ever come to the Grammies! John's a natural, and he really is the perfect antidote to the glossy VH1 presenters..
Definitely worth a watch...

Picture Credits: (Top to Bottom)

Rotten TV at The Grammies, February 1999 © unknown