Return of the Last Gang in Town
Marcus Gray
Henry Holt & Co
Reprint edition (September 1997)
review by Karsten Roekens, November 2001
© 2001 Fodderstompf.com / Karsten Roekens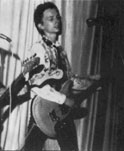 I've just finished reading a book about The Clash. Good read, worth checking out, brought me back to listen to The Clash again after a long time... (ED: I'll make a point of not reading it then!). It features some good info about Keith Levene's time in the band that Fodderstompf readers may be interested in…
KEITH AND LONDON SS
Keith was not a member of London SS. London SS was basically the working relationship between Mick Jones and Tony James during 1975. They folded around Christmas 1975 when Tony quit.

KEITH AND THE CLASH
Keith was introduced to Mick Jones by manager Bernie Rhodes around April 1976. Towards the end of his time with the band Keith was already very depressed and hands-off. He was ousted from the rest of the band the weekend after his last gig which apparently wasn't very successful. Terry Chimes says he DID get a vote, and claims Keith offered to return if he'd been asked. However, they didn't.

KEITH AND THE FLOWERS OF ROMANCE
They began to rehearse at their squat the very same month, and broke up in February 1977 when Sid Vicious left. At the same time Howard Devoto left the Buzzcocks and Bernie Rhodes made several phone calls to Pete Shelley to get him down to London to start a band with Keith, but Shelley decided to continue with the Buzzcocks.

KEITH AND THE SLITS
The book claims that it was Mick Jones rather than Levene who taught Viv Albertine to play guitar. They made their live debut in March 1977 and did the White Riot tour with The Clash. It was Don Letts and Leo Williams who were looking after the band on the road, Keith isn't mentioned at all.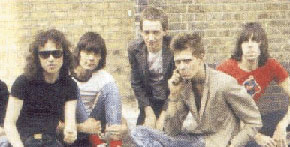 A young Keith with members of the Ramones, and Paul Simonon, 1976

Picture Credits: (Top to Bottom)

Keith on stage with the Clash, 1976 © unknown
Keith with The Ramones, 1976 © unknown