John Lydon Public Image:
Live in Japan 1997 Complete!
Bootleg live CD
Source: Kawasaki, Club Citta, Japan 25.9.97

Tracks:
SUN / ARMIES / ANOTHER WAY / TAKE ME / PSYCHOPATH / TIE ME TO THE LENGTH OF THAT / RISE / DOG / PUBLIC IMAGE / CAREERING / UNDER THE HOUSE / STUMP / GRAVE RIDE / A NO AND A YES / DIS-HO
Running Time: 71:42 mins
review by Scott M, June 2000 (First published F&F 13)
re-edited January 2002
© 2002 Fodderstompf.com / F&F Publishing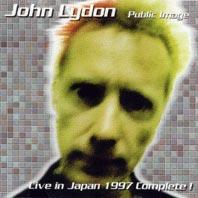 Note: When I first reviewed this CD back in F&F13 I thought it was only a CDR, it turns out it was actually a CDR of a real Japanese bootleg CD...
John Lydon didn't do many gigs on the 1997 Psycho's Path Tour due to difficulties with Virgin, and to my knowledge there was only the LA show (see F&F4), and a couple of shows in Tokyo. Apart from an audio recording of the LA show, nothing had surfaced and I'd honestly gave up hope of hearing any of the Jap gigs, then totally out the blue I heard of this CD.

Unusually, this Lydon disc is very well done. The sleeve inserts are very good, great colour pix of JL circa 1997 including some basic lettering, all done on high quality paper. The front cover artwork is also repeated on the disc. The only thing that lets it down are the far from complete tracklisting (I've printed the correct tracklisting above), and in true bootleg style it doesn't state where and when it was recorded. However, we managed to pin it down as the Kawasaki, Club Citta 25.9.97.
Like LA it's a very good show, and although it features exactly the same track listing (the whole of the album and a couple of PiL tracks), it's not a carbon copy of the LA gig, it's all very improvised. Some tracks like 'Tie Me To The Length Of That', 'Dis-Ho', 'Careering', & 'Stump' are very different to the LA show (he even manages to mention Arsenal in 'Stump'). Standout tracks have to be; 'Take Me', 'Under The House', 'Another Way', 'Dis-Ho', 'Grave Ride', 'Stump' & 'Rise'. Dino was right in his review in F&F4 about their version of 'Public Image' being crap! It's almost unrecognisable, it's a weird sort of reggae/piano fusion!

The sound quality is excellent throughout, it's obviously taken from the desk or a quality DAT tape. JL's in good form despite the Japanese crowd being their usual quiet selves, but he doesn't let it effect the gig. The more I hear of the 1997 live material, the more I'm gutted about the tour collapsing. By the time they were due in the UK the band would have been water tight, the gigs would have been superb...

Apparently the CD originates form Japan, and now seems quite rare. I've not seen many copies myself, but apparently they were pressed in decent numbers of around 1000, but... It's worth noting that CDR copies of the bootleg exist, and seem easier to pick up from the usual sources. The only real difference between the CDR copies I've seen is that the disc features no artwork...

As I say until recently I never even knew this gig had been taped, let alone pressed as CD, so it's great to get hold of it. Whether any others will surface is uncertain, here's hoping...

Picture Credits: (Top to Bottom)

© Sleeves/labels etc are copyrighted by their respective copyright owners