John Lydon:
Psycho's Path (Japanese import)
NIPPON COLUMBIA
COCY-80551
Tracks:
Grave Ride / Dog / Psychopath / Another Way / Sun / Dis-Ho / Take Me / A No and a Yes / Stump / Armies
Running Time: 46.39 mins
review by Scott M, August 1997 (First published F&F 3)
© 1997 Fodderstompf.com / F&F Publishing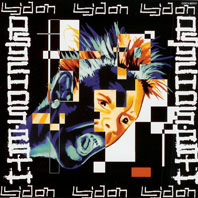 After paying £27.99 for this import I'd hoped it was going to be different to the UK/US versions, and thankfully it is!
Obviously it doesn't have the remixes, but it does include different versions of 'Another Way' & 'Armies' plus a slightly different mix of 'Stump'. The only real difference with 'Stump' is that the background synths aren't as obvious, but 'Another Way' & 'Armies' sound quite different.
'Another Way' is a simpler and melodic version that's almost 2 minutes shorter and doesn't include the sampled "chip on the shoulder" vocal. 'Armies' although having a very sudden ending and being a little shorter also has the same simpler less jumbled style that also includes more prominent cavalry style trumpets. I have to say that I prefer these versions, but that's probably because I've been listening to them since April and to me these are the originals.
The running order is slightly different with 'Sun' & 'Another Way' substituted, and the packaging is also (very) slightly different too. Most notably a red square on the front cover, and a different version of the 'shockwaves' picture featured in the outside of the booklet. As normal with Japanese releases it also includes an extra biography/lyric fold out sheet in Japanese.
Because of the different takes/mixes I can see this becoming a quite sought after item for PiL/Lydon fans, but its up to you if want to pay £28 for it.

Picture Credits: (Top to Bottom)

© Sleeves/labels etc are copyrighted by their respective copyright owners