PiL:
The Order of Death (The Blair Witch mix)
CHAPTER III
CHA 0122

Tracks:
THE ORDER OF DEATH (BLAIR WITCH MIX) / (ALBUM VERSION)

Running Time: 8:41 mins
review by Scott M, December 1999 (First published F&F 11)
© 1999 Fodderstompf.com / F&F Publishing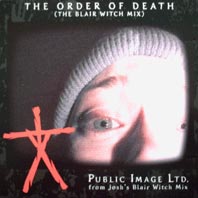 This CD single was only issued as a radio promo to promote the release of the film on DVD and video in the US. However, it does feature a unique edit version of the 1984 'This Is What You Want...' track where dialogue from the movie has been interspersed with the original track.
'The Order of Death' started out as an instrumental track entitled 'The Slab' on the 'Commercial Zone' album and was originally intended for use in the 'Order of Death' film (hence the name!) but was never used. However, eight years later it featured on the soundtrack for the low budget sci-fi movie 'Hardware', and was also used in Miami Vice! Now 15 years later it's turned up on the 'soundtrack' for the surprise big movie of the year, 'The Blair Witch Project'. 'The Order of Death' is a very atmospheric and repetitive track and it's easy to see why it's popular with film makers, it's also one of PiL's most underrated tracks so it's good to see it get some respect.
The original album version is also featured on the CD single, and unfortunately (for PiL fans) it's this version that has been featured on the official soundtrack album, entitled 'Josh's Blair Witch Mix', which is now available in the UK on Gold Circle Records. Of course the interesting thing about this 'soundtrack' is that the film doesn't actually have any music in it. The soundtrack has been 'inspired' by the film, and going by the storyline, was the music featured on a compilation tape that was found in the abandoned car in the film! Tenuous link or not, I'm just happy there is a Public Image track on it, and it's getting some publicity, though I still think 'Poptones' would have been a better choice ("Drive to the forest in a Japanese car"!).
The actual soundtrack album is actually quite good, it's not the usual Hollywood/record company track placement affair, all the tracks featured are pretty strange or creepy, with contributions from the likes of The Creatures, Bauhaus, Lydia Lunch & Type O Negative you should get what I mean... The packaging features various stills from the film, with no pics of John. However, a promo video featuring a mixture of film footage and old PiL videos (including 'Warrior' & 'Bad Life') has been made and is getting some airplay in the US. Apparently the promo video will feature on an enhanced version of the DVD set to be released next February in the US....
These US only promo CD's are pretty hard to find in the UK, and you're probably looking at about £5-10 if you can find one...

Picture Credits: (Top to Bottom)

© Sleeves/labels etc are copyrighted by their respective copyright owners