Tour:Smart
And Break The Band
Martin Atkins
Smart Books, September 2007
592 pages
$29.95
review by Scott M, October 2007
© 2007 Fodderstompf.com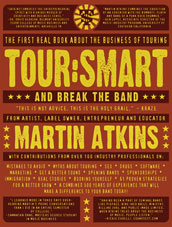 After having to endure that recent PiL pamphlet it was good to pick up a proper book. This looks like a book. It's absolutely solid! Nearly 600 pages. You could knock someone out with it. Which on tour could be very handy.
I had intended to review it from a PiL perspective only – this is a PiL site after all – but this is a book about touring, not PiL. PiL are only a very, very small part of Tour:Smart.
Loosely designed as a photo-copied style tour itinerary, Tour:Smart focuses on "the business of touring" and looks at everything from booking and transportation, to contracts, press, promotion, merchandise, accommodation, and (of course) sex and drugs (no glorification, only advice). It's a DIY touring manual. Not only for beginners, but for people who really should know better!
Martin has roped in countless contributors from bands and the music industry. All giving their own tips and opinions on how best to circumnavigate you and your band round the country (or world); without killing yourself or going completely bust.
From expanding your live show to other cities, into playing a full-blown tour, Tour:Smart shows how to set up a workable schedule and budget. As well as preparing for what will, inevitably, go wrong. Damage Limitation Manual might be an appropriate pun.
The book includes advice from many of Martin's Invisible / Underground Inc cohorts; as well the likes of producer Steve Albini (who's informative "shit-filled trench" music biz article makes a welcome re-appearance here). Many of the names featured won't be recognisable as they work behind the scenes; but these are the sort of people to listen to. These people are in the "business of touring" for a living. The music biz is a sea full of sharks and bullshit; and there's no point setting sail in a leaky boat. You'll need all the help you can get. That said, take nothing as gospel (some of it is irrelevant anyway), use the advice, but trust yourself first and foremost. Tour:Smart is basically about getting your arse into gear to do it for yourself.
Tour:Smart actually started life as Martin's PiL book; but morphed into a touring manual (apparently the PiL book is on hold). Martin's era PiL weren't renowned for touring, though they probably did do a lot more shows than people think. Going by the book's index there is only one mention of PiL (NY Ritz 1981: not featuring Martin!), but they do pop up from time to time; mostly in photograph form. You'll find pictures of Martin's tour diaries from 1980 and 1983, along with tour passes, itineraries, plane tickets, tour programs etc. There are also a few rare photos (I particularly liked Martin's "It's awful. I hate it" PiL T-shirt from Japan 1983! ) Martin's much talked of Mickey Mouse watch and children's toy trumpet from 'Flowers of Romance' are also pictured.
None of his former PiL bandmate's contribute, although there are quotes from loosely-connected PiL people such as manager Larry White and Maureen Baker; who now helps bands organise travel documentation. Margot Olavarria and Geoff Smyth from Brian Brain are also featured, and there are quite a few Damage Manual and Brian Brain references. Including the infamous "Buy my album…, make me rich" banana story.
You don't need to be in a band to read Tour:Smart, there are enough anecdotes and tales of music biz stupidity to keep everyone entertained. It's far from just facts and figures. It's the sort of book that's designed to be flicked through rather than be read cover to cover. You can simply dip in and out when needed.
If you're in or around a band Tour:Smart could be an invaluable guide. Much of it is just common sense, but as you probably know, most bands don't have much…
Don't forget a bottle opener.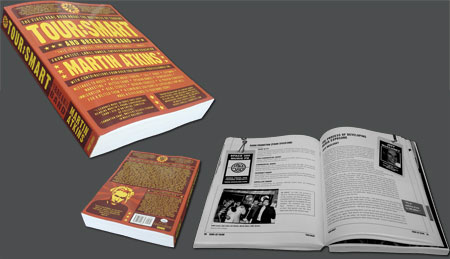 There seems to be an ever-changing (and ever-confusing) array of website's and links set up for the book. Check out www.tstouring.com for more details, plus order info etc. You can also read Martin's regular Tour:Smart column on Suicide Girls.com for further tips and advice.

Picture Credits: (Top to Bottom)

© Sleeves/labels etc are copyrighted by their respective copyright owners