Mr Rotten's Scrapbook
John Lydon
Concert Live, December 2010
250 pages

review by Scott M, May 2011
© 2011 Fodderstompf.com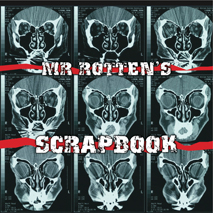 John Lydon's second book –  following 1993's Rotten No Irish No Blacks No Dogs – released as a strictly limited edition bespoke hardback of just 750 copies. The large format 'coffee table' style photographic book (14" x 14" with over 250 colour pages) contains countless unseen images of his life, career and includes handwritten commentary and quotes; as well as being personally hand-signed and doodled by Lydon.
A 12" picture disc featuring PiL material recorded live at Brixton Academy on December 21st 2009 – as well as spoken-word entries and "Nursery Rhymes" by John Lydon – is hand built into the back cover of each book. There was also the chance of a "Golden Ticket" that would enable 100 lucky recipients to webchat with John Lydon.
The book features a chapter on PiL including a huge selection of 2009-2010 shots, plus PiL through the ages. Lydon writes various entries about the band past and present.
In various press interviews John revealed the book was inspired from the 2010 PiL tour. The original plan was to do a photographic Tour Diary book, which later morphed into a book covering his whole life.
The book has attracted criticism for its price tag of £449 (pre-sale £379), however, Lydon defended the price due to the low print run and overheads for the high-quality finishing and production.
The book is an unique snapshot of John Lydon's life (and head - its his skull x-ray on the cover). Virtually all text has been handwritten and the whole book was lovingly and painstakingly put together under Lydon's direction.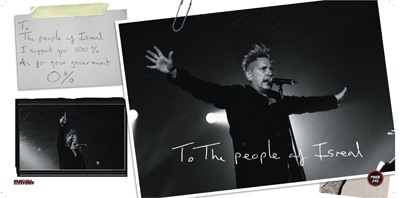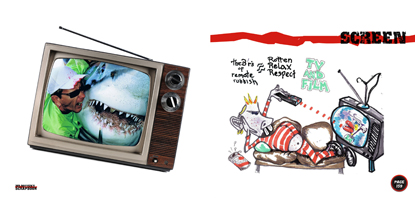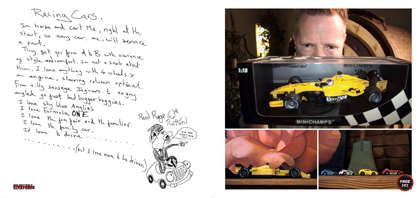 www.concertlive.co.uk/mrrottensscrapbook for more info on the book including sample pages and a handwritten introduction from Mr Rotten...
An exciting and intimate journey through John Lydon's life, from inception to now, in high quality pictures and hand written text commentary.
Large format 'coffee table' style. 14" x 14" 250+ pages.
Strictly limited edition - only 750 pieces worldwide – each one uniquely numbered 1 -750
Quarter bound in high quality litho finish with unique front and back boards, and individual born date.
Over 80% unseen content, including many personal images and hand written quotes.
Unique centrefold feature - every book hand signed and doodled by Mr Rotten!
Each book includes a 12" picture vinyl, hand built into the back cover of each book. Containing 2009 live PiL recordings, plus exclusive John Lydon spoken-word outtakes!
Hand-finished
Comes in special protective slipcase with embossed blocking.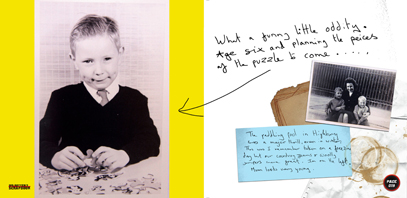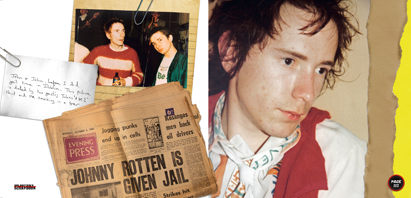 Picture Credits: (Top to Bottom)

© Sleeves/labels etc are copyrighted by their respective copyright owners
John Lydon / Concert Live 2010