Rip It Up And Start Again:
Post-Punk 1978-1984
Simon Reynolds
Penguin Books, March 2006
(originally published in the UK by Faber & Faber, 2005)
424 pages
$16.99 (£9.99)
review by Scott M, May 2006
©2006 Fodderstompf.com / F&F Publishing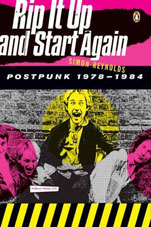 In the same way that most punk is shit (now, lets be honest) most post-punk is pure wank. Silly politics, and arty nonsense just for the sake of it. Elitist, and up its own arse. Wrapped in a "Fur-lined sheepskin jacket." But as much I love some punk, I've always found myself more (musically) drawn to what is now known as "post-punk". Basically when punk grew up, or when it merged with prog-rock depending on your point of view.
And just as I've always saw the Sex Pistols as separate to punk, I've always saw Public Image as separate to post-punk. They are stand alone units. Many of the bands discussed here were already established before PiL even released their first record. Not that those bands influenced PiL, in fact, if anything it was probably the other way around. Joy Division wouldn't have turned out the way they did without PiL. They've said as much over the years.
Rip it Up and Start Again is the post-punk England's Dreaming. That's not meant as insult. It's not as Academic as Jon Savage's book, and it certainly isn't trying to imitate, but it's written in a similar journalistic style. Detailed and thorough, and full of carefully constructed sentences. The main difference is Simon Reynolds comes across as a genuine music fan. His writing is musically knowledgeable, and highly descriptive. It can be a bit heavy going in places and maybe sometimes he over-eggs the pudding (very post-punk) but it's still a very readable book. His enthusiasm and passion for these bands is never in any doubt. You couldn't say that about Savage's book. England's Dreaming is more a text book that uses music as a backdrop. This book is all about the music.
Rip it Up… devotes two chapter to PiL and features new interviews with Keith Levene, Jah Wobble and Martin Atkins. The first chapter looks at the beginning of the band, while the second chronicles 'Metal Box'. Reynolds is a PiL fan. He gets it. It's so refreshing to read a positive history of PiL. There are a couple of silly mistakes/misconceptions (most notably saying that Don Letts was responsible for taking John Lydon to reggae dances; John was there long before he met Don). And his opinion on some of the songs is questionable ('Bad Baby' a "blemish" is he mad!), but all in all, it's a good overview of that period PiL.
Using John's 1977 Capital Radio interview as a starting point Reynolds takes us on a journey through PiL, The Slits, Gang of Four, Joy Division, Talking Heads (to name but a few) and eventually ends in 1984 with the failure of 'New pop'. He covers a lot of ground. He has to, it's quite a journey. It's not easy to get from Throbbing Gristle to Frankie Goes to Hollywood. Or is it?
The book covers some excellent bands and records (and some utter dross). From the hits to the obscurities. Some of which I really will have to check out, or re-listen to. Though again, I have to question some of his personal taste! He writes off Magazine in two lines (see additional note), but spends nearly two chapters talking about Scritti Politti: now c'mon! No, really, Scritti Politti! There is a load of bands here that you think 'What?, why is he talking about them' but that's part of the book's charm.
Distinctively the book doesn't contain any pictures, which I quite like (again, very post-punk), but PiL do feature on the front cover. A horrible, punky, pink and yellow sleeve. Very contradictory in style to the book. I can only imagine that since I have the US edition it's a case of the Americans missing the point! Madness are pictured on the back cover even though they are hardly featured in the book...
Whether or not this book will tell you anything you didn't already know about PiL is debatable, but that isn't the point. It's all about the period 1978-84 and some of the diverse bands that appeared, then disappeared. It's interesting to see these bands put into historical order and look at their influence on today. Though, personally, I think a lot of today's so-called 'post-punk influenced' bands sound far more like The Cars or The Knack than PiL or Joy Division as they like to claim. Maybe they should read this book, and go check out the proper stuff.
Note: It turns out the UK edition of the book features a whole chapter on Magazine and Subway Sect. It also contains illustrations not included in the US version.

The Rip It Up And Start Again website features discography additions, including a look at some of the early PiL solo releases 'Public Image Ltd and Punky-Reggae'. Simon's blog page features footnotes for the 2 chapters dedicated to PiL. Including tracklistings and quotes from John's, now legendary, Capital Radio, July 16th 1977 interview; plus Simon's unpublished review of Rotten: No Irish, No Blacks, No Dogs for Vibe magazine.
Chapter 1: Public Image Belongs To Me: John Lydon and PiL
Chapter 14: Careering

Picture Credits: (Top to Bottom)

© Sleeves/labels etc are copyrighted by their respective copyright owners