Necessary Intergalactic Cooperation:
NIC
MALICIOUS DAMAGE
MD629
Tracks:
5th BEAN / RAT / BEAST OF EDEN / TUME / DRIFTIN' / #11 / GREEN ROOM / 06411 / CONNECTIVITY / E-PLUSS
Running Time: 51:47 mins
review by Tim Bucknall, February 2008
© 2008 Fodderstompf.com

This album was a complete revelation to me, I had been following NIC due to the fact that it featured Ted Parsons on drums. I'd seen Ted play live with Killing Joke and was blown away. I was sad when he left the band and had been following his post-KJ career with interest. When I heard that Keith Levene was involved with this album I had high expectations.

The first thing to say is that this album is nothing like Killing Joke, is it like PiL? Well… yes and no! I'll explain that remark later… Track one – '5th Bean' – is a fantastic reggae track with defiant lyrics, and a fantastically deranged keyboard solo. The whole vibe for the track reminds me of mid 80s On-U-Sound, but it's so much better than that. It's as catchy and addictive as hell. 'Rat' is the only bad apple in the barrel; an otherwise great track is ruined by some feeble macho rapping - ugh!

Now, 'Beast of Eden' really got under my skin (in a good way). What could almost be an R&B chart topper, with falsetto vocals (something I'd normally hate!), is taken to a whole new level. This track is the best example of the genius of this album. Scotty Hard who mixed the album is a god! The way Keith's guitar is used is stunning. His playing is magnificent and straight out of the 'Metal Box' style. It's as harsh and abrasive as PiL fans would hope, but it's an integral part of a pop song! Somehow, whoever mixed and arranged it managed to leave enough space for Keith's unearthly guitar to shine. This is what pop music would sound like in my dreams! Keith hasn't compromised his style at all, and has somehow managed to weave it into a radio friendly tender pop song!
Basically any PiL fan buying this album will be extremely happy to hear Keith's trademark guitar sound used in such an imaginative manner.
Review by Tim Bucknall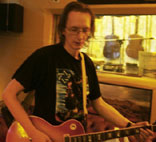 Additional info:
The album – which also features contributions from trumpeter Nils Petter-Molvaer – was recorded with producer Scotty Hard in just 12 days at Ted Parsons studio in Norway, spring 2006. Keith Levene came in during the last week of recording and contributed guitar/vocals. Keith had previously jammed with Ted Parsons on his Teledubgnosis project.

Picture Credits: (Top to Bottom)

Keith Levene in the studio with NIC, April 2006. © courtesy Ted Parsons
© Sleeves/labels etc are copyrighted by their respective copyright owners