Jah Wobble
Mu
TROJAN RECORDS
TROJAN TJZCD290
Tracks:
VIKING FUNERAL / UNIVERSAL DUB / SAMSARA / KOJAK DUB / MU / BUDDHA OF COMPASSION / NEW MEXICO DUB / LOVE COMES, LOVES GOES / SOFTWEAR / INTO THE LIGHT
Running Time: 53.53
review by Scott M, September 2005
©2005 Fodderstompf.com / F&F Publishing

Not for the first time Wobble has caught me by surprise. I don't really know what I was expecting from 'Mu' but it wasn't this. Not that I'm disappointed. I'd just got it into my thick head that this new album - released through the legendary Trojan Records rather than 30 Hertz - was going to be a kind of "poppier" version of Deep Space. Full on heavy bass but with a little pop flavouring. But no. Well yes. Well, maybe yes. All of the above. He's just done it in a different way than I expected.
'Mu' is definitely a lot more song based than much of his recent work, but the odd verse/chorus is about as close to pop as you'll get. Wobble did describe the album as the most commercial thing he's done for some time - and it has been given more exposure than his recent 30 Hertz material - but lets not kid ourselves, 'Mu' isn't going to get many sales amongst the 'X Factor' crowd. But it's not about that.
What we get is Wobble's trademark fusion of musical styles and English charm. But this time with a smoother more electronic feel. Wobble has used electronics in the mix for countless years, there's nothing unusual there, but with Mark Lausardi being so heavily involved, and Wob saying that originally he wanted to record in 5.1 surround sound, I should have known it would have a more sonic approach. The clues were certainly there! I just couldn't see the wood for the trees.
Mark Lausardi has been an established engineer and sound mixer for years, as you probably know he's worked with Wobble on and off since as far back as the 'Betrayal' days. They recently collaborated on the 'Fureur' soundtrack which was the inspiration to record an album in 5.1. Technical limitations for most listeners would have made making an audio-only 5.1 recording almost pointless, so the pair reverted back to stereo but tried to keep a "5.1 sensibility'". The result is a sculpted mix of atmospheres and sound switches that fit lovingly around the music. A mix that despite all the craft involved still manages to sound very natural and clean, giving the album a huge earthy sound.
With the use of flutes, pipes and strings, together with the heavy oriental overtones, musically 'Mu' is not a million miles away from a mixture of Molam Dub and Deep Space. And while the use of various 30 Hertz regulars - such as Chris Cookson, Jean-Pierre Rasle, Clive Bell, and Harry Becket - also brings some familiarity, a leaner, tighter arrangement gives 'Mu' a completely different feel to those other releases. However, the thing that really sets the album aside are the 'songs' and the varied use of vocals. 'Viking Funeral' for example has a real soothing calm, where as 'Samsara' has a more rough and ready 'Wobble' appeal. The male and female guest vocals bring even more texture to the record.
Knowing fine well that an album touching on ancient Chinese teachings could easily have people running for the hills, Wobble has done his best to bring some light relief to the lyrics. Some of the tracks definitely border on the piss-take. Only Jah Wobble could ever get away with this! In places it's almost like Chinese Kraftwerk, if you could imagine such a thing! Hilarious, but highly effective. And it's not just the lyrics where he's prepared to have a bit of fun, there's the tongue-in-cheek techno of 'Love Comes/Love Goes', and the Spaghetti Reggae of 'New Mexico Dub'. Which you really wouldn't think would work, but trust me it does!
Maybe because it caught me by surprise 'Mu' took me a little longer to get into than I expected, and with so many styles and ideas it possibly suffers from being a little disjointed in places, but that's not to say it is not a worthy addition to his recent work, and yet another important step on his long musical journey.
And in all seriousness, lets hope that while he's around again (at least to the untrained eye) it actually does encourage some of the 'X Factor' mob to check him out. If anyone needs some enlightenment it's certainly them…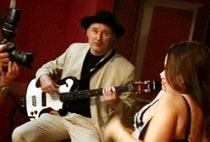 Check out the official 'Mu' web page which as well as featuring recording info and interviews with Wobble, also includes the (highly entertaining!) video for 'Samsara', featuring Wobble and Mark, and co-directed by the man himself.
The video is available to view or download in a number of formats. Wobble's own 30 Hertz website also features the video, in both Ketchup and non Ketchup variations. You'll soon get the idea! Bring on the dancing girls…

Picture Credits: (Top to Bottom)

© Sleeves/labels etc are copyrighted by their respective copyright owners