Jah Wobble
I Could Have Been a Contender
(3 CD Anthology)
Trojan
TJETD191
Tracks:
(see below)
Running Time: (see below)
review by Scott M, July 2004
© 2004 Fodderstompf.com / F&F Publishing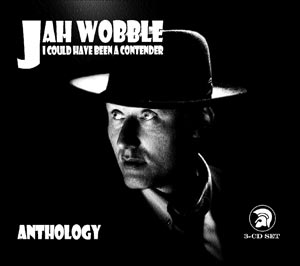 Jah Wobble has brought us more records than Norris McWhirter, and thankfully not all of them have been broken, though I suspect many a record company executive has been tempted. He's proven that even within the restraints of a fickle and insular record industry you can make YOUR own records, and do it largely your own way. You maybe have to bite the odd bullet here and there, but you can do it. And if you're Jah Wobble chances are you'll keep that bullet and give them it back, both barrels.
Wobble of course comes from good stock, he is arguably John Lydon's most important musical collaborator (no argument in this house), and he's not one to forget his roots, 'Public Image', 'Death Disco' and 'Poptones' (on which he also played drums. Not a lot of people know that, you know!) feature here in all their glory. But there's far more to Jah Wobble than just PiL, and this 3 CD retrospective goes some way in proving it. You won't find many tracks that even vaguely sound similar, but at the same time there's a thread here, and it's not just that bass. There's character, there's an open mind, there's God given talent, and there's a wicked sense of humour. There's Jah Wobble.

The patronising "World Music" tag hangs over him in record shops, but I suppose in truth Wobble is "world music" in the real sense of the term. He's brought all sort of diverse sounds and styles together. There can't be many genres he hasn't put a hand to over the years, or fused together in true "chips and cheese" style, much to the disgust of the snobby 'world music' elite. Punk as fuck.

Wobble never did things the easy way, his early records were branded little more than novelty, but he was never scared of trying new things and making records that were far from mainstream, even if it meant people thought he was joking. It's safe to say he's had the last laugh. Though now the irony is when he really is taking the piss the grown up press can't see it!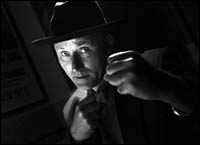 A retrospective like this is ideal, I seriously doubt there are any people on this planet who own every Jah Wobble record, it would be near impossible. And with a back catalogue spanning more than 25 years, and countless albums, where do you start? Well, this is as good a place as any… 'I Could Have Been a Contender' pretty much covers every step of Wob's musical journey from PiL and the early solo material like 'Betrayal', right through the hazy eighties to the nineties and the Island "hits", bringing things right up to date with a healthy selection of material released on his own 30 Hertz Records.

'Public Image' and 'Fly 2' were written years apart, and sound nothing alike, but even here at the first two tracks on disc 1, the "thread" is evident. This is far more than a random selection of album tracks. It would take hours to analyse them all, but suffice to say, it's all here. From the stunningly brilliant pop of the obscure 'Josey Walsh' to the elegant textures of 'Gone To Croatan'. A long journey, but one worth taking, if via the A13.

Even as a self confessed "big" fan I'm not gonna pretend I love every single track, because on a compilation this extensive and diverse, that would be just be insulting. There is however, a certain level of consistency and quality control throughout. 'I Could Have Been a Contender' highlights the fact Wobble is one of the few musicians who has bucked the trend that normally sees artists produce their strongest material at the beginning of their career, if anything he appears to get stronger.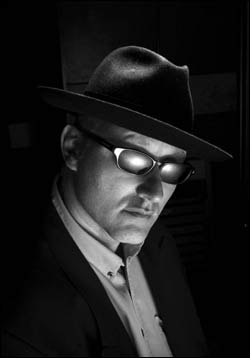 A team player at all times Wobble's 'solid back four' on this compilation includes the likes of Brian Eno, Sinead O'Connor, Pharoah Sanders, Bill Laswell, Holger Czukay and Jaki Liebezeit, The Edge, and of course John Lydon. Maybe Wobble was the first to prove that you can succeed with the squad rotation system? On the subject of football, I once saw a quote of Wobble's which likened his music to his beloved but frustrating Spurs. Yeah, I can see that. There's the madness and unpredictability of Gazza, but to counter it there's also the solidness and discipline of Gary Mabut. Though I suppose at least The Invaders of the Heart get to play in Europe. Boom, Boom!
If you ever wanted a bit of the Wob but were scared of his chopper this is the compilation for you. Even someone like myself doesn't own all these records. At the bargain price of £12.99, along with plush 12 page packaging including notes from Mr Wobble, you'd be mad not to…

Of course, you may have noticed I've hardly mentioned the bass, and to be perfectly frank, I don't need to. What did John Lydon say in last years' interview? "The boy showed the world something there, with three notes, you get more of a melody and a tune out of the least you play" . Wise words.

I Could Have Been A Contender - The Anthology
Release Date August 23, 2004
Format 3-Disc CD Set
Suggested Retail Price £12.99
Catalogue Number TJETD191
Disc 1
1. Public Image (PiL) 2.57
2. Fly 2 4.01
3. Ketmagyl (Don't Go Away) - Featuring Yulduz Usnamova 4.52
4. Visions Of You - Featuring Sinead O'Connor 5.33
5. Mehmeda Majka Bubage 3.09
6. Becoming More Like God - Featuring Analise Drekker 3.19
7. Mistralazul 2 - Featuring Smoke City's Nina Miranda 4.07
8. I Offer You Everything 3.50
9. Shout At The Devil - Featuring Natasha Atlas 4.05
10. Blacksmith 5.02
11. Blacksmith Dub 3.38
12. Elevator Music 3 - Featuring Harry Beckett 5.19
13. Josey Walsh - Featuring Sinead O'Connor 3.57
14. Tyger Tyger 4.54
15. Requiem III - Featuring Sussan Deiheim 6.54

Disc 2
1. Poptones (PiL) 7.47
2. Betrayal Dub 6.02
3. How Much Are They - Featuring Holger Czukay and Jaki Leiezert 4.47
4. Invaders Of The Heart Mix 2 4.32
5. Death Disco (aka Swan Lake) 4.11
6. Snakecharmer - Featuring The Edge 6.21
7. Songs Of Innocence 6.47
8. Fly 1 6.08
9. Funeral March 4.50
10. Lam Tang Way Dub - Featuring Molam Lao 3.31
11. The Dunes 4.58
12. So Many Years 2.52
13. Lam Saravane Dub 4.26
14. A Man I Knew 6.07
15. Elevator Music 1 6.28

Disc 3
1. Gone To Croatan - Featuring Pharoah Sanders & Bernie Worrell 15.29
2. Spinner - Featuring Brian Eno 2.57
3. A13 3.44
4. Passage To Hades - Featuring Evan Parker 13.33
5. The Mystery Of Twilight Part 2 - Featuring Bill Laswell, Harold Budd & Jaki Liebezeit 24.31
6. Left Where It Fell - Featuring Brian Eno 6.57
7. The River Suite (Extract) 12.41

Picture Credits: (Top to Bottom)

I Could Have Been a Contender promo pix © unknown
© Sleeves/labels etc are copyrighted by their respective copyright owners