Keith Levene
MurderGlobal: Killer in the Crowd EP
ACID / Underground Inc
UIN1084
Digi-pack sleeve
Tracks:
Sound Stage One / Object B / Aztek Legend / Aztek DUBD / Killer in the Crowd
+ Killer in the Crowd (video)
Running Time: 15:23 mins
review #1 by Greg Whitfiled, June 2004
©2004 Fodderstompf.com
Note: This is the newly updated version of the original murderglobal.com release from 2002. Re-released on Martin Atkins Underground Inc label, the limited edition EP features revamped versions of some of the tracks, along with the promo video for 'Killer in the Crowd'.
The title track "Killer in the Crowd" features a "Funhouse/Search and Destroy" sheet metal guitar line, a slash and burn approach with its distortion and overload. Levene's voice is low in the mix, scratchy and hoarse, but it works well within this metallic funk format.This is not the psychologically introspective and temporally phased Levene sound as featured in tracks like "Theme," but rather a sheer noise pugnaciousness. Feedback and a brief harmonics-led solo take over the track, until an Eno-esque keyboard pulse intrudes effectively into the mix, like a disorienting undertow (Shades of Eno's "King's Lead Hat" here, from 1977's "Before and After Science".)

"Aztek Dubbed" is a strange track, cinematic in its scope. It's also strange in that perspectives on time appear stretched and distorted to the listener here, as the patterns unfold. Ship's sirens and submarine tones open the song, creating a spacious depth charge-like rhythm --- What sounds like samples of Iranian stringed instruments add a depth and historicism to the mix, whilst a dubbed timbale tone roto tom snare, backed with scraping percussion, drives the track forward. Harmonics and cross tones soar upwards, lifting the melody, bringing to mind Karlheinz Stockhausen's "Stimmung." The heated atmospherics of the piece are reminiscent of Jon Hassell's "Possible Worlds" compositions.

Once Wobble left PIL he created intense and meditative work with the likes of Eno, Jon Hassell, Harold Budd and Can's Holger Czukay : this track "Aztek Dubbed" allows us to imagine how it might have been then, if it had indeed been Levene who had worked with them instead --- It is not too far distant in its impressionism from tracks like "Left Where it Fell" from Wobble and Eno's collaboration album, "Spinner."

"Object B," with it's violin loop samples, icy metallic chords and hard drum structures sounds uncanilly like Zeppelin's "Kashmir" at points.

From jamming with Viv Albertine and a young John Beverly in 1976, onwards to writing "What's my Name," then onto "Metal Box" and "Flowers of Romance"--- And now Murder Global---- It's been a long journey for Levene. This EP shows us the contrasts of Levene's imagination, from distorted raw power to a good use of silence, space and atmospherics.

What Levene needs now is a wider, full album context to flex his imagination within, to give it more space and a structure ( or anti structure ) to expand. It would also be good to see him working and collaborating with other notable talents once again too --- To see once again what arises from the friction, test,conflict and challenge of Levene working closely with the creative insights of others .It worked well for Wobble in his post PIL days ( working with Jaki Liebezeit,Bill Laswell,Ernest Ranglin etc ) and would surely do the same for Levene.

A full length album then, is awaited with anticipation, and if the numerous other Levene demos and white labels that are circulating right now are anything to judge by, the wait should be well worth it.

Keith Levene
MurderGlobal: Killer in the Crowd EP
Original website only release, 2002
Gatefold sleeve
ACID RECORDS
Tracks:
Killer in the Crowd / Object B / Aztek DUBD / Aztek Legend / Sound Stage 1
Running Time: 15:25 mins
review #2 by Scott M, June 2002
©2002 Fodderstompf.com / F&F Publishing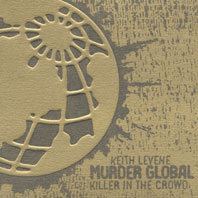 No he's not dead! Far from it. Keith Levene is back, and he still only knows what he doesn't like...

June 2002 sees Keith Levene's first solo release in nearly 13 years. After years of record company turbulence, Keith has decided to go it alone and release a new EP by himself, his way... The 5 track EP costs £7.95, you can order on-line through a secure connection via www.murderglobal.com, or by mail order.

Although very much a solo release, MurderGlobal is more than just Levene. Continuing from the PiL umbrella theory MurderGlobal features a whole host of contributors, some prominent, some behind the scenes, but all working together to help sow the seeds of the MurderGlobal manifesto.

All five tunes are pretty hard to describe, which can only be a good thing. All are very different; a great mixture of rock, electronica, funk and dub. Although parts of MurderGlobal does feature the classic Keith Levene guitar sound we all know and love, Keith doesn't limit himself to just one sound, or one instrument. All tunes are fresh and definitely now...
Killer in the Crowd
A full blown Levene 'rock' track, 'Killer' has to have one of the best intro's I've heard in years! Layers of raw sound with raging vocals, and a subtle funk influence. Not to mention a classic Levene guitar break at the end...

Object B
Choppy guitar with steady pumping bass along with Eastern violas and cellos. Very atmospheric with unexpected tempo changes: an eerie and unintentional hybrid of PiL's Fodderstompf and Led Zepplins's 'Kashmir'!! A classic Levene 'Sound - Track'.

Aztek DUBD
Layered, primal sounds, together with weird effects and a building drum rhythm, 'DUBD' is unlike anything Levene has done since his PiL days. This has to be most unique track on the EP. It should played at clubs and scare the shit out of people.

Aztek Legend
Another Keith Levene 'Sound - Track'. Leading with previously unheard real horns, 'Legend' sounds like it could be from some fucked up sci-fi gladiator movie! And as you'd expect from a Keith Levene composition, it's completely different from 'Aztek DUBD'...

Sound Stage 1
The biting rhythm makes this track sound almost industrial but the huge 'funk' bass takes control and drives the whole tune. This is 'Commercial Zone' 2002! A stand out track at a different tempo to the others. They should definitely play this at clubs.
MurderGlobal (Keith Levene) are currently working on a new ideas which should be released sometime in the autumn through a well known record company – or maybe not if things carry on as they've begun. There are no plans for a tour (says Levene), however, there are always possibilities of one-off MurderGlobal events...

www.murderglobal.com

Picture Credits: (Top to Bottom)

© Sleeves/labels etc are copyrighted by their respective copyright owners