BravEar,
issue 4/82, released: December 1982
Californian fanzine from Hayward, CA
Transcribed by Karsten Roekens
© 1982 BravEar
PiL: Press Conference, San Francisco, 181 Club, November 4th 1982
"THE GREAT PIL-PEP RALLY"
by Elma Gibble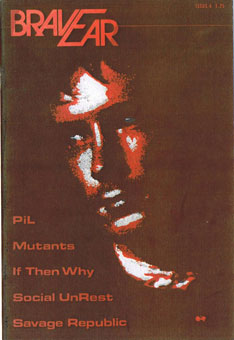 A press conference, eh? Well, I'd never been to the chic 181 Club on Eddy Street in the heart of Tenderloin; in fact, hadn't seen much of the Tenderloin in daylight before either. Somehow I felt that the trip through this wonderland of the darker side of life was an ominous indication of what laid ahead. I wasn't too far off base.
John Lydon, Keith Levene, Pete Jones, Martin Atkins and PIL/PEP co-conspirator Bob Tulipan sit (at least) two feet away from the microphones before them at a table on the stage. Only occasionally do they sit forward, mouth-to-mic, to give audible answers… not that it seems to matter much, in light of the fact that the P.A. is very unwilling to cooperate for the first 30 minutes or so. And despite cries of "Louder!" directed at the Guests Of Honour, a number of questions are asked at a volume suitable only for private cocktail party
conversations.
And who are some of these people in attendance? There is an obvious lack of note pads, scribbling pens and tape recorders. Who are all these hipsters 'being scene' and not appearing to have any intelligent questions or serious interest in Lydon & Company's endeavors/attitudes/antics?? Who are these people standing next to me talking into my tape recorder (which is straining to pick up Lydon's snarly utterances), bragging about how many drinks they haven't paid for at this afternoon gathering?
Lydon and Levene talk at one point about their computer graphics creations, and I seem to be surrounded by people who are bored by this subject. Feet shuffle, private conversations ensue, and, at the deliverance of a Lydon witticism or insult, stop, listen, laugh nervously (or whisper a retort under their breaths) and then go back to their conversations.
Finally: "Would all of you ignorantly mumbling in the back BE QUIET… or kindly LEAVE." This snarl from Lydon is quite audible. Thank you sir.
A friend asks later: "So was he real insulting? Obnoxious?" - "Only as insulting as the
'audience' deserved," I reply.
The last thing I scribbled on my note pad is barely decipherable. "Successful at reflecting the stupidity of ourselves." Ourselves. Us. People, you… me. No, my friend, some of the 'press' in attendance were much more insulting than Johnny Lydon could ever be. Another person mentioned something to me about taking PIL "seriously". Therein, I feel, lies part of the problem. Some people see PIL as a form of entertainment, find amusement in their sarcasm and insult (partly their own fault, a result of having create that image for themselves), and therefore cannot see beyond that image and do not take the PIL enterprise "seriously".
Methinks Public Image Ltd. has a Grand Scheme Of Things in the planning, invading the dull American senses through the media.
MIC: Multi-Image Corp., infiltrating the tiresome MTV with their films, experimenting with computer graphics ("There are much more interesting things to do than video…").
PEP: Public Enterprise Productions, releasing their own music, at their own pace,
uncompromising and unbending. A determination to reach more American ears.
BravEar: "Do you care if you never get airplay on commercial radio in America?"
Levene: "YES… we must. It's necessary, they need it…"
Someone then asked how they would go about doing this, PIL's answer was, most
unfortunately, inaudible.
PIL has a plan. They may wake more people up and reach many more ears than those
already 'in-the-know'. And if they do, they'll do it on their own terms without compromise, without any loss of integrity. I mean, really now, can you see John Lydon kissing anyone's ass?
JUST WANTED TO KNOW:
Levene: "A single will be released before Christmas. The album, on PEP, will follow."
(Virgin album?) Levene: "We are obligated to one more LP. It will be released
simultaneously."
(What to expect from PIL live) "No fringes, no frills, some old, some new. Whatever we feel like doing at the moment."
(The film made in Italy, Lydon's 'acting' debut) "Don't know the title, the release date… Who knows? Funny breed, those Italians."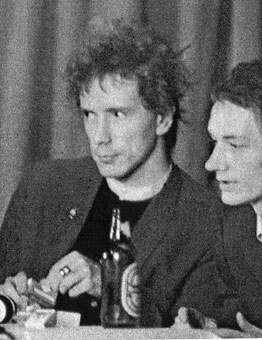 GLAD I DIDN'T SAY IT:
("Sex and God are both three letter words… what's another that you(…)?") [Well, gee, I couldn't quite hear the end of it for the moaning around me] Levene: "MIC."
("Where do you buy your shoes?") [Couldn't hear the answer for my moan - and if that wasn't enough:] ("What do they say when you walk in?")
("After the last press fiasco, why did you set this one up in the same way?") Lydon: "We don't set these things up, we don't plan them…" (accusingly) "There was no applause when we walked in."
("What are your favourite TV shows?") Lydon: "You asked for it: 'That's Entertainment!'"
("Isn't this boring…") Lydon (with an even, icy stare): "Yesss… isn't it…"
GLAD HE SAID IT:
(chiding) "Come now, we talked about these very same things last time in this very town."
(when asked about the media, what they print, what they say) "I'm sick of They… Who are They? They have no face. They is pointless."
(when asked about PIL's ideas on manipulating the media) "I don't like the word 'manipulate'."
(asked their opinion on MTV, Lydon spat) "It sucks."
(why the press conference?) "We want to. We want to enlighten you, we want you to listen, to read, to think... and it certainly beats talking to you all in-di-vid-ually." (famous Lydon enunciation, hissing disdain. Followed by nervous laughter, a moment of uncomfortable silence. Lydon's piercing eyes sweep the room.) "Isn't it funny how you all get nervous when you're all lumped together like that…"
(about John Lennon's murder) "I think it was disgusting… the way it was splashed across the country on newspaper covers. It's terrible when anyone is killed, shot - it happens every day to hundreds of people. Lennon happened to be one of them." Levene: "But it was John Lennon..."
SORRY HE SAID IT:
(Lydon exchanged fairly heated words with someone who was questioning their show fees, ticket prices, etc. He snarled) "We have expenses, we don't do this for charity, my dear…"
(He in turn questioned her making money for interviews, articles, to which she replied something about not making money, money not being her motivation or primary concern. In a perfect Lydon sneer:) "Then you, my dear, are a TURD."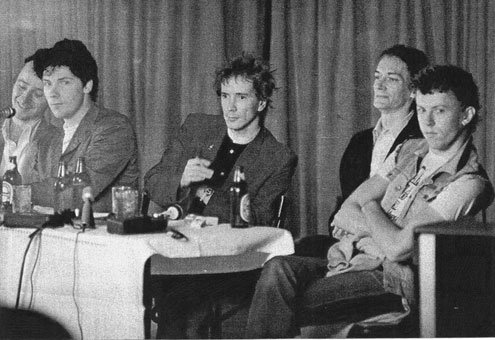 Picture Credits: (Top to Bottom)
BravEar Fanzine 1982 © unknown